As the No.1 in Gaming brand in the gaming industry, MSI is always ahead of others in meeting users' needs by introducing the most up-to-date solutions and offering the most complete gaming features for extreme gamers. The company stands by the principles of breakthroughs in design, the pursuit of excellence, and technological innovation.
World's first VR ready Notebooks with extreme GTX 980 graphics.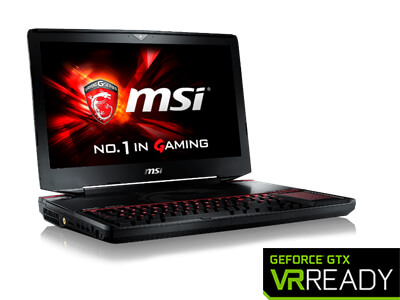 MSI GT series of GTX 980 graphics VR Ready gaming notebook models approved by NVIDIA are the following:After an extensive research and hard work, MSI, in cooperation with NVIDIA, released GTX 980 models which support virtual reality gaming. Desktop GeForce® GTX 970 or Mobile GTX 980 graphics are a must-condition for VR Ready. They will provide the users with the required graphics processing power, image quality, decreased latency and consistent performance level, all of which are crucial for VR gaming experience.
GT72S 6QF Dominator Pro and GT72S 6QF Dragon Edition (29th Anniversary Edition);
GT72S 6QF Dominator Pro G Heroes Special Edition;
GT80S 6QF Titan SLI 29th Anniversary Edition;
GT80S 6QF Titan SLI Heroes Special Edition.

https://gaming.msi.com/promotion/vr-readyThe formal product list updated is in the link below: