MSI is always ahead of others in meeting users' needs by introducing the most up-to-date solutions and offering the most complete gaming features for extreme gamers. This time, MSI cooperates with Tobii to introduce the GT72S Dominator Pro G Tobii gaming notebook with integrated eye tracking technology to satisfy gamers' appetite for extreme gaming experiences. The notebook will be bundled with Tom Clancy's The Division, which will include eye tracking features as part of its gameplay. Moreover, game codes with a market value of USD40 are bundled with MSI GT72S Tobii so that users may redeem selected eye tracking games on Steam. Get free game codes here: http://www.tobii.com/giveaways/.
Eye tracking technology is the next evolution in PC user interfaces and is considered one of the biggest trends to watch in 2016. Tobii, the global leader in eye tracking, has developed eye tracking technology for over 15 years. MSI is the first in the gaming industry to embrace this technology in a gaming notebook. The eye tracking technology, developed by Tobii, grants gamers a more realistic and immersive interaction when playing video games* on the GT72S Dominator Pro G Tobii. With Tobii's technology in place, gamers can now harness the natural movement of their eyes to aim, shoot and drive with their eyes. Playing video games on GT72S Dominator Pro G Tobii becomes more intuitive than ever.

Besides all these, GT72S Donimator Pro G Tobii is powered by 6th Gen. Intel Core i7 processors, Nvidia GeFoce GTX 980/980M/970M graphics card and has several amazing gaming features. Nvidia G-SYNC display technology guarantees sharper image and fluid and responsive gameplay experience. Super Raid 4 runs dual M.2 PCI-E Gen 3.0 x4 SSDs in RAID0, outputting extreme read speeds over 3300MB/s. Headset AMP with ESS SABRE HiFi Audio DAC supports high-definition lossless music, delivering premium audio quality. Killer DoubleShot Pro with Killer Shield stabilizes digital data transmission, therefore, ensures a smoother online gaming experience.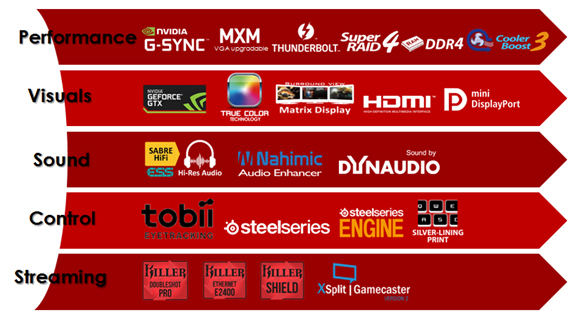 MSI Exclusive / World First Gaming Features of GT72S Dominator Pro G Tobii