The Windows Registry contains all the tweaks to customize the Windows experience and take care of those little annoyances that Microsoft thinks every user will love. From changing Windows design, to unlocking hidden features, there are Registry tweaks that are suitable for just about anything. To help you improve your Windows 10 experience, here are a bunch of Windows 10 registry tips that are worth trying.
Warning: Clutter caused with the Registry can damage Windows. The article recommends that you follow the instructions correctly and shouldn't do anything if you are unsure. To be safe, make a copy of the registry before making any changes.
1. Use Windows Photo Viewer instead of the Photos app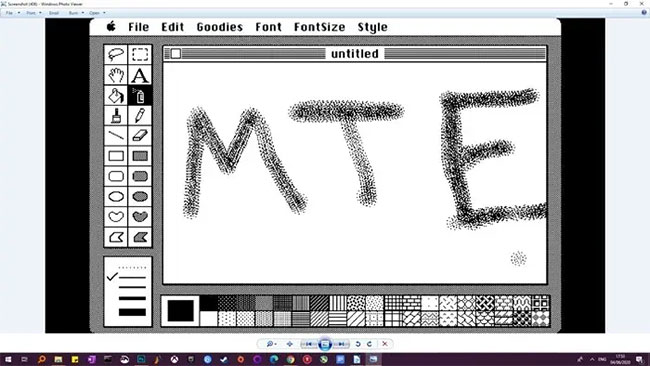 People sometimes run into problems with the Photos app in Windows 10. In contrast, Windows Photo Viewer since Windows 7 has done a great job, however it has been removed since the Windows 10 update a few years ago. .
But the code for Photo Viewer is still in Windows 10. You just need to create a fairly complicated registry entry to unlock. This is a bit different from regular registry tweaks and Make tech easier created a tutorial on how to use the registry to make Windows Photo Viewer the default photo application in Windows 10.
2. Turn off the lock screen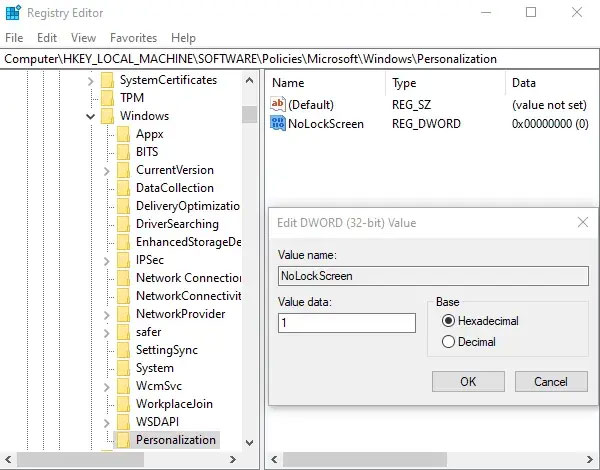 The lock screen is an added layer of security on Windows PCs that requires a password or PIN for you to sign in again. If you feel safe, then you can turn off the lock screen completely.
HKEY_LOCAL_MACHINESOFTWAREPoliciesMicrosoftWindows
Once here, right-click on Windows in the left panel, select New> Key and name the new key Personalization.
Choose PersonalizationThen in the right panel, right click on an empty spot and select New> DWORD (32-bit) Value, name the value is NoLockScreen, change Value data Fort first, then press OK.
3. Show details about startup
If your PC is experiencing an inexplicable slow or slow issue, then you should prioritize diagnosing what is causing that problem. A possible way to do this is to set Windows 10 boot to Verbose ModeThis will give you more detailed information about the processes that take place on your PC when you start up.
To enable this, go to the following registry key:
HKEY_LOCAL_MACHINESOFTWAREWow6432NodeMicrosoftWindowsCurrentVersionPoliciesSystem
Next, right-click on an empty space in the right panel, then select New> DWORD (32-bit) Value.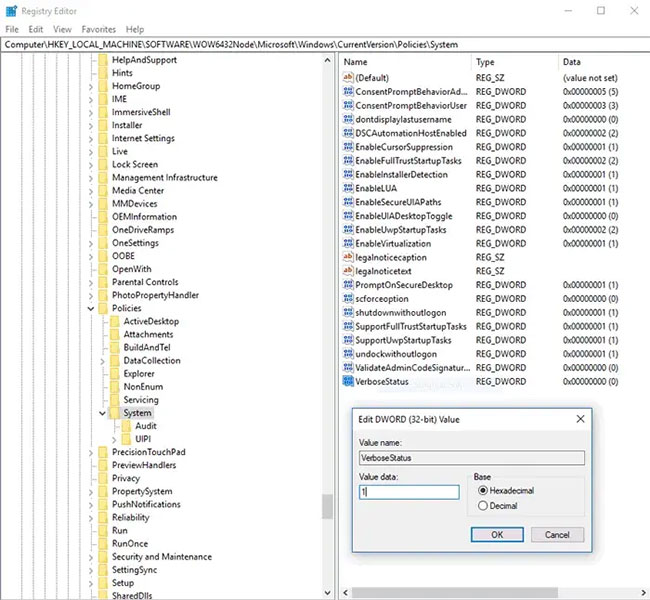 Name the value as VerboseStatus, right-click it, then select Modify, and in the box Modify, import first.
4. Open the most recent activity window in the taskbar
The way Windows 10 organizes open apps is to gather all your open windows for a given app under one icon on the taskbar, then you can click to show thumbnails of all. all open windows in it.
This is quite helpful, but you may also like that clicking the icon on the taskbar will take you straight to the nearest window you opened in the app, removing the thumbnail.
Refer to the article: How to activate Last Active Click for Windows 10 Taskbar for more details.
5. Turn off the "shake" feature to minimize the windows
Aero Shake is a feature introduced in Windows 7 that allows you to minimize windows by holding the window you want open and shaking it. You may not have known this feature. Even when you're done, you might not want to use this feature. To remove it, visit regedit and navigate to:
ComputerHKEY_CURRENT_USERSoftwareMicrosoftWindowsCurrentVersionExplorerAdvanced
Here, right-click on an empty space in the right panel, select it New> DWORD (32-bit), then call it DisallowShaking.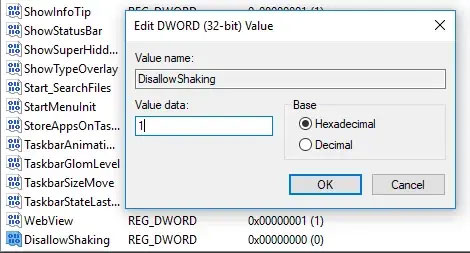 Double-click the newly created entry, then change the number in the box Value Fort first and press OK.
6. Add your own app to the context menu
The context menu is cool, but to really control it, you can create registry keys to add specific applications to it. Take Notepad as an example.
B1: Navigate to:
ComputerHKEY_CLASSES_ROOTDirectoryBackgroundshell
B2: In the directory shell, right click and create a new key named Notepad, which generates a key named command.
In the key folder command, right click on the string Default, then in the box Value, import notepad.exe.
Now close Registry Editor, right-click on the desktop and you should see Notepad appear right in the context menu.
7. Change Windows settings and apps to Dark Mode
You can use the registry to enable Dark Mode on Windows. Refer to the article: Enable Dark Mode on Windows 10 for more details.
8. Delete Windows 10 Action Center Sidebar
Windows 10 Action Center Sidebar provides handy quick access buttons and notifications. However, if you find these buttons unnecessary and uncomfortable with the sidebar taking up half of the screen when open, you can simply disable it. In Registry Editor, visit:
ComputerHKEY_LOCAL_MACHINESOFTWAREMicrosoftWindowsCurrentVersionImmersiveShell
Double click UseActionCenterExperience on the right panel, then change the value to 0. Then restart your PC and you'll see the Action Center Sidebar disappear, the notification panel clean and smaller in size.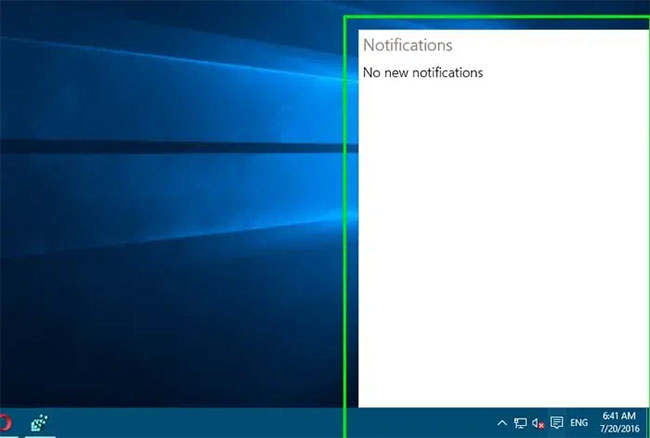 9. Delete the OneDrive button from File Explorer
If you don't use OneDrive or switch to another cloud storage service after Microsoft decides to downgrade your storage plans, you can remove the OneDrive button from File Explorer.
Refer to the article: How to hide OneDrive from File Explorer in Windows 10 for more details.
10. Automatically delete Pagefile.sys when shutdown
Pagefile.sys acts as a virtual RAM that Windows uses to store unused programs, thereby helping to reduce the pressure on actual RAM. While it is not recommended to disable Pagefile.sys, you can delete it to save space and also avoid any security holes.
Refer to the article: Wipe the traces of Pagefile every time you shut down your Windows 10 computer for details on how to do it.
11. Disable login screen background dimming on Windows 10
You can also disable background blur to make the lock screen background clear. Reference: How to disable login screen dimming on Windows 10 for more details.
12. Disable Windows Startup Delay
Windows sets a small boot delay to keep Windows startup applications running smoothly and so you can start with a smooth, lag-free desktop. However, if you don't have a lot of apps launching, then this delay might not be necessary. You can disable this delay to speed up Windows startup. Reference: How to disable Startup Delay in Windows 10 for more details.
13. Increase network speed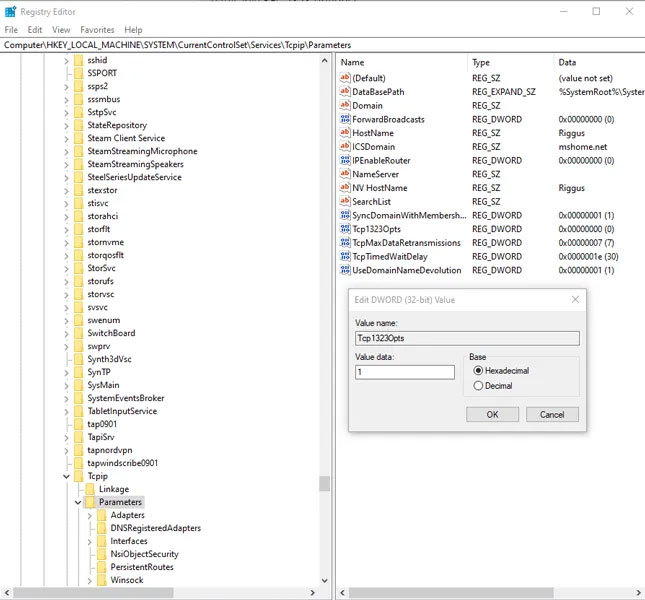 Many of the registry tweaks on the list will involve design or aesthetic changes that can make Windows 10 smoother and better for you. But there are also a bunch of registry tricks designed to improve Internet speed.
If you are having problems or experiencing packet loss, you can do a lot of different things, such as increasing IRPStackSize, enabling TCP extensions, or increasing the maximum number of ports available for different programs. try to connect to the router.
Refer to the article: 8 ways to speed up network through Regedit in Windows 10 for more details.
14. Adjust the menu effect
You can also adjust the menu effects to make them look better. If you have a slow PC, then faster effects should make navigation easy. Make tech There is a detailed article on how to adjust and disable menu effects. You can refer to find out how to do that registry editing.
15. Switch windows with one click on the taskbar

Like Windows 7 before it, Windows 10 combines multiple windows from running apps into a single button on the taskbar. When you click the button, you will see thumbnails of the open windows and you can click on the image you want.
But what if you just click the button on the app's taskbar to open the closest window you're using? What if you could keep clicking this button to cycle through your other open windows? You can certainly switch between windows much faster.
That's what installs "LastActiveClick" perform. You can also just press the key Ctrl and hold it down when you click the taskbar button to perform this behavior, but LastActiveClick is set to the default behavior when you click a taskbar button – no need to hold down the key. You must activate LastActiveClick with a registry trick.
This is one of my favorite registry settings on Windows 7, and it's also helpful on Windows 10.
16. Display the number of seconds in the clock on the taskbar

Windows 10 lets you add seconds to the taskbar clock, so you can see at a glance the exact time. Most people won't need this, but that precision can sometimes be valuable. After all, Windows automatically synchronizes the PC clock with the network time servers so that the clock is accurate to the second.
This cannot be done on Windows 7, without a third-party utility that modifies the clock on the taskbar. In fact, Microsoft first tested this feature in the 90s. It caused performance issues on PC at the time, so it was removed prior to the release of Windows 95. Now, 25 next year, you can finally see the seconds on your taskbar by adding a value "ShowSecondsInSystemClock" into the registry.
17. Delete 3D Objects (and other folders) from This PC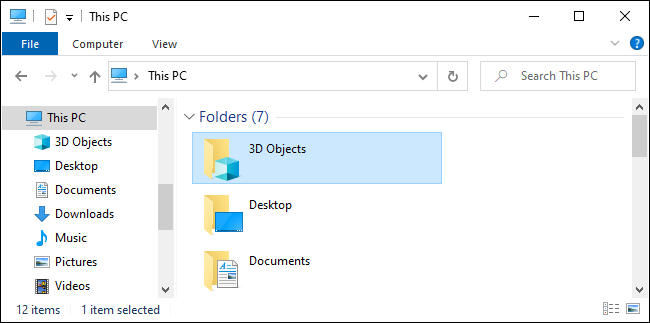 View mode This PC in File Explorer Windows 10 includes quite a few folders you may never use, such as "3D Objects". How many Windows users really need a folder for the top and central 3D models in their file manager?
Although Windows doesn't provide an explicit way to remove them from This PC view, you can do that in the Registry. You can delete the 3D Objects folder from File Explorer by editing the Registry. Besides that, you can also delete other folders as well Documents, Downloads, Music, Pictures and Videos, if you want.
18. Remove Bing Search from the Start menu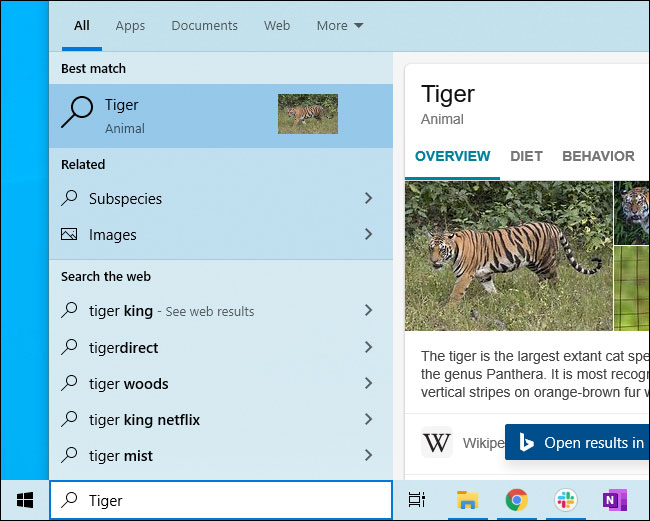 When you type a search into the Start menu, Windows usually searches the web using Bing.
That's fine if you want to, but what if you just want to search locally? Unfortunately, Microsoft doesn't provide an easy way to disable this feature.
Thankfully, you can still disable Bing by applying the Registry trick. Please disable "BingSearchEnabled" and the Windows taskbar will only look for your local files. Your searches will not be sent to Microsoft's servers, and you will not see results on Bing searching only for local files.
19. Escape from Cortana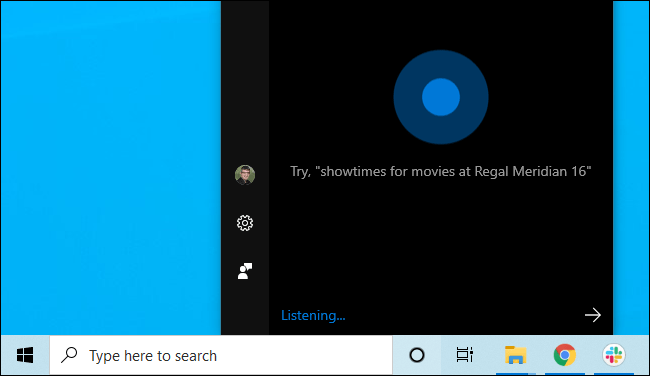 Cortana is also tightly integrated into the Windows 10 taskbar experience. You can disable Cortana completely, but only by editing the Registry. Disable value "AllowCortana" and Microsoft's voice assistant no longer appears as an option for your taskbar or in your Start menu.
Registry editing isn't the only way to speed up your Windows 10 experience. Make tech easier There is also a list of other Windows 10 tweaks for your reference.
Source link: 19 Useful Registry Tips for Optimizing Windows 10 Experience
– https://techtipsnreview.com/