Advertising helps you learn more about products that may be of interest to you, as well as generate revenue for related websites and service providers.
However, if you feel that these ads are inappropriate or annoying, you can block ads while browsing. Here are some of the most effective apps to help you block ads on iPhone and iPad.
How to enable ad blocker on iPhone / iPad
First of all, you should note that the ad-blocking apps won't work as soon as you download and install it on your computer, but you must enable them in the operating system's installer. Here's how to do it:
1. First, open Setting on iPhone / iPad and tap Safari.
2. Scroll down a bit and tap Content Blockers.
3. You should now see the ad blockers you installed listed on the screen. Tap the corresponding switches to the right to activate each ad blocker you want to use.
Also, keep in mind that ad blockers have an individual application form. Once activated, however, they integrate with Safari (just like a web browser extension). Also don't forget to visit the ad blocking app and check if you can tweak anything else.
1. Ad Guard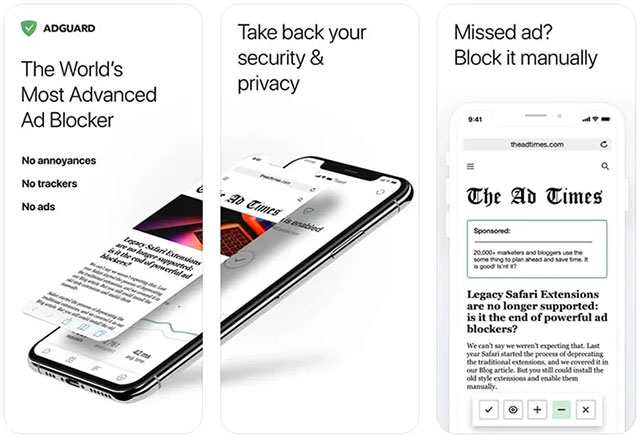 Ad Guard is a perfect choice if you want to block ads in Safari. This app offers up to 50 different ad filters. You will have to pay to use some premium filters. However, Ad Guard's default ad-blocking filters are also extremely effective, able to meet nearly all the needs of regular Safari users.
In particular, this app also provides a fake VPN configuration that helps block ads across the system – not just in Safari. Ad Guard's incognito mode is also a big plus, supports cookie blocking of third parties who want to get information, and supports hiding your IP address to protect your data.
2. 1Blocker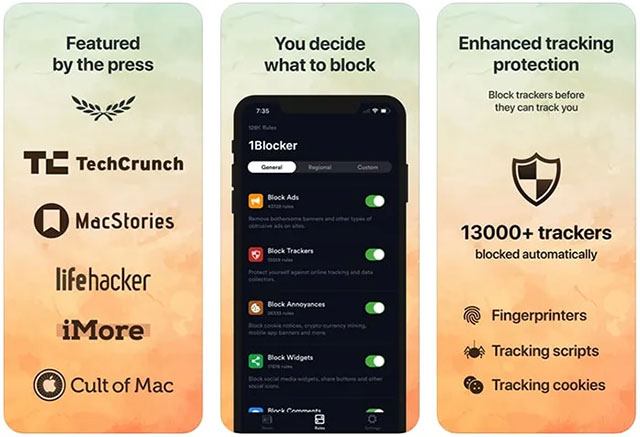 1Blocker claims to have an "API that blocks original content lightning fast" and "doesn't slow down Safari". According to user feedback, both of those claims are true. 1Blocker is non-invasive, works stably, and is a great option for quickly blocking ads.
1Blocker is extremely light, thus suitable even for devices with less powerful configurations. On the other hand, it comes with a highly comprehensive feature set. You can block ads, trackers, pop-ups, social media extensions, adult websites, trackers, etc. You can also decide which categories of content you don't want to see anymore. .
3. AdBlock Pro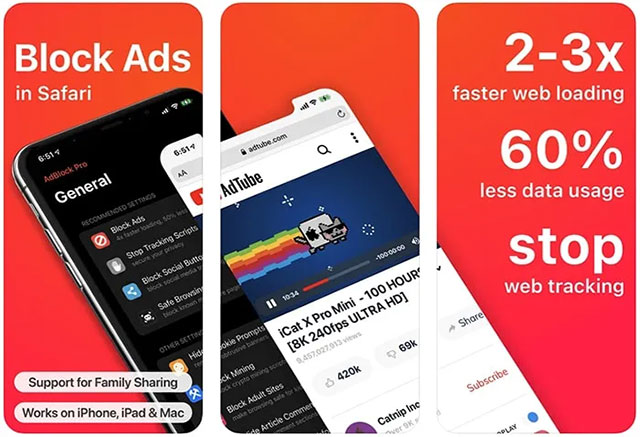 AdBlock Pro is one of the oldest ad blocking applications still popular today. AdBlock Pro proved quite complicated to work on iPhone, iPad and Mac. But in return it comes with an amazingly comprehensive set of features.
In terms of web content blocking capabilities, AdBlock Pro supports a wide range of different categories. You can block advertisements, banners and pop-ups, and redirects to other websites. The app can also prevent autoplay videos, YouTube embedded ads, etc. AdBlock Pro claims it can help you browse the web twice faster, use up to 50% lower data and improve. significant battery life of the device.
In addition, being integrated and compatible very well with Safari is also a big plus point of AdBlock Pro.
4. Wipr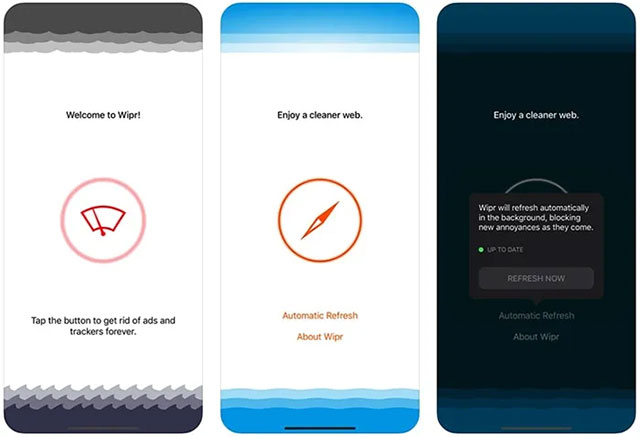 If you're looking for a simple, no-frills ad-blocking app that can still do a good job, Wipr is a name worth considering.
This is one of the most popular ad blockers for iOS right now, mainly due to its ease of use. Setting up Wipr only takes a few seconds, and you won't need to waste time learning how to use the app. Once Wipr is set up, you can rest assured that Safari will remove ads, trackers, annoying banners, cookie-related pop-ups, and more. The animation takes place in the background without you having to do anything.
In addition to ad blocking, Wipr can also serve as a great privacy-oriented solution. Wipr is also capable of blocking trackers and comes with an always up to date blacklist.
Nowadays, advertising is an essential part of the internet world. Ads exist on nearly every website you visit, even on the online videos you watch. If you find them too annoying, please try the above methods to see.
Check out this guide if you're looking to block YouTube ads on iPhone.
Source link: 4 best ways to block ads on iPhone
– https://techtipsnreview.com/