The PST file in Microsoft Outlook contains all the data of the inbox. If you have multiple email accounts in Microsoft Outlook, you will also have multiple PST files. In this case, it is necessary to combine all those PST files for easy management. But how to merge multiple Outlook PST files?
Why combine Outlook PST files?
There are some cases when you need to combine existing PST files into a new data file, such as:
Merging multiple old accounts
Combine work and social media accounts
Create backups of existing accounts
Receive files from a group or family member
Switch to another service
The above are just some of the reasons why it is important to merge PST files. In fact, there will be many more cases.
1. Manually combine PST files in Outlook
You can combine multiple PST files (PST stands for Personal Storage Table) in Outlook. Combining PST files in Outlook is a quick, doable task that works with all versions of Outlook from 2007 to the present time. The process consists of two stages: First, create a completely new blank PST file. Then import the existing PST file.
The specific way is as follows:
Step 1: Select tab Home, then choose New Items > More Items > Outlook Data Files. Name the empty data file and save it.
Step 2: Now, let's go to File > Open & Export > Import > Import from another program or file. On the next screen, select Outlook Data File (.pst).
Step 3: Browse to the PST file you want to import. You now have the option to replace duplicate files, allow duplicates to be made or refuse to import duplicate files. The choice depends on the PST files being imported. This example will select Do not import duplicates. (Please remember that you need a password for each PST file you are importing.)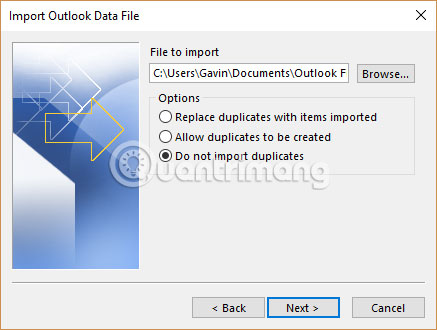 Step 4: When the import is complete, you can restart the process to import as many PST files as you like into a new PST file.
2. Merge PST Files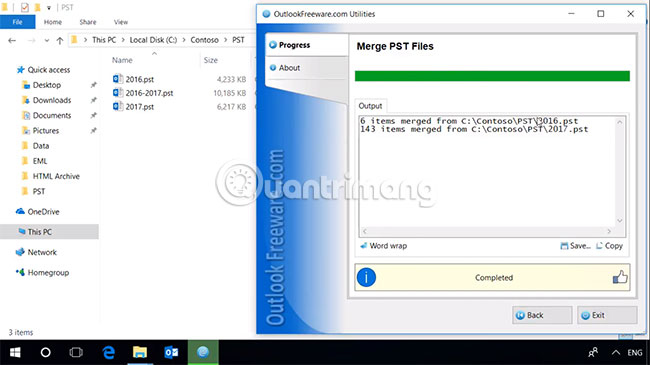 Merge PST Files is a free tool that you can use to merge multiple PST files at once. Merge PST Files is built on top of the manual merge PST process (as in the section above), allowing for comprehensive selections.
For example, Merge PST Files allows filtering PST merges by folder type, such as importing only contacts or scheduled folders from different PST files.
Merge PST Files is a free tool for non-commercial use. However, it will not run in a domain environment. That's because Merge PST Files is a product developed by ReliefJet Essentials, a premium Outlook management tool.
3. ReliefJet Essentials for Microsoft Outlook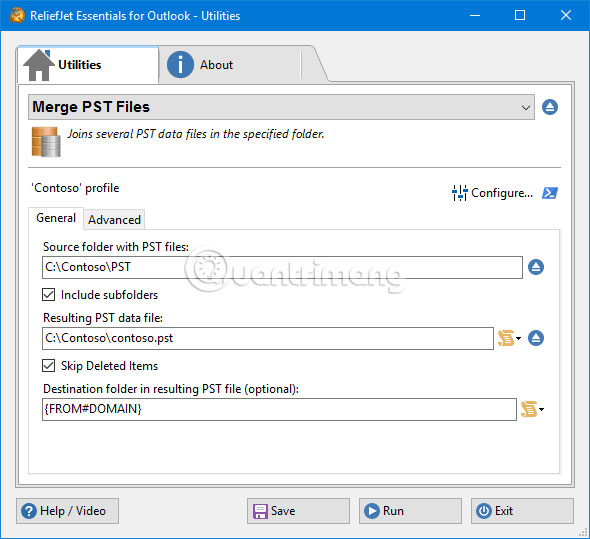 ReliefJet Essentials for Microsoft Outlook has all the functionality of the free Merge PST Files program and comes with a host of additional Outlook tools.
For example, ReliefJet Essentials allows:
Import and export any Outlook item
Export contacts to vCard . format
Find, delete, or move duplicate Outlook items and attachments, with reports of any duplicates
Extract email addresses and URLs from email headers and body
ReliefJet Essentials also has a lot of additional tools, giving the ability to merge multiple PST files at once.
It is through these tools that ReliefJet Essentials can do more than most. The Premium version has a retail price of $ 49.95 (1,159,000 VND), including all ReliefJet Essential utilities. There is also a Single Utility license for $14.95 (VND 347,000). The Single Utility license allows a single utility – in this case, PST Merge – to be installed on the system.
4. Datavare Outlook PST Merge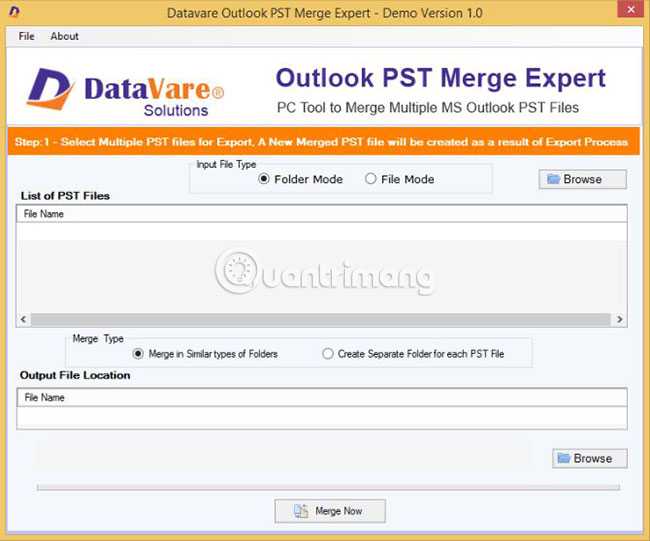 Datavare is a free PST file merge tool in Outlook. This free version comes with a huge limitation. You can only merge two PST files at once. Using the free version is similar to merging PSTs manually or using the free Merge PST Files tool above.
The premium license comes with a few PST merge perks, most notably merging more than two PST files at once. You can use several large PST files and merge them quickly. It is also possible to select different parts from each PST file to merge into a new PST file. This is also a pretty handy feature.
5. Stellar Merge Mailbox for Outlook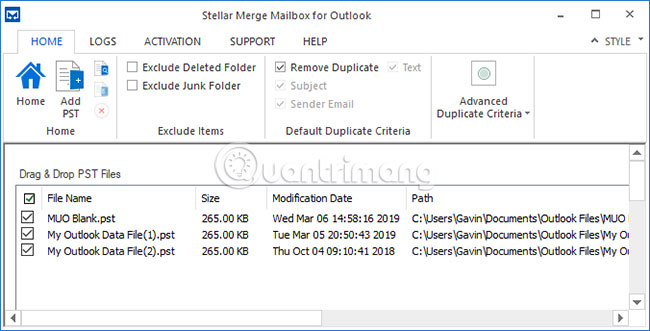 Stellar Merge Mailbox for Outlook is another free tool. Again, the free version of Stellar Merge Mailbox only allows to merge two PST files simultaneously.
Stellar stands out among free tools for a few reasons. Firstly, the user interface is easy to use and looks more modern than some of the other options. Second, the premium version lets you do more with PST files, instead of just merging them.
Instead of adding the entire PST file individually into a new large PST file, you can add the PST as a separate folder structure. This feature comes in very handy if you have detailed file structures that you don't want to lose when creating a new PST.
Additionally, Stellar Merge Mailbox will merge password-protected PST files without asking for that password. However, a password will still be required to access the files in the new PST after the merge.
Above are 5 methods to combine PST files in Outlook. The manual options are very basic but useful. However, the manual option will be very time consuming if there are many PST files to merge.
If you have a large amount of PST files to merge, consider one of the premium options. Stellar Merge comes with an elegant user interface and some handy settings, while ReliefJet Essentials has all you need in a single package (albeit, at a slightly steep price).
Hope you find the right option!
Source link: 5 methods to merge Microsoft Outlook PST files
– https://techtipsnreview.com/