Ever wondered which model is the fastest commercial SSD on the market? The read and write speeds given by the manufacturer are not an exact parameter because they are not read and write speeds that we can use in everyday practice.
The only way to evaluate hard drives is to test their effective speed in actual operation. So what is the effective speed? It is a measure of the read and write speeds of a solid-state drive under typical workloads, and the only way to measure this is to collect as much actual usage data from users as possible, which also That's why UserBenchmark's website is the best site to test the real speed of SSD, HDD, USB, RAM, CPU and GPU.
Advertisement

Warning
You should not repeat read and write tests unnecessarily. Performing continuous read and write speed tests can shorten the life of the storage device. If you're looking to upgrade your hard drive to SDD to improve speed, you should consider some of the best and best-selling SSD options on the market, including:
Samsung 850 Evo (Fastest SATA SSD).
M.2 SSD PciE (Fastest PCie SSD).
Samsung 850 Pro.
OCZ Vector.
Intel 730 series.
Crucial M550.
SanDisk SSD (owned by Western Digital).
Mushkin Reactor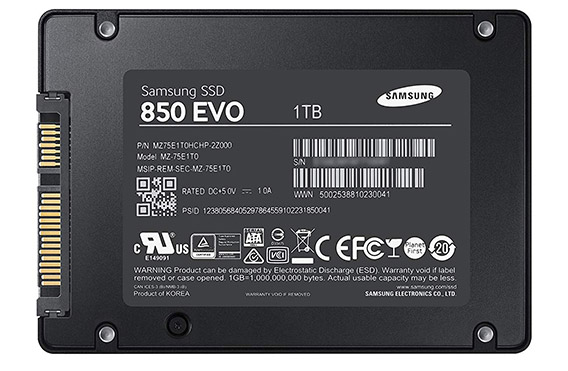 Advertisement
Moving on to the main issue, below is a list of the best SSD and HDD read and write speed testing software that you can refer to (this is just a list, not a ranking).
CrystalDiskMark (Windows)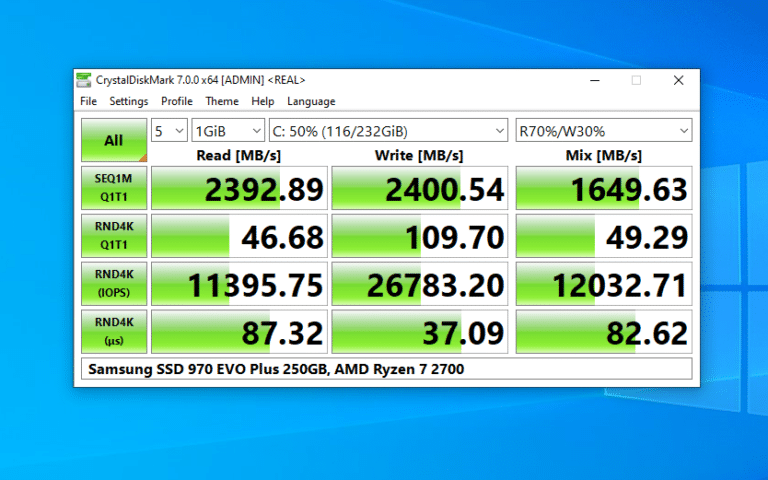 Advertisement
CrystalDiskMark is a simple benchmarking utility for your hard drives. CrystalDiskMark allows you to quickly measure the sequential read and write speeds of the drive. This software supports the form of sequential read and write speed measurement, 512KB, 4KB, 4KB random read and write speed measurement (Queue Depth=32) and select test data (Random, 0Fill, 1Fill).
ATTO Disk Benchmark (Windows)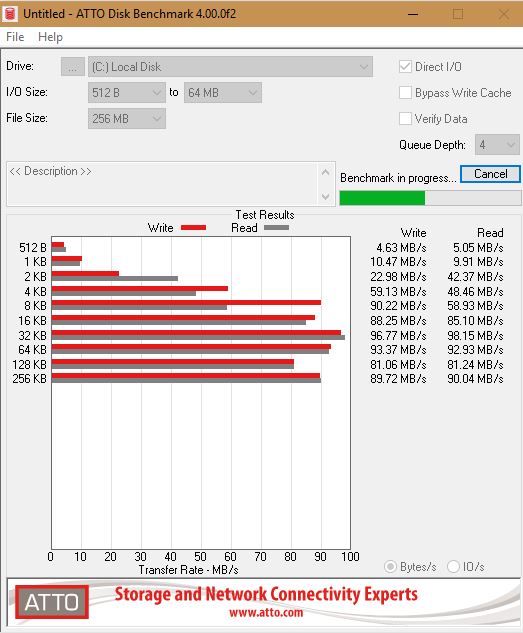 As a leading provider of highly efficient networking and storage products in the hardware sector, ATTO has also created a widely used free drive scoring software to help evaluate performance. of storage systems, that is ATTO Disk Benchmark.
As one of the leading tools used in evaluating storage performance, Disk Benchmark can accurately determine the performance of a hard drive, solid state drive, RAID as well as the performance of the connected server. with attached storage. Leading drive manufacturers such as Hitachi, Toshiba… all build and test their products using the ATTO Disk Benchmark. The specifications of this software are as follows:
Transfer size from 512B to 64MB.
Transfer length from 64KB to 32GB.
Built-in I/O support.
Supports different queue depths.
Compare I/O with different prototypes.
The timer mode allows for continuous testing.
Measure performance without destructive formatting on drives.
AS SSD Benchmark (Windows)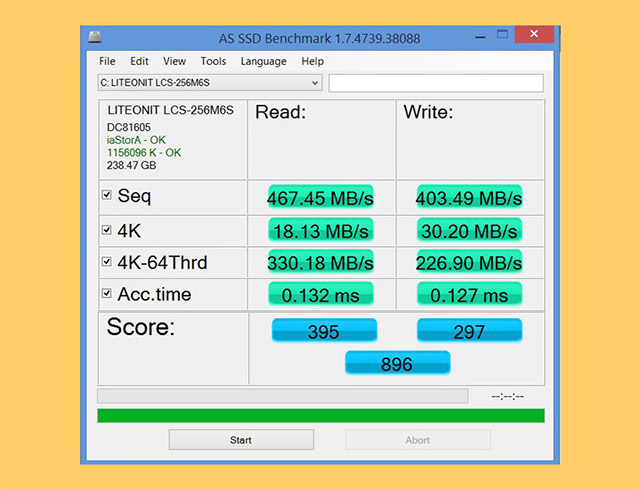 With AS SSD Benchmark, you can determine your SSD's performance by performing some specific tests. You can test sequential read or write performance without using cache. AS SSD Benchmark will test the read and write speed of the drive with a 1GByte file as well as randomly selected 4K blocks. In addition, it also performs tests using 1 or 64 threads and determines the access time of the SSD.
Two extensive benchmark tests will help check the state of the drive when we copy several large files, many small files and mixed size files using the copy function stored in cache memory, as well as check the data read and write according to the compression level of the data. AS SSD Benchmark works fine on Windows 10.
Blackmagic Disk Speed ​​Test (macOS)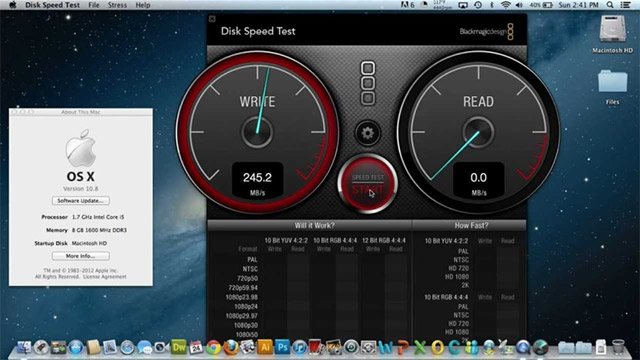 Blackmagic Disk Speed ​​Test is a simple tool that helps us quickly measure and evaluate the performance of the drive used to work with high-quality video. Just click the start button and Disk Speed ​​Test will test your drive using large chunks of data and then display the results. The Disk Speed ​​Test continuously tests the read and write speeds from your drive so you can gauge the drive's performance and capabilities over time.
AmorphousDiskMark (macOS)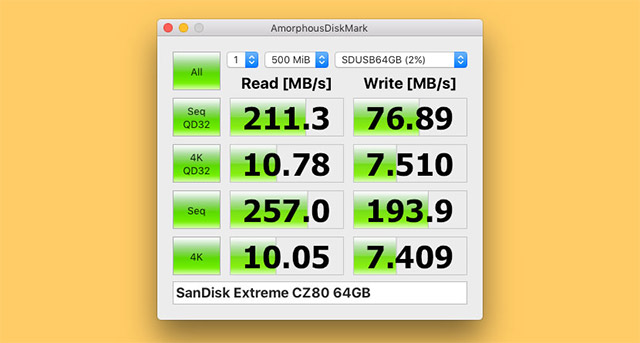 AmorphousDiskMark can measure the read and write performance of storage systems in Mbps and IOPS units. More specifically, AmorphousDiskMark is designed to measure megabytes per second and input/output operations per second, and then display the results right in the main window of the software. The application supports four different test types, each of which comes with different data blocks.
Sequential Read and Write Speed: Test read/write speed with blocks of 128KiB and Queue Depth= ​​1, 2, 4, 8, 16, 32, 64, 128, 256, 512 or 1024.
Random Read and Write Speed: Test read/write speed with 4KiB blocks and Queue Depth= ​​1, 2, 4, 8, 16, 32, 64, 128, 256, 512 or 1024.
Scoring read and write in Mbps.
Scoring read and write according to IOPS in tooltip.
Test data: Random or 0.
Test size: 50 MiB, 100MiB, 500MiB, 1GiB, 2GiB, 4GiB, 8GiB, 16GiB or 32GiB.
Test interval: 0 seconds,…, 10 minutes.
jDiskMark (Windows, macOS, Linux)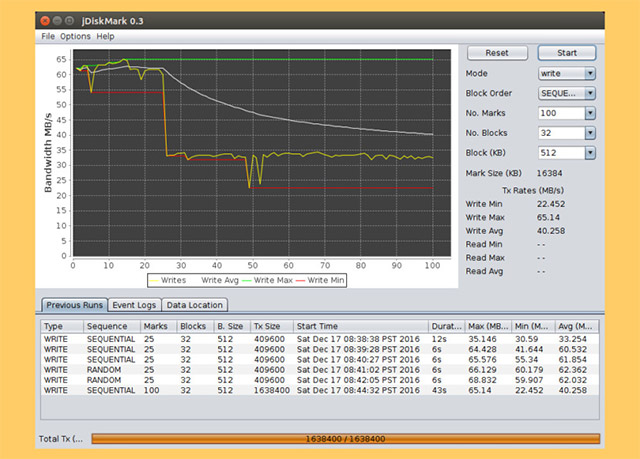 jDiskMark is a simple Java utility to help evaluate the input/output (IO) read and write speeds of drives. Evaluation is done by having the drives create and read user configurable data files. When performing a combined read and write operation, the disk cache is not automatically cleared, so the application must be restarted to prevent the cache from affecting read IO performance. Here are the features and characteristics of jDiskMark:
Drive IO read and write performance.
Java cross platform solution.
Save previous run information.
Optionally one or more files.
Sequential or random test options.
Detect drive information.
Adjust block size.
Passmark Performancetest's Advanced Disk Test (30 days free) (Windows)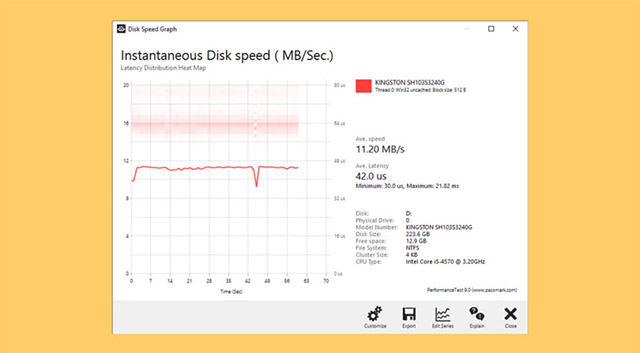 This advanced drive testing software is part of PerformanceTest, which allows users to measure data transfer rates as they are read or written to one or more disks. The speed at which data can be transferred between memory and the hard drive is one of the most important aspects of system performance. There are many factors that affect this speed and Passmark Performancetest's Advanced Disk Test allows users to monitor and change most of these factors and then compare the results.
This software can work with any drive mounted in Windows, including IDE, SCSI, RAID, USB, SATA, network shared drives and removable drives. Users can also test multiple drives at the same time using multiple threads and specifying information such as:
The size of the test file used. Using larger files means that the system cache will have less of an effect on the types of tests that use caching.
The size of the data block used for each read or write request. Using larger blocks means fewer requests and can lead to improved performance.
Four access methods: C/C++ API, Win32 API cached/uncached and raw disk.
Sequential or random access.
Synchronous and asynchronous access.
The split between read and write speeds.
Download Passmark Performancetest's Advanced Disk Test software here
Parkdale (Windows, macOS, Linux, Android)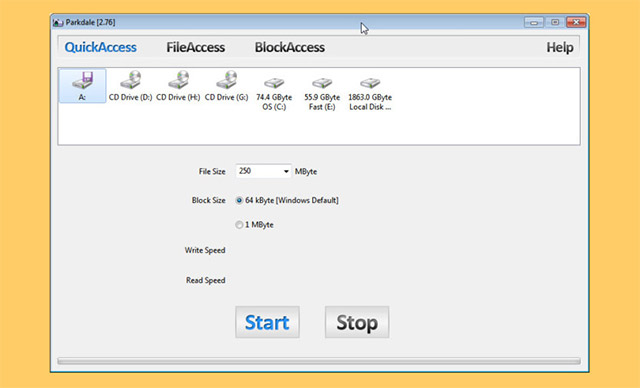 With a very simple click, Parkdale will test read and write speeds from your hard drives, cdrom devices and network servers in Kbps, Mbps or even Gbps using the system. file system. This software will tell you the sequential and random read and write access speed of the drive using 4KB blocks and 32 threads at the same time. You can select multiple drives at once, they will be checked in turn and then the results will be written to a log file. So you can easily compare the test results of many different drives.
I will leave some Windows related articles below, please read because it is very helpful!
Good luck!
According to Geckoandfly.com
Source: 8 best and completely free software to test the read and write speed of SSD and HDD hard drives
– TechtipsnReview