In recent years, video editing software has evolved significantly. In the past, tools like Windows Movie Maker and iMovie were considered the norm. But with video editing becoming more professional over time, several new video editors have appeared. However, there are only three editors that really make an impression: Adobe Premiere Pro, DaVinci Resolve, and Final Cut Pro.
If you have a Windows PC, it can be difficult to choose between Adobe Premiere Pro and DaVinci Resolve, as both are great. In today's article, Quantrimang.com will help you make a decision: DaVinci Resolve or Premiere Pro? Let's find the answer through the following article!
Compare Adobe Premiere Pro and DaVinci Resolve
Adobe introduced its video editor, Premiere, in 1991. At that time, it was only available to Mac users. A few years later, Adobe released Premiere Pro, the successor to Premiere. Because it is a professional editor, Premiere Pro's popularity has reached new heights. Today, Premiere Pro is included in the Adobe CC (Creative Cloud) package.
In 2004, da Vinci Systems, an independent organization, developed DaVinci Resolve. Then, in 2009, Blackmagic Design acquired the software. DaVinci Resolve is currently available as a commercial (access to all tools) and a free version (limited tool access).
User interface
Premiere Pro comes with an NLE Timeline interface using Sequences, including audio tracks, videos, images or any other supported media. These tracks make Premiere Pro's organizational model more streamlined. Panels can be rearranged and you can save your workspace. The ability to reorganize makes everything more accessible and increases productivity.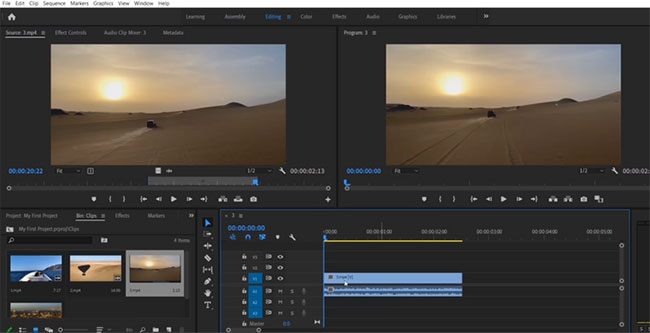 On the other hand, DaVinci Resolve also uses the Freeform Timeline Editor to divide the user interface into sections. There are 5 sections in all here: Cut & Edit, Fusion, Color, Fairlight and Deliver. All of these work as their names suggest, except Fusion is a motion graphics tool, and Fairlight is an audio editing tool.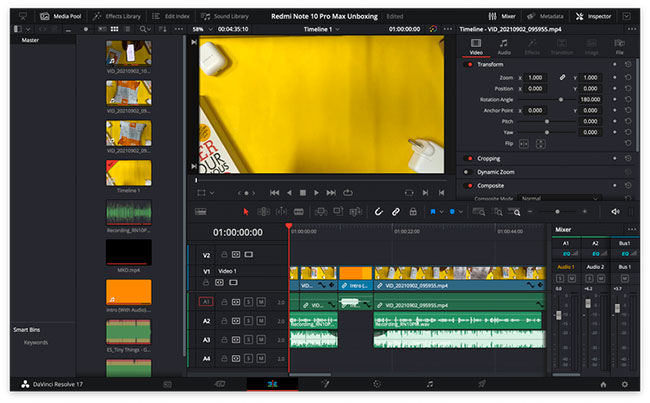 Organize media content
Since Premiere Pro uses an NLE-based timeline, it uses Bins to store data. In general, Bins are nothing more than directories. You can store any supported media here and create compartments inside a bin, just like in folders. If you want to categorize your labels, you can choose a different color.
Since Premiere Pro is part of Adobe CC Suite, you can access your content from other software like Illustrator, Photoshop, After Effects and more, right from the tab Libraries.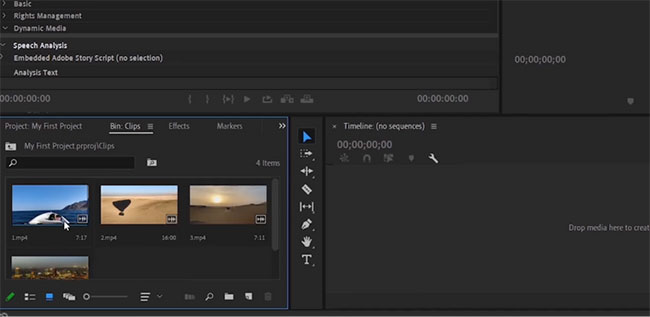 When it comes to DaVinci Resolve, it has a dedicated section for adding and organizing media files. The Media tab allows you to add content to bins, similar to what Premiere Pro offers. You can add videos, images or any other supported file type. You can place these media files in specific folders and create subfolders within the large folder to keep your workflow more organized.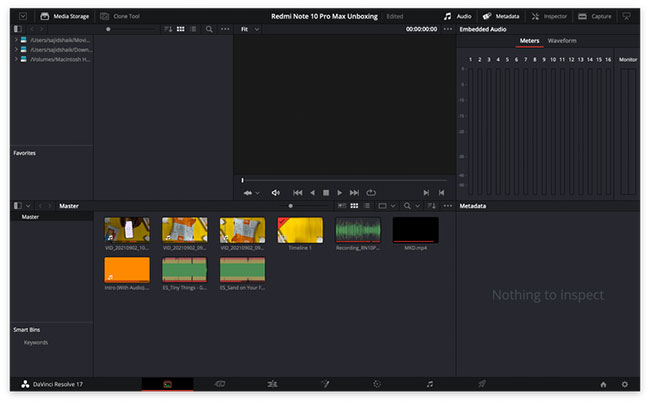 Sound
DaVinci Resolve comes with a separate tab for audio editing — Fairlight. It's a built-in application in DaVinci Resolve that provides professional tools for editing audio recordings or any media content. However, if you don't like this kind of pro-grade audio editing, you can switch to the Edit tab and use the basic audio editing options. With Fairlight, however, you get a complete digital audio workstation that allows you to add different effects, mix tracks, and more.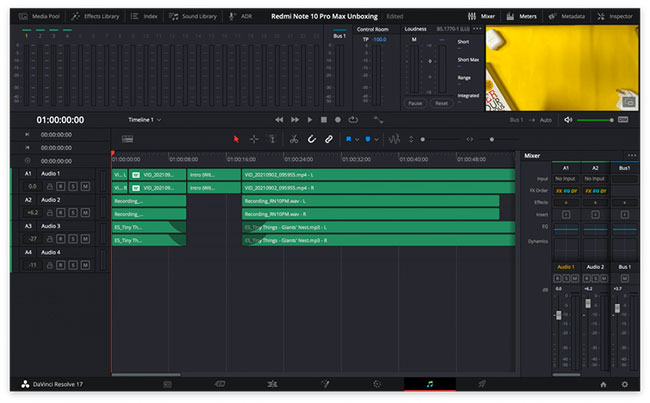 Meanwhile, Premiere Pro comes with a main Audio Mixer tool for editing audio tracks. It's a basic audio editor, without too many options or complications. However, Premiere Pro is part of the Creative Cloud plan, and so you may have the option to edit audio in Adobe Audition. You can make precise adjustments, add effects, mix and edit tracks, and import them into Premiere Pro seamlessly.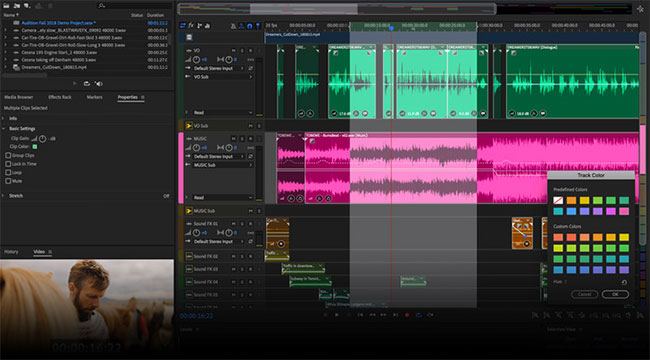 Sort by color
DaVinci is known for its ability to sort by color, and that's a good place to start. If your video editing involves color grading, then you should use DaVinci Resolve. It comes with many tools for advanced and extended color grading.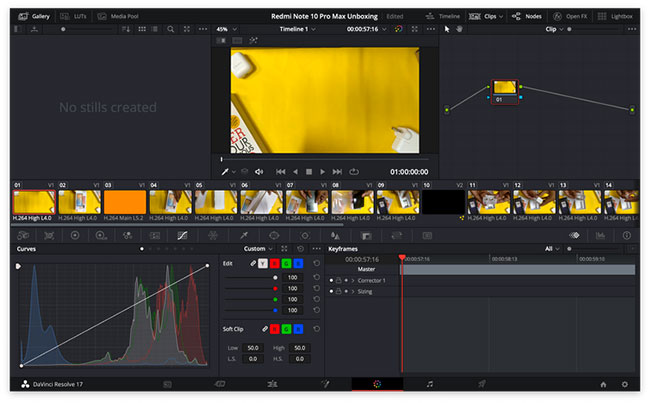 Premiere Pro, on the other hand, offers fewer tools than DaVinci Resolve. However, it is capable of relative color grading on video. You can set up your workspace with multiple colors to make your workflow easier, like what DaVinci Resolve has to offer.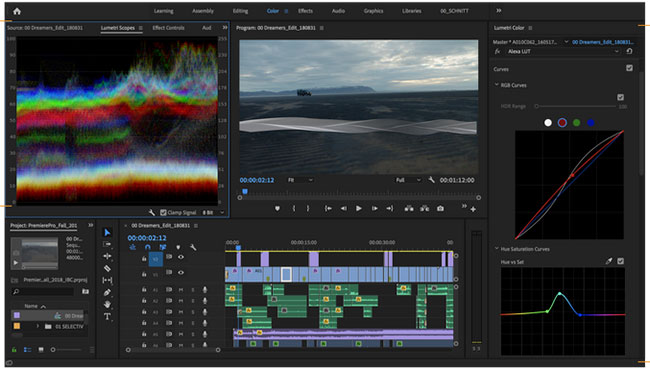 Motion graphics
Premiere Pro is part of the Adobe Creative Cloud Suite, so you can find Adobe After Effects, which professional motion graphics designers use. Furthermore, Adobe After Effects syncs well with Premiere Pro to give you a seamless experience. However, Premiere Pro, being a standalone application, can't do much when it comes to graphics editing.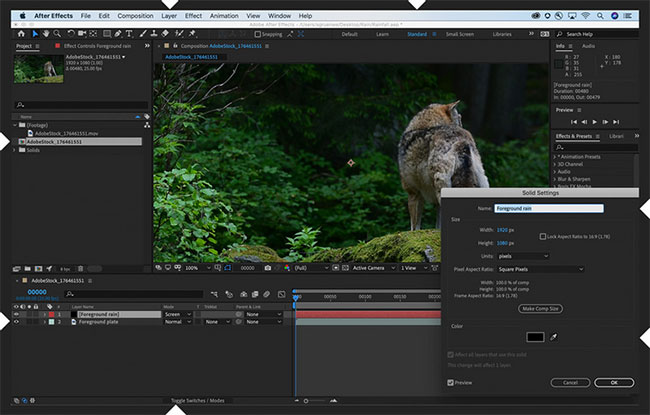 In contrast, DaVinci Resolve comes with a built-in tool for motion graphics – Fusion. It's an advanced tool and takes some getting used to, just like Adobe Premiere Pro. This tool is about the same quality as After Effects, but has a few limitations. Since DaVinci Resolve has Fusion integrated, it works seamlessly with your editing timeline.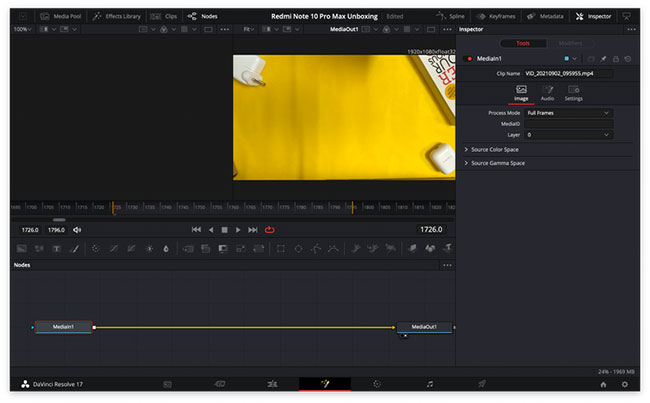 Pricing and Availability
Premiere Pro is included in the included Creative Cloud plan. Adobe CC is a subscription-based service and so you need to choose whether to pay monthly or annually. It will cost you $20.99/month if you choose the annual plan and $31.49/month if you choose the monthly plan.
This price is only for Premiere Pro and if you want to get the complete Creative Cloud plan it will cost you $52.99/month. You get access to all your apps and 100GB of cloud storage for your libraries.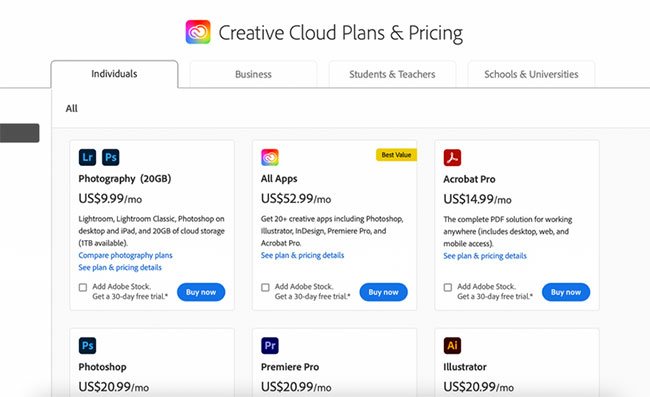 On the other hand, DaVinci Resolve is a free video editor, with a commercial version available with extended features. You can purchase the commercial version for $299, which is a one-time fee. However, if you want to stick with the free plan, you can also use it without worrying about missing out on many features.
Both video editing apps are available for Windows and macOS. So you can choose the platform according to your needs.
Premiere Pro or DaVinci Resolve is superior
DaVinci Resolve and Adobe Premiere Pro both have their own advantages and disadvantages. But if you consider the price, the obvious choice should be DaVinci Resolve. The free version is available on both Windows and Mac, the commercial version costs $299.
Also, if you are familiar with Adobe software like After Effects, Photoshop and others in the CC package, then Premiere Pro will be more suitable. But if you don't depend on this chain, then DaVinci is the best choice between these two video editors.
Source link: Adobe Premiere Pro or DaVinci Resolve is the more optimal editor?
– https://techtipsnreview.com/