Template in the Vietnamese sense is a template, in the context of this article, you can understand it as SAMPLE TEXT.
So what is sample text? Well, let me ask myself and answer it myself: It is the type of text that when we open it will automatically create a copy of itself.
The sample text file has the extension (or we call it the extension or format) of *.dotx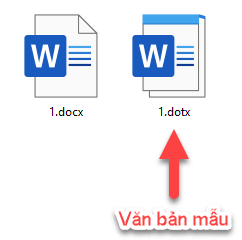 When double-clicking on the file *.dotx then a file *.docx will be automatically generated. The newly created file will be named by default Document.
I. Learn about the features of Template in Word
#first. Application of Template
The sample text will contain pre-set formats such as text page format, paragraph format, character format, graphic object, etc.

So, instead of having to manually reset these options, we can completely use Template to replace those steps.
Students often have to work in groups to complete reports or essays. Then, to ensure the consistency of the format and save time when synthesizing, the Template is a perfect choice.
#2. Use templates available in Word
Microsoft is currently providing us with quite a few sample documents. These sample documents are beautifully and professionally designed, supporting many different topics such as: Business, Cards, Flyers, Letters, Education, Resumes – Cover Letters and Holiday..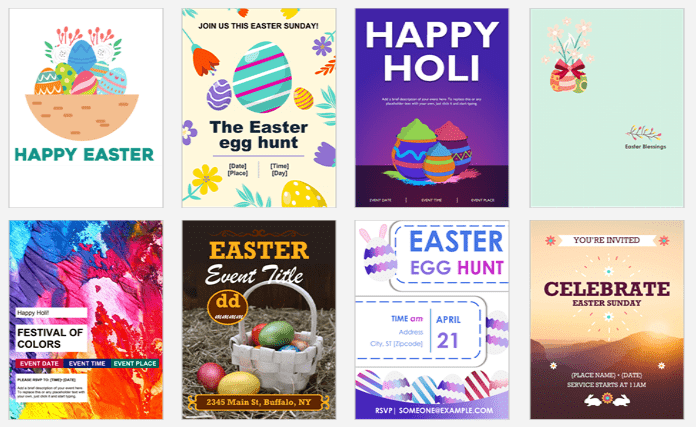 Implementation steps:
+ Step 1: Choose card File => choose New
+ Step 2: Select the required sample text, enter its name in the box Search for online templates to search or search by subject..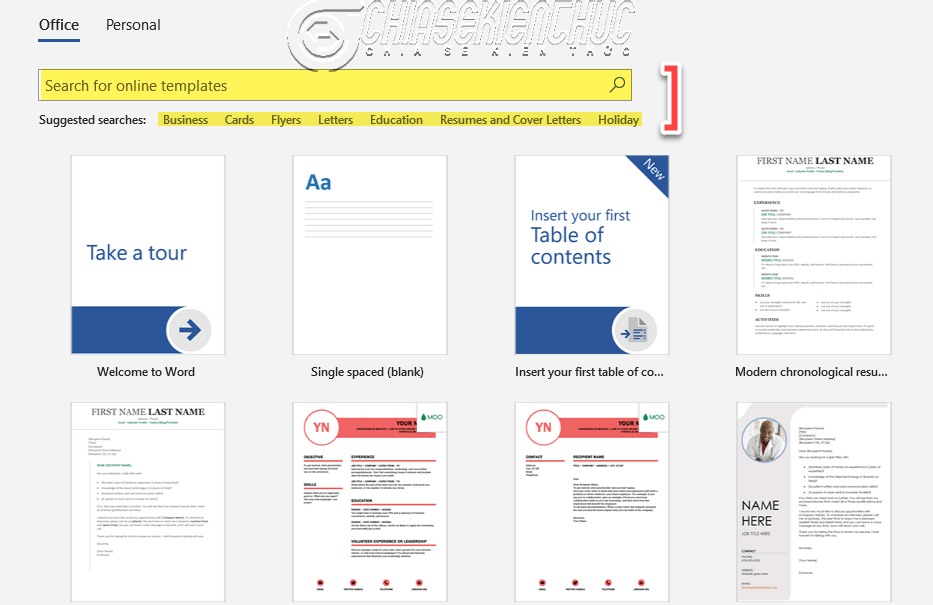 + Step 3: Then you choose Create

Or You can refer to more detailed steps to find a Template as in this article (read section #2 okay guys).
For example, this is the interface of the sample text Jazzy student report. Your job right now is just to edit these documents because most of them are in English..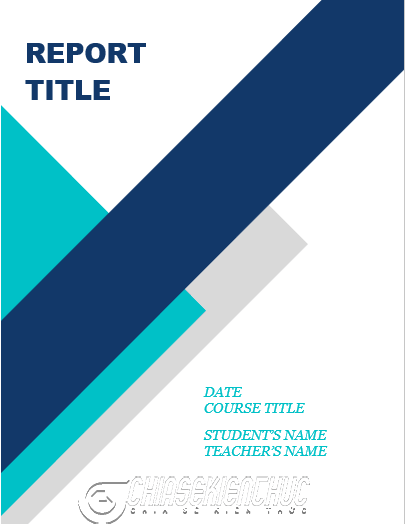 #3. Create a new Template yourself
To be able to create a beautiful sample text by yourself is really not that simple.
If you do not learn through design or you do not have an aesthetic eye (not to mention weak knowledge of using Word), then using the sample documents provided by Microsoft will be the optimal choice.
In case you meet the above criteria or your sample text is just formatting or inserting simple graphic objects then you can consider creating a new template text yourself.
Implementation steps:
+ Step 1: Start Word up => select File => choose New => choose Blank document.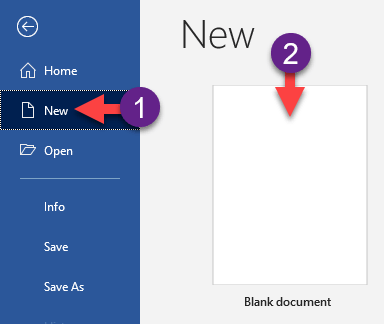 + Step 2: Perform:
Format page size, page orientation, margins, fonts, …
Insert and format images, Shapes, Icons, …
+ Step 3: Choose card File => choose Save
Dialog box Save As appears, then perform the save as usual, but remember to select Save as type: to be Word Template (*.dotx)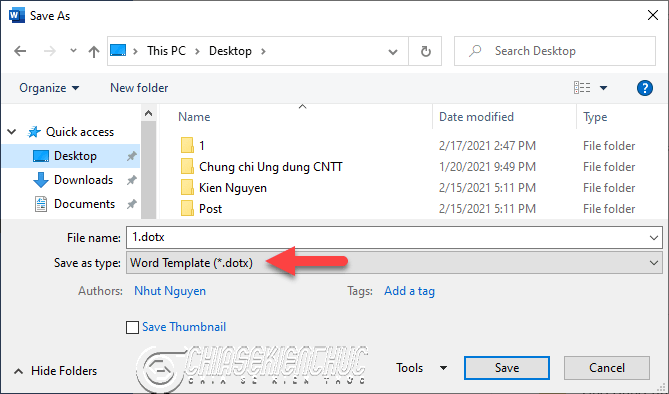 II. Learn about Theme features in Word
#first. What is Theme in Word?
Theme is a set of formats including: colors, fonts, effects, … for the entire text..

Each Theme usually has 3 components
Theme Colors Colors for Styles such as Heading, Title, Subtitle, …
Theme Fonts fonts for styles and for text.
Theme Effects effect.
#2. Application of Theme in Word
With Theme you can easily and quickly give your documents a professional format using the provided templates.
For example, I have formatted the Heading as shown in the picture (on the right) now I want to reformat it (green text, Trebuchet MS font, …) then just choose a suitable Theme template.

#3. Apply Theme to Word documents
+ Step 1: Choose card Design => in group Document Formatting you choose Themes
+ Step 2: Choose 1 of 30 Theme templates provided..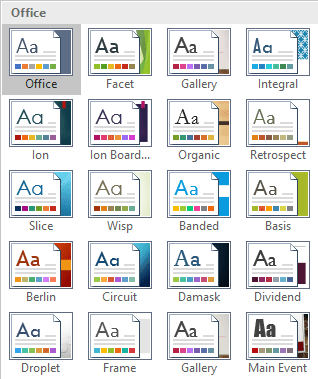 #4. Edit Theme in Word
As I introduced above, each Theme will have 3 components. We edit the Theme is also editing these 3 components:
+ Step 1: Perform as part #3 above guys.
+ Step 2:

Colors to change all the colors used in the text.
Fonts to change the font. Notice that Body and Heading font will vary.
Effects to change the effect (Shadow, Reflection, Glow, Soft Edges, Bevel, 3-D Rotation) of graphic objects in the document.
Alternatively, you can also choose Paragraph Spacing to change the spacing between lines and paragraphs in text..
#5. Create a new Theme for Word
After editing, the Theme is now as desired and you want to save it to apply it to future documents, you can follow the steps below:
+ Step 1: Choose card Design => in group Document Formatting => choose Save Current Theme...
+ Step 2: Dialog box Save Current Theme appear, you name Theme at File name: => choose Save. These files will have the extension *.thmx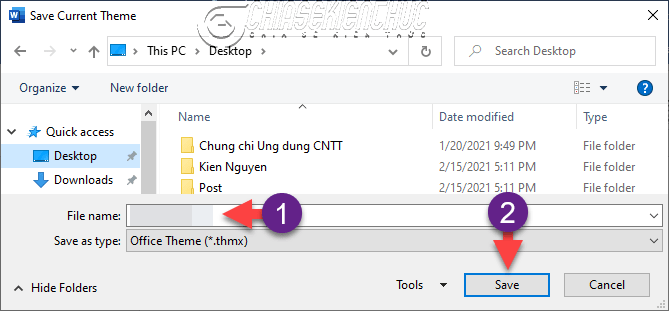 Later, when you want to use this Theme again, you just need to select the tag Design => in group Document Formatting => choose Browse for Themes... => select Theme to use => select Open
III. Epilogue
Yes, that's it, I've finished guiding you How to apply Template and Theme to Word document editor? okay then.
Using Templates and Themes in Word will help you optimize your working time and help you produce more professional results.
Hope this article will be useful to you. Goodbye and see you in the next articles (•‿•)
Read more:
CTV: Nhut Nguyen – techtipsnreview
Note: Was this article helpful to you? Don't forget to rate the article, like and share it with your friends and family!

Source: Application of Template and Theme in Word document editing
– TechtipsnReview