NOTE: Welcome to the Knowledge Sharing Blog! If you encounter any errors during use, such as error in download link, slow loading blog, or unable to access a certain page on the blog … please notify me. via Contact page. Thanks!
You may not know that on some modern laptops or desktops (PC), NumLock will not start with Windows by default. This means that after restarting the computer, if you want to use the numeric keypad, you must press NumLock to be able to use it. Or it could also be that after your Windows operating system version is installed, the default has been set to automatically turn off NumLock when you turn off your computer. Especially on Windows 8.1 and Windows 10 operating systems, this situation is very common, and most likely because Microsoft deliberately did so to save more battery for Laptop …
So how to install automatically turn this NumLock off or on when starting Windows ? Okey! Very simple, in this tutorial I will share with you a little trick to do this, 100% successful.
What does NumLock do?
Keys Num Lock is the key to manage the numeric keypad on the computer keyboard. If you do not turn this key on, you will not be able to use this numeric keypad area.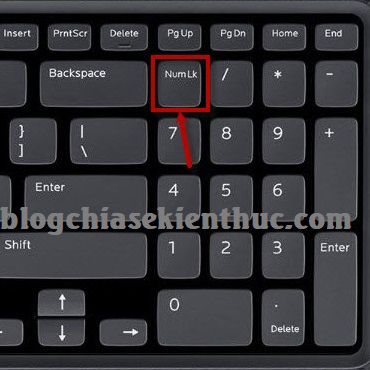 But there are also some laptops with small size keys Num Lock and number keys are often used in conjunction with other keys. And to use the numeric keypad, you need to activate it first by pressing the combination Fn + NumLk keys before that.
Set to automatically turn off / on NumLock when starting your computer
+ Step 1: Open the Run dialog box (Windows + R) => then use the regedit command to open the Registry Editor window.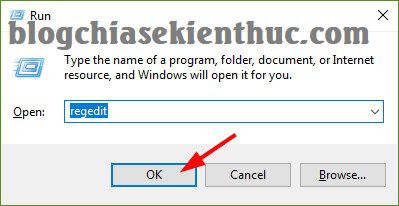 + Step 2: Next, please access the following link:
HKEY_USERS .DEFAULT Control Panel Keyboard
You may be looking for:
Okey, after you have accessed that path then double-click on the key InitialKeyboardIndicator. Or you can right-click on this key and select Modifi...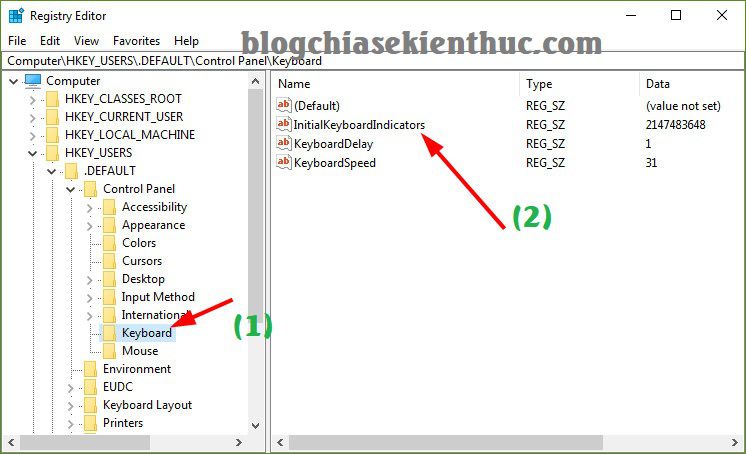 One window Edit String appear. Now in the cell Value data Please enter a value 2 Enter to automatically turn on NumLock when starting the computer => then press OK to complete.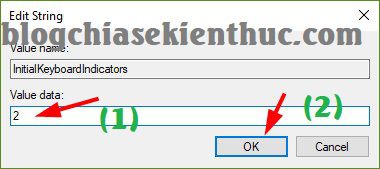 That's it, from now on, every time you restart the computer, NumLock will be activated, and you won't need to activate it manually anymore ?
Note: In the event that you enter the value 2 does not work, you should try with the value 80000002 try to see if not. Similar to other values, for example if you use value 1 if not then use value 80000001 …
In addition, there are other options in the Edit String box, enter the number corresponding to its function in the Value data section:
Value 0: Automatically turn off 3 keys NumLock, Caps Lock and Scoll lock when booting.
Value 1: Automatically turn on the Caps Lock key at startup.
Value 2: Automatically turn on Num Lock key when booting.
Value 3: Automatically turn on Num Lock and Caps Lock key when booting.
Value 4: Automatically turn on Scoll lock key when starting.
Value 5: Automatically turn on Caps Lock and Scoll lock when booting.
Value 6: Automatically turn on NumLock, and Scoll lock on boot.
Value 7: Automatically turn on all 3 keys NumLock, Caps Lock and Scoll lock when booting.
__________ read more if you like ________
In addition, on some computers there is a setting to automatically turn on Num Lock in the BIOS, for example, as shown below.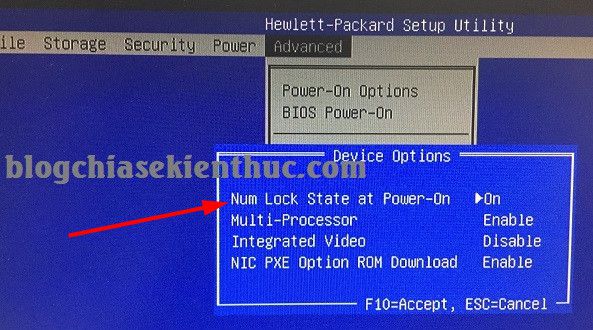 By the way, I also share with you a small free software called NumLocker. This software has the effect of keeping the key state Num Lock or Caps Lock or Scroll Lock always on or always off.
After downloading, please unzip => run the file NumLocker.exe to install it on your computer. After the installation is complete, you will see a text icon N below the Taskbar as shown below.

This software will manage 3 keys that are Num Lock, Caps Lock and Scroll Lock. With this software you can Turn on (ON), Turn off (Off), Alaways ON (Always on) either Alaways Off (Always off) in a simple way.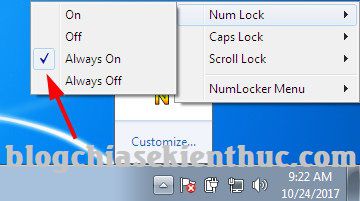 When should I use this software?
As I said above, this software supports Num Lock (Caps Lock or Scroll Lock) state switches that are always on or always off, even if you press Num Lock, its status remains unchanged. change. Therefore, when you feel the need, please use it.
Epilogue
Okey, so I have very detailed instructions for you how to install automatically turn on the Num Lock key when starting the computer Okay, this method also applies to automatically turn on the Caps Lock key, so if you feel the need to activate the key, please apply.
Hope this article will be useful to you, wish you success!
Kien Nguyen – techtipsnreview
Note: Was this article helpful to you? Don't forget to rate, like and share with your friends and relatives!
Source: Automatically turn on NumLock when booting the computer 100% successfully
– TechtipsnReview