NOTE: Welcome to the Knowledge Sharing Blog! If you encounter any errors during use, such as error in download link, slow loading blog, or unable to access a certain page on the blog … please notify me. via Contact page. Thanks!
In the previous article I have shared with you how to convert Legacy standard to UEFI standard is very simple, right. Yes ! And in this article, the content will be completely opposite, that is, I will guide you in detail on how to convert the UEFI standard back to the popular Legacy standard.
I should not be writing this article either, because many people want to switch to UEFI standard and cannot even convert to the old Legacy standard. However, in the process of replying to your comments, I get quite a lot of suggestions for this issue. It is simply not because they do not want to use it, but that their computer does not support the UEFI standard, it is only until the ghosting is done, that it is discovered that the computer does not support this standard. Okey! thanks, I will guide you, as long as I know, I promise I will guide you enthusiastically ?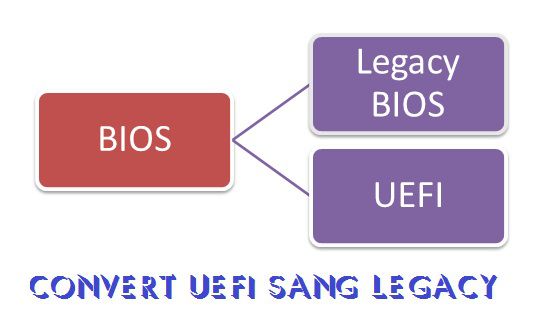 What should I pay attention to converting Windows from UEFI to LEGACY?
Step 1: Only keep up to 4 Primary partitions
Different from architecture GPT, architecture MBR only supports you up to 4 primary partitions (Primary) only. So before you want to switch to the standard Legacy for use, you need to make sure one thing is less than or equal to 4 Primary partitions.
Tips: Please delete partitions that are small (
Step 2: Convert from GPT to MBR
Please open Partition Winzard software to do this. (See step 3 in this article!)
Step 3: Create bootable for the operating system
After you convert from GPT to MBR, the main partition will be deactivated, now you need to Set Active Give it back.
Perform: Please Set Active for the primary partition and reload MBR as instructed in this article. Or you can use the BootICE tool in Mini Win to load MBR and PBR for the hard drive (see step 4 instructions in this article).
Step 4: Reset the BIOS properly
Finally, restart your computer => access bios => set up Bios for Legacy to be correct. This problem, you can refer to this article of mine: "Instructions on how to set up and install UEFI standards in BIOS"
Epilogue
So with only 4 simple steps you can convert Windows standard UEFI to LEGACY without having to reinstall Windows already. This is a way for those who like to play with, with little time only. If to be more stable, I still advise you to reinstall win or ghost for it to be stable.
Hope the article will be useful to you, wish you success!
Kien Nguyen – techtipsnreview
Note: Was this article helpful to you? Don't forget to rate, like and share with your friends and relatives!
Source: Convert Windows from UEFI standard to LEGACY without reinstalling Windows
– TechtipsnReview