What is Coc Coc?
Coc Coc browser is a free web browser for computers and mobile devices. Coc Coc offers a lot of unique browser features and functions for all users. This browser also helps to download online content such as videos, audio and images faster.
The main features of Coc Coc
Do more than browse the web
Coc Coc browser is built with user-friendly tools to suit all users. The most notable thing is that Coc Coc has a very simple browser interface. But hidden in this simple appearance are useful extras. The browser automatically checks spelling when writing comments, emails, and blogs. It also recognizes Vietnamese slang, which other browsers won't recognize in the first place. For foreigners, the built-in dictionary is very useful for communicating in Vietnamese. Anyone can learn Vietnamese easily, from students to business people.
The currency converter helps users to find the equivalent amount when converting Vietnamese Dong to other currencies like US Dollar, Japanese Yen, Chinese Yuan and even Euro. This is very handy for buying or trading anything online.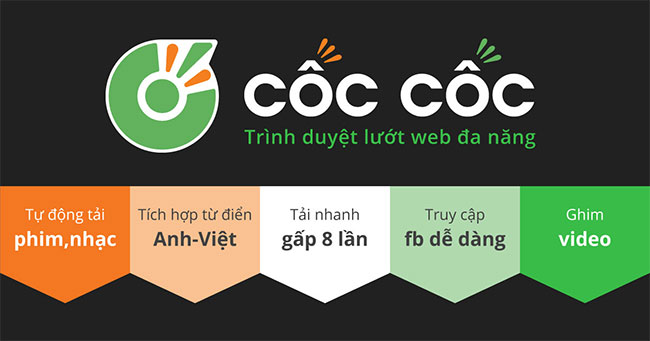 Browser included Internet Download Manager (IDM – Internet Download Manager), a special drop-down tab that shows which online files are available for download. The user selects the file type and they will automatically receive a download link. Users do not have to use external software or find and download files manually. Coc Coc can get files from Movie 14, Zing and my music.
The browser also integrates with mobile devices to send files. Users must first sync their mobile devices with their computers. Then just hit the download icon from the browser and click the mobile phone icon to send the file from the local file library. A QR code is generated and the user enters it on a mobile device. Any selected files will be sent seamlessly to the synced mobile devices. If you still need more browsing features, you can consider downloading other options like Brave, Mozilla Firefox and Opera Browser.
User-friendly browsing
Coc Coc browser supports everything Vietnamese with a spell checker, dictionary, slang identifier and currency converter. The browser allows for faster downloads despite having a very simple interface and browsing features.
Advantages
Download online content 8 times faster
Exclusively indexed content search
Integration with mobile devices
Defect
Only some websites have faster download speed
Very basic web browser
Restricted use in Vietnam
Requires Coc Coc mobile version for file transfer
Source link: Cup Cup
– https://techtipsnreview.com/