Currently, iOS 15 is being tested in two forms: Developer beta and Public beta. While the Developer beta has a second version, the Public beta has just released the first (although it is named iOS 15 Public beta 2, it is still the first version).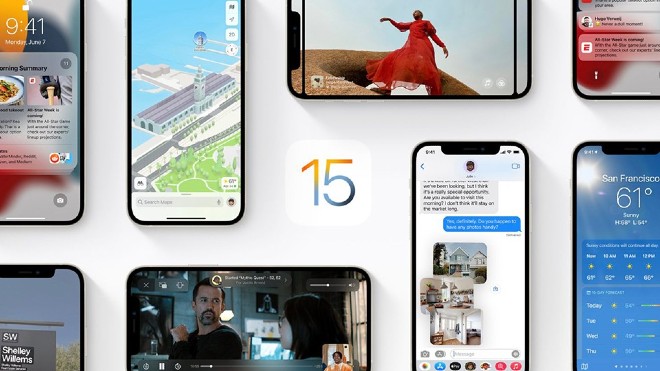 Beta software always has bugs and so is iOS 15 beta. Here are the bugs on iOS 15 beta confirmed by Apple based on user reports:
Bugs on iOS 15 beta
Finder may be unresponsive

If you installed iOS 15 beta using Restore Images, your Finder may not work properly. The workaround, according to Apple, is to install Devices Support for the iOS 15 beta by visiting Apple's Beta Software Download page.

Problems with the camera

In the camera app, the Live Text feature is still not working. And if you take Panorama photos in low battery mode, you will get unexpected results. Apple hasn't come up with a workaround yet.

CarPlay connection

When you share the SharePlay screen, the CarPlay connection may fail. Apple recommends that users stop screen sharing before connecting iPhone to car via CarPlay

Problems with the Find My network

In the iOS 15 beta, the forgotten notification feature is not supported on Intel-based Mac computers and Apple Watch. In addition, the Find My network alert that fires when your device needs to be charged is only displayed if you select the device language as English.

Problems with widgets

When you select a category in the widget gallery, you may see another category appear. In this case, you should ignore and reopen the library. The home screen may stop suddenly when you drag a widget from the gallery to the screen

Problems with SharePlay

Apple also said that the SharePlay feature is experiencing some problems, including that it is not ready for use with some users. If more than 5 people are participating in FaceTime, performance may be reduced. On some devices, your FaceTime camera may be disabled when a screen sharing session starts
Personal experience with iOS 15 beta
Note: Quantrimang iOS 15 beta testing from the first Developer beta until now is Developer beta 2 on iPhone X devices. Problems and errors may depend on the device as well as the application of each user, so we It's impossible to cover every aspect of the iOS 15 beta. If there are any mistakes, please forgive me.
During the first few weeks of experience with the first Developer beta, Quantrimang's test device worked stably, without application errors, without abnormal battery consumption. From social networking applications to games, banking apps, the new Safari is working normally.
When Apple released Developer beta 2, Quantrimang's iPhone X started to have some problems. First, the newly added Private Relay feature is not working properly.
When Private Relay is enabled, all connections over the WiFi network still work normally. However, when using a cellular connection, the iPhone X cannot access the game while all other connections are normal. To access the game with mobile network, we had to use additional 1.1.1.1 application.
In terms of performance, sometimes while playing games we experience lag, jerky and unusual heat. The frequency of the problem is not much, so it is not too worrisome.
Should I update to iOS 15 beta or not?
The answer depends on your needs. In fact, iOS 15 beta was born for testing purposes. Test participants will report bugs to Apple. This way, Apple will quickly detect iOS 15 beta issues on different devices and different apps.
iOS 15 beta is for the following audiences:
A developer who wants to test his app on the new iOS
Users who want to experience the new iOS before, accept the risk of errors
Security experts want to learn and detect bugs on the new iOS
Journalists, reporters, reviewers want to experience to then bring information to users
iOS 15 beta is not intended for users who use iOS devices for work purposes that always need stability.
Source link: Errors on iOS 15 beta, should I update to iOS 15 beta or not?
– https://techtipsnreview.com/