NOTE: Welcome to the Knowledge Sharing Blog! If you encounter any errors during use, such as error in download link, slow blog loading, or unable to access a certain page on the blog … please notify me. via Contact page. Thanks!
Have you ever encountered an error where all Windows files were opened by an application?
I take a specific example for you to easily imagine, that is when you double-click on a Word file or an Excel file on your computer for example … instead of opening it with MS Word or Excel software, it re-open with FireFox web browser or opened with Windows Media Center software… and of course, the file you open will be error now.
So how to fix this annoying error? Have you ever been in this situation? Do you need to reinstall Win or not?
I think not, if you are having trouble fixing this, please refer to the ways that I instruct below.
Read more:
Note: Today I have just successfully fixed this error for a friend's computer, so I am very confident, and by the way, I also write a post to share with you. Hope it helps you guys ?
#first. What is the reason?
Caused by virus => this cause is very common already.
Because you choose the wrong file reader application. For example, you right-click on any Word file => select Open With => choose the wrong program to read the file is Google Chrome (while you still leave a check mark on the line ' Use this app for all .docx files ", which means always open files with extensions *.docx with Google Chrome), all Word file icons will be turned into Google Chrome icons.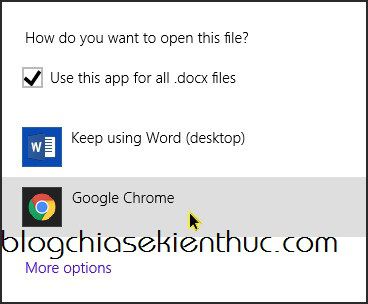 #2. Error correction instructions all program icons are changed to the same
– Method 1: If it's because you chose the wrong program to open the file, you can quickly fix it by:
Right click on the file that is displaying the wrong icon (for example, the word file has an icon of Google Chrome) => select Open With => select the program to read the file again as MS Word and finish
– Method 2: Handling errors caused by Viruses.
The manifestation of this error is that all files opened with FireFox, all files opened with Windows Media Center or all files opened in Word … generally fix all icons on the Desktop. are the same.
+ Step 1: First you please Download this file / Link backup
+ Step 2: Once downloaded => please extract the zip file and get the file FixOpenwithError.inf => right click on the file FixOpenwithError.inf => select Install To extract the file and overwrite the registry => now restart your computer to see the results.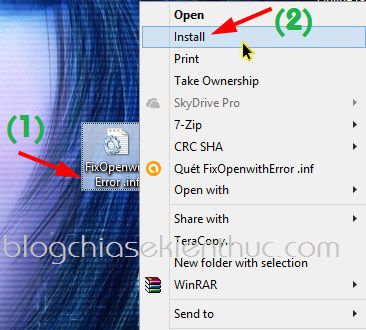 Tips: Before doing this, I recommend that you install anti-virus software and scan through the first time to avoid viruses causing errors.

If possible, you should buy a reputable and effective anti-virus software such as Kaspersky, or Bitdefender….

Or if you can't buy it, at least you should use one of the free anti-virus software that I introduced earlier.
# 3. Epilogue
Okey, so I have detailed instructions for you how fix all files opened with FireFox, Windows Media Center … Alright.
This is a very common error and also very difficult to deal with if you do not have much experience, so please bookmark the article in case it happens to you ?
In addition to the ways I mentioned above, if you know any other ways, please comment and share below for me to update more for everyone to use.
Hope this article will be useful to you, wish you success!
Kien Nguyen – techtipsnreview
Note: Was this article helpful to you? Don't forget to rate, like and share with your friends and relatives!
Source: Fix all files opened with FireFox or Windows Media Center ..
– TechtipsnReview