NOTE: Welcome to the Knowledge Sharing Blog! If you encounter any errors during use, such as error in download link, slow loading blog, or unable to access a certain page on the blog … please notify me. via Contact page. Thanks!
There are a lot of software that support the burning of CDs, VCDs and DVDs, but if your computer doesn't have any burning software or you simply want to burn an Audio CD, I think. is that software installation is not required.
Because inherently Windows operating system that we are using has integrated these tools already. Although it is not very expert, it is generally still a guarantee of successful burning!
In this article, I will guide you to use the Windows Media Player music player available on Windows to burn MP3 discs, burn videos to disc with the tools available on Win, and of course you can run. good on disc readers.
Okey! let's start .. oh forget, but before you burn a disc you should also prepare the necessary tools first.
#first. What to prepare before burning?
A blank plate: Of course, you can buy CDs or DVDs depending on how much music or data you need to burn.
Record drive: Normally, on today's laptops, the CD drive already supports the burning function, and for PC computers (desktops), we have to install an additional burner.
Tips: To check if your CD / DVD drive is writable, do the following:
Perform: Right click ThisPC (My Computer) => select Manager => select next Device Manager => look to the right, you pay attention to the part DVD/CD... if there is a line RW ie your drive is capable of writing.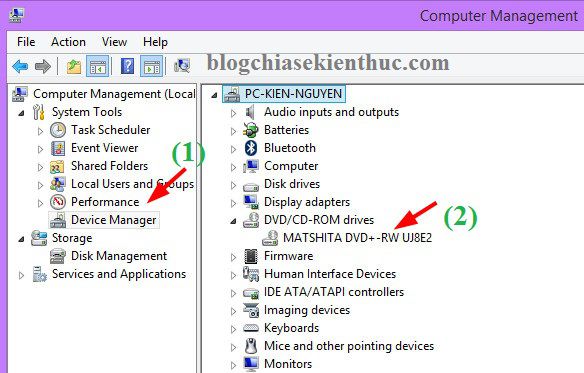 #2. Instructions to burn CD / DVD with Windows Media Player
+ Step 1: First you put the CD / DVD in the disc tray. Then open This PC (My Computer) out and double click on the CD drive => select the line With a CD/DVD player => then press Next.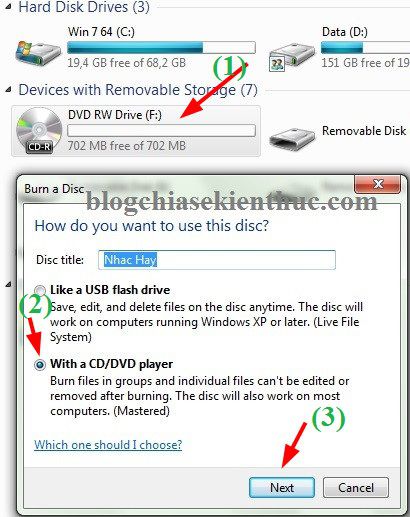 OK, now copy the songs you want to burn to the CD / DVD you just opened.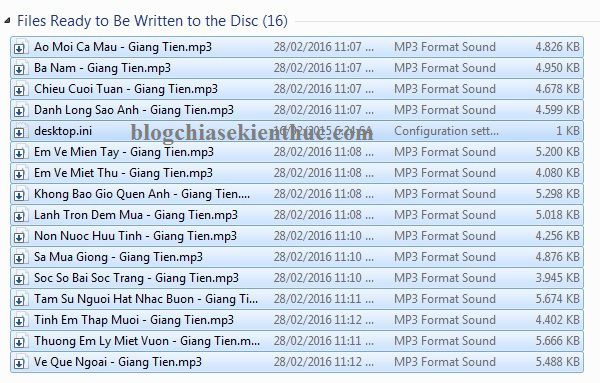 + Step 2: Right-click on any empty area in CD / DVD => and select the function Burn to Disc as shown below.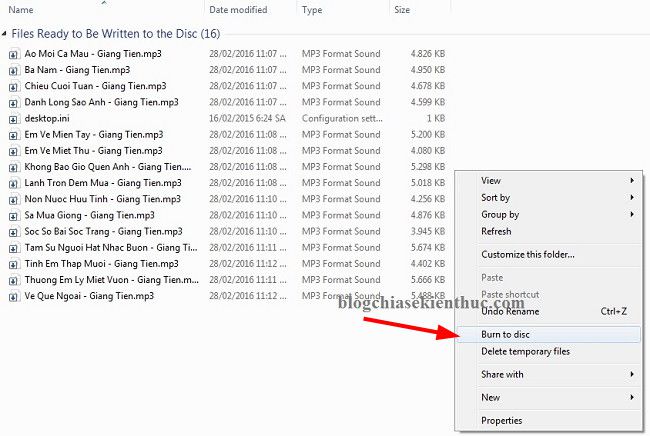 + Step 3: You can enter a title for the CD / DVD (if desired) => then press Next to continue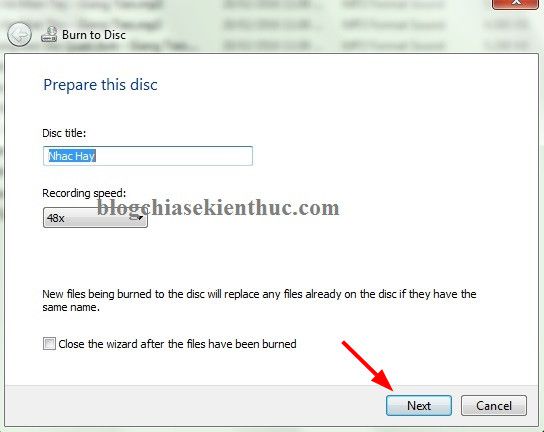 + Step 4: Here will have 2 options for you that are:
Make an audio CD (for standard audiobook CDcolorers): Select this function if you want to burn a playable CD / DVD in a disc player.
Make a data CD (for computer and some CD players): If you want to save data to disc.
After selecting, press Next to continue.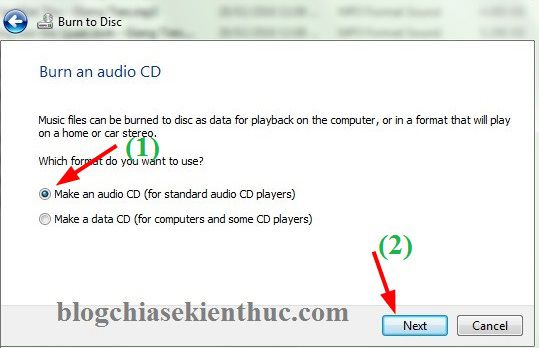 + Step 5: At this point, the interface of the Windows Media Player program will pop up, with a list of the songs you just copied to the disc earlier.
Finally, click Start burn to start burning. How fast or slow it will depend on how much space you will burn to disc. Please wait until the computer ejects the disc is done.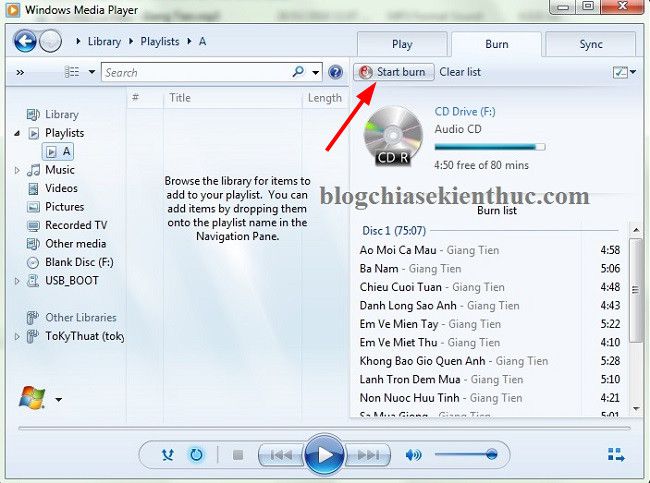 Tips: To default, then you're done Burn also, but if you want more settings to your liking, go to Settings to install as you like.
Implementation: Click the icon Options => select More burn options... to enter the settings.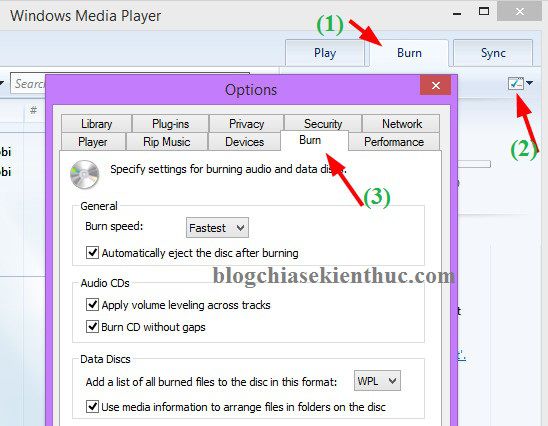 # 3. Burn videos to DVD with Windows DVD Maker tool
On Windows 8 / 8.1 and Windows 10 you can download here.
On Windows 7, Microsoft also built a tool called Windows DVD Maker The main task is to burn videos to DVD. The usage is also quite simple, please do the following steps in turn:
Perform:
+ Step 1: Click the button Start => enter the four-key search box Windows DVD maker and open the app.
+ Step 2: At the main interface of the program, click Add items to add video to the program.
The program supports very good video format as well .AVITherefore, if you click the Add items button and cannot find the video, it means that it does not support the video format.
Then press Next to continue. (If you need to add anything, click Options word Next Please.)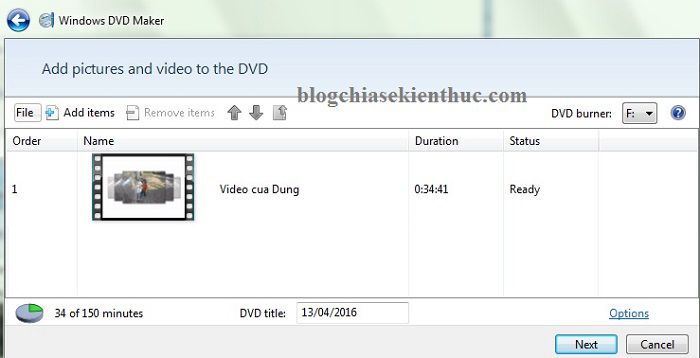 These are the formats that Windows DVD maker support. (avi, mpg, mpeg, pme, wmv, asf….)
+ Step 3: Okey! At the next interface you can click Preview to preview the video to be burned to disc. After you are satisfied then click on Burn to begin implementation Burn video on disc offline.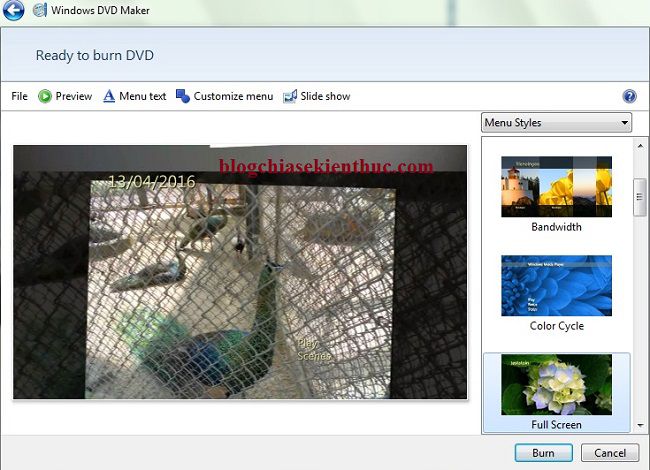 # 4. Epilogue
So I have very detailed instructions for you how to burn a CD, burn VCD and DVD without using 3rd party software already.
Although it is simple, I think you should also know to be able to work more effectively, as well as reinforce your own IT knowledge.
The following article I will guide you to use the software to burn discs, if you are interested, please pay attention to them.
Hope this article will be useful to you, wish you success!
Kien Nguyen – techtipsnreview
Note: Was this article helpful to you? Don't forget to rate, like and share with your friends and relatives!
Source: How to burn CD / VCD / DVD without software!
– TechtipsnReview