Well, in the previous article, I shared with you how to bypass the TPM 2.0 requirement when installing Windows 11 for machines that do not meet the hardware requirements.
And I believe that on the Internet today, there is no article as complete and detailed as mine Because I take great care of that article and update it regularly 😀
In general, with the method in that tutorial, you will edit the installer and repackage the installer, for the purpose of skipping the hardware check of Windows 11.
However, in this article, I will give you an even simpler way, which will help you create a fully automatic Windows 11 installation USB, and especially this tool is designed for create Windows 11 installation USB for machines that do not meet hardware requirements.
But of course, you can also use this tool to create a Windows 11 installation USB for a computer that meets the hardware requirements, because it has an optional part that
Okay, the tool I'm talking about is EaseUS Win11builder. This tool is developed by EaseUS software company.
#first. What to prepare?
You download the tool EaseUS Win11builder here (This link is from the homepage guys) !
A USB at least 8GB to create a Windows 11 installation USB.
A computer with a stable Internet connection. That's all !
NOTE: EaseUS software company also has an even more advanced tool called EaseUS OS2Go. This tool allows to directly install Windows 10/11 to USB, create a bootable Windows USB to use Mac, etc.

But this is a paid software, if you are interested you can refer to it at: https://www.easeus.com/utilities/ostogo.html
I note to you that this tool will directly download Windows 11 from Microsoft, so your computer must ensure a stable Internet connection, otherwise it will be easy to make errors during the creation process.
This is both an advantage and a disadvantage of this approach. But I think this way will be very suitable for those of you who do not have much experience with computers.
#2. How to create a Windows 11 installation USB that automatically bypasses TPM 2.0
+ Step 1: Plug the USB that you want to create the Windows 11 installer on to the computer. Please save all important USB data to another hard drive partition. Because it will all be gone!

+ Step 2: After downloading the software, please double click to start using, this software is Portable, so there is no need to install it when using.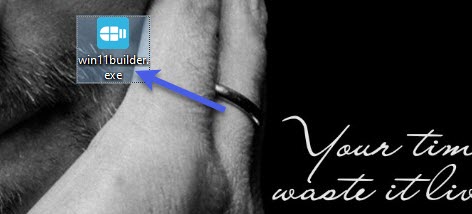 + Step 3: This is the main interface of the software, if you have just downloaded it from the homepage, it is definitely the latest version.
However, if you have downloaded it before, please check to update to the latest version. The purpose is for us to be able to download the latest version of Windows 11 currently.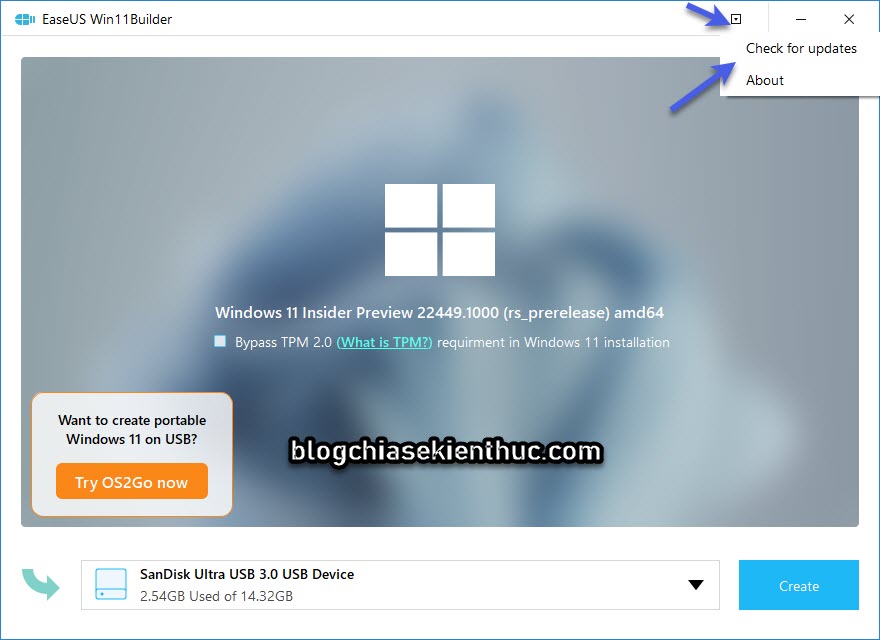 + Step 4: If your purpose is to create a Windows 11 installation USB for a computer that does not meet the hardware requirements of Windows 11, please check the line:
Bypass TPM 2.0 requirment in Windows 11 installation
=> Then you select the USB you want to create (usually it will automatically recognize it) => finally click the . button Create to perform.
+ Step 5: Okay, now the software will do the necessary work. After running, you will get a USB to install Windows 11 according to your needs.
Fast or slow speed depends a lot on the Internet speed as well as the quality of the USB.

#3. Epilogue
Yes, that's out of the way create USB install Windows 11 Usually, we can have another way which is pretty good, isn't it?
With this method, anyone can create their own USB to install Windows 11 very easily 😀 Hope this article will be useful to you, good luck!
Kien Nguyen – techtipsnreview
Note: Was this article helpful to you? Don't forget to rate the article, like and share it with your friends and family!

Source: How to create Windows 11 installation USB for computers that do not meet hardware?
– TechtipsnReview