Apple will give you 5GB of iCloud storage with any device purchase. That's not a lot, and you can quickly find that you don't have enough space left for your photos, iCloud Drive files, and other data from your iPhone or iPad. Let's find out how to free up iCloud space help store important data to the cloud through the article of GhienCongListen share below.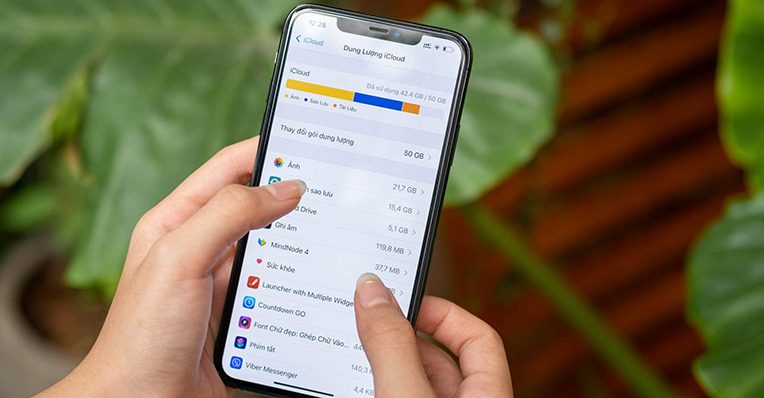 Advertisement

Why use iCloud Drive on iPhone, iPad?
Normally, things like photos, videos, audio files, documents, and all app backup data on your iPhone, iPad are saved to iCloud by default. So what is iCloud? It is a service provided by Apple for its devices. It helps to synchronize and back up the data on the device to the internet.
For example, you're writing things to do on the Notes app on your iPhone, and you go to your desk and open up your Mac and see the note appear on your desktop. me.
Advertisement
In addition, iCloud also helps you store photos and videos without taking up too much storage space on your device memory, all of which are put on the cloud storage service and when you need to find it again, it will automatically dynamically re-downloading for you.
Not only that, it also backs up device settings and data on applications so that when you erase or switch to another iPhone, it will not waste time installing and resetting from scratch.
Advertisement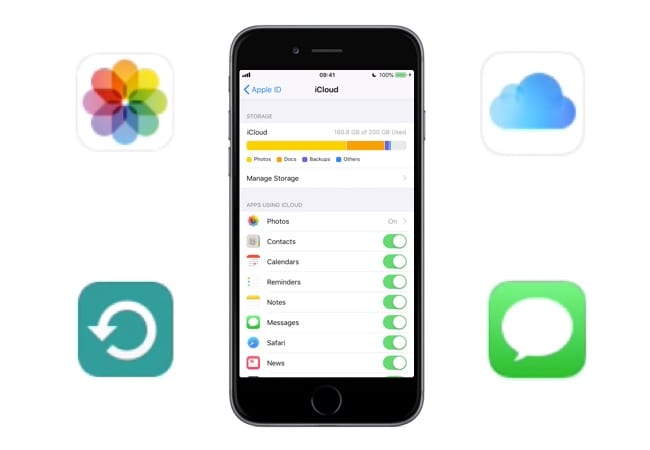 The iCloud service is worth using, but the storage that Apple provides for free for each device is limited as mentioned at the beginning of the article. It's really lacking, but if you pay a monthly fee to buy more storage on iCloud, that's a different story.
How to free up iCloud space
Follow up on ways to free up iCloud space that you can do easily if you don't intend to pay for additional iCloud storage plans.
Delete photos and videos from iCloud storage
By default, iCloud backs up all your photos and videos to the cloud. Over time, that adds up to a lot of visuals. You can save space by deleting any images you don't want anymore.
You can do this from your iPhone, iPad, or the iCloud website. As long as "iCloud Photos" is turned on, any photos you delete on this device are automatically deleted everywhere. That's how photos are deleted from iCloud.
Delete files and folders from iCloud Drive
There's a lot of stuff you've downloaded and it's stored in iCloud Drive by default instead of your device's internal storage. To delete or move these folders and files, follow these steps.
Open the app File on iPhone or iPad.
Select item Browser in the bar below the app.
Select iCloud Drive.
Tap the 3 dots in the upper right corner. Press Select and select the folders and files you want to move to the device memory or delete it.
If you want to delete, touch the trash can icon in the bar below the screen. If you want to move, select the 3 dots next to the trash can icon.
Select copy and return to tab Browser by clicking on the word Browser below. Select item On iPhonehold down the space and press Paste.
Return to the iCloud Drive screen and delete the folders and files you just copied over to the phone storage.
Remove app backups from iCloud on iPhone, iPad
By default iCloud will back up all the apps you install on your iPhone. There will be applications with extremely large data attached to it such as video editing applications such as CapCut, iMovie, etc. It will also back up the projects you have been working on in those applications.
To free up iCloud space on iPhone from these backups, do the following:
Open Settings.
Tap the account name at the top of the screen.
Select iCloud.
Select "Manage Storage".
Tap Backups.
A list of devices you have backed up appears, select the device you are using.
Click Choose data to backup and the list of applications that take up the most space will be displayed at the top.
Turn off the apps you don't want or don't need to back up. Or you can completely delete the backup to get back a large amount of iCloud storage.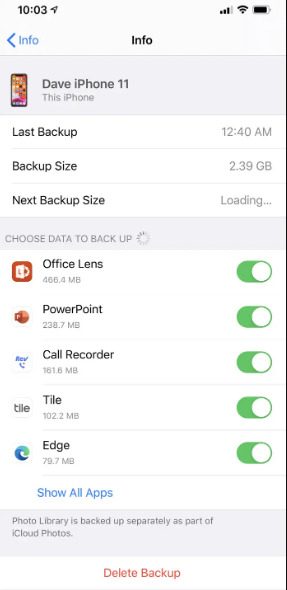 Delete recordings from iCloud on iPhone, iPad
iCloud also stores recordings on the default application available on iPhone and iPad. Most of them take up quite a bit of iCloud storage space. You can turn off iCloud Voice Memos sync so it's no longer stored on your iPhone.
How to turn off syncing Voice Memos to iCloud is done by following these steps:
Open Settings.
Select the username at the top of the screen.
Select iCloud and swipe to the bottom.
Toggle off Recording and that's it.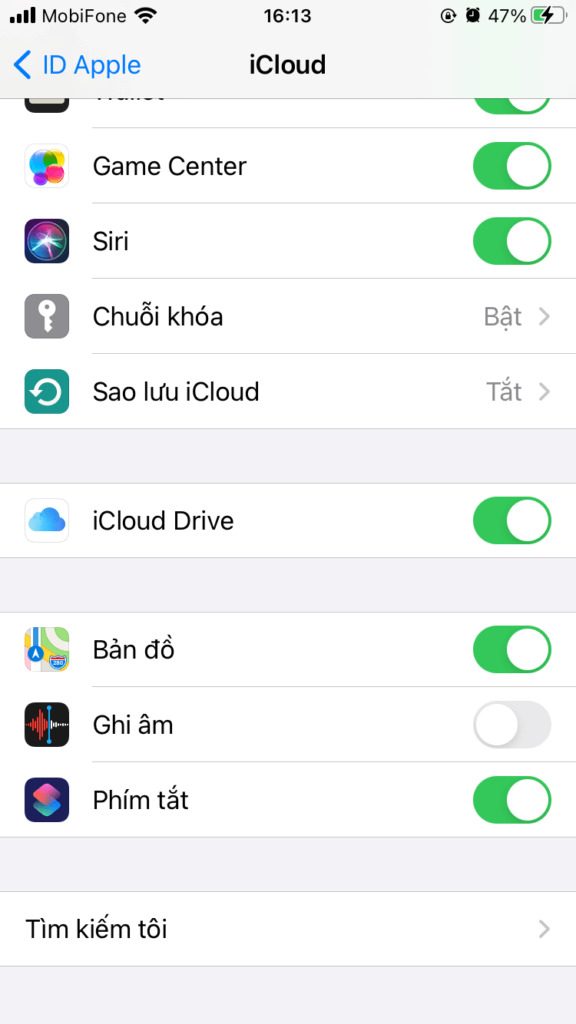 If you still want to use iCloud to store new recordings and want to delete the old ones, you can keep the iCloud Recordings sync state. Then go to the Voice Memos app and delete the recordings you no longer need by swiping right on the recordings and then tapping Delete.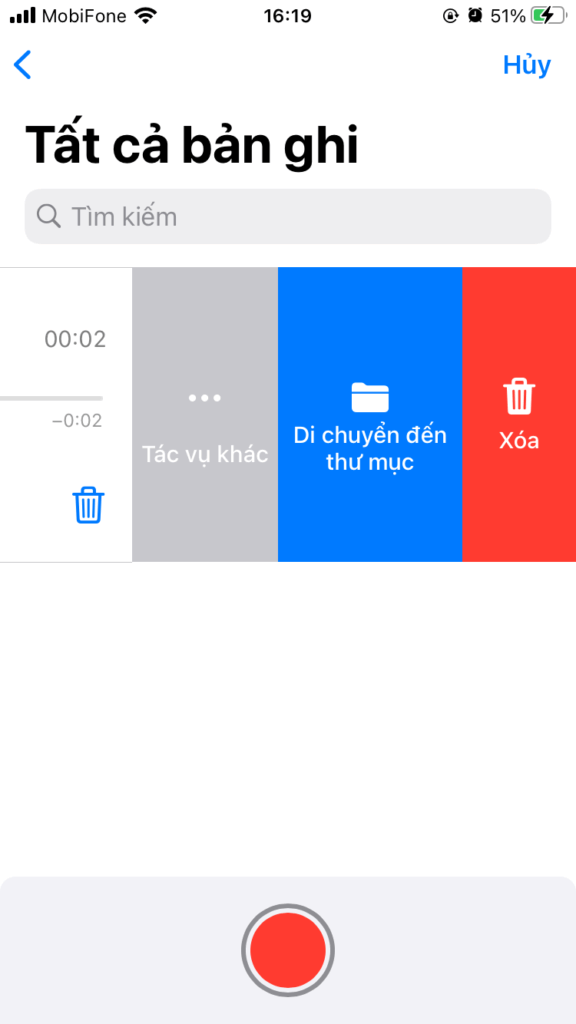 The recordings will be automatically deleted after 30 days or if you want to delete them immediately, you can access "Recently Deleted" tap "Edit" and select "Delete All".
Above is an article that shares how to free up iCloud space on iPhone to help you regain storage space for other purposes such as saving more photos or creating new backups.
Readers who are interested in issues of reclaiming storage space on iPhone and iPad can refer to some of the articles below:
If you find the article useful, please leave Like & Share to support GhienCong Nghe to bring you to read more useful articles. Thanks for watching.
Consult Business Insider
Source: How to free up iCloud space when you've used up 5GB of free
– TechtipsnReview