To secure the contact information as well as messages on the device, how to lock the iPhone SIM for security below will be a measure that you can choose to use on your device. In case the user cannot unlock the iPhone SIM, then they will not be able to continue to communicate through the SIM on the iPhone.
Look up the pin code of Viettel SIM, check the pin code
Set password for iPhone, create iPhone 6 screen lock password
Create alphanumeric password on iPhone
How to lock Line chat application with password
Retrieve Zalo password on Android phones, iPhones
Note: Performing the Sim lock steps on iPhone will affect the process of using the device, so you should not choose to use this trick if it is not necessary.
Unlike setting iPhone password, users use iPhone password setting to prevent unauthorized people from accessing their iPhone device, the way to lock iPhone Sim will make it impossible for people you have not allowed to use. listening, calling and messaging features on this device. And with SIM locking, once it's activated, your phone will ask for your SIM PIN every time you start it up. In case you cannot enter the pin code, you will not be able to use the device for the purpose of texting, calling, using mobile data. Right now, do the following SIM lock operations: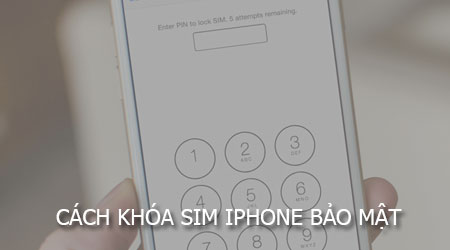 Instructions to lock iPhone SIM for security, set a password for SIM
Step 1: From the main screen of the device, you access the application Settingst (Settings) to change the settings on the device.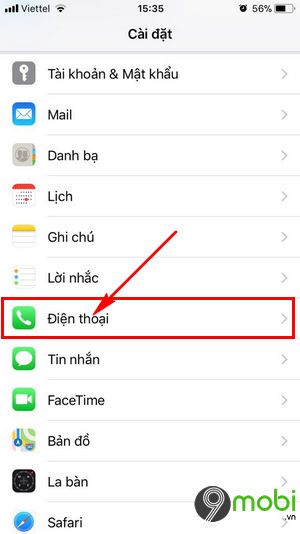 To be able to perform a secure iPHone SIM lock, you need to search and click on the item Telephone (Phone) as shown above.
Step 2: Then what you need to do now is choose next SIM PIN like figure below.
This is the iPhone SIM lock feature that we need to learn.
Step 3: Next to use a secure iPhone SIM lock, you need to press activate the SIM Pin feature (SIM PIN).
Step 4: The system will ask you to do this enter the "correct" SIM pin code on your iPhone device.
Note: You should contact the carrier's Customer Support Center to know your SIM Pin code information, because if you enter it incorrectly more than 3 times, your SIM will automatically be locked.
Step 5: Once you have entered the correct PIM SIM code that you are using, we can change this code by select Change PIN (Change PIN).
Step 6: At this point, please enter new PIN and restart the machine.
Step 7: When you open the phone again, you will receive a message that the sim is locked. At this point, press Unlock> enter PIN code to use the phone as usual.
Attention: When you have forgotten this SIM Pin code, immediately contact the Customer Support Center for help unlocking this SIM PIN.
With the message as shown in the picture, you will imagine that your iPhone is like a SIM locked (SIM LOCKED) blocked by the carrier, but in fact this is because you set a password for the SIM on your iPhone. Others will think that your device is SIM Locked and proceed to check Sim Locked, it's interesting, isn't it!?
https://9mobi.vn/cach-khoa-sim-de-bao-mat-iphone-5414n.aspx
SIM lock to secure iPhone will help you protect your device optimally. In addition, take better control of your device through how to find your lost iPhone and check the location and lock your iPhone remotely! In the process of removing the sim, it is inevitable that the sim will not receive, or there is an invalid sim message, now please calm down and read the instructions to fix the error. Invalid sim on iPhone Please.
Source: How to lock iPhone SIM for security, set a password for SIM
– TechtipsnReview