Touch phones have almost taken over the entire mobile phone market, it feels great to use touch screens but sometimes we run into problems.
How to recover deleted WhatsApp messages and pictures on iPhone.
Restore zalo . messages
Recover deleted messages (SMS) on Android
Recover Messages HTC Desire 826, HTC One, One M8…
How to recover deleted messages on iPhone
When using the app WhatsApp Surely in all of us have also fallen into the case where you intend to select Add a conversation shortcut but you mistakenly touch Delete chat then you click Yes always by inertia, so the message has been deleted, it's frustrating.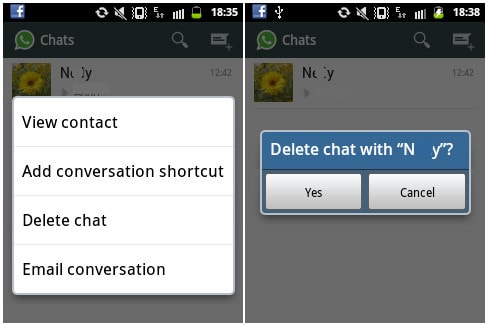 But don't worry, follow the following tips to help you recover accidentally deleted messages.
first . Restore recent messages
This is a way for you to recover messages within the past 7 days, very simply, remove the WhatsApp application from your device, then reinstall it and log in, these messages have been saved before. to do the restore you click on Restore and everything deleted under seven days is restored, this is WhatsApp's backup feature daily at 4 o'clock system time and saved on your SD card.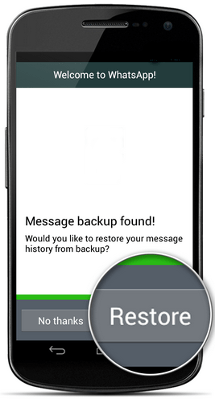 2. Restore older messages
– Manual methods
Step 1: Go to the following path in your SD card: /sdcard/WhatsApp/Databases you will see some files like "msgstore-YYYY-MM-DD.1.db.crypt" with "YYYY-MM-DD" year, month, and day respectively.
Step 2 : Please change your name "msgstore.db.crypt", more "OLD" or something to store the file then check the files below: should choose some files marked with different dates. Select the file you want to recover – find a file you accidentally deleted before – and rename it "msgstore.db.crypt".
Step 3 : Uninstall WhatsApp, then click Restore if required, the files are saved as "msgstore.db.crypt" will be restored and your old messages restored.
– Method Using a third party service.
Please visit the website https://www.recovermessages.com select the database file from the SD card on your Android phone, accept the terms of use and press Scan.
Once the scan is done, read your message by clicking the tab "Registers Recovered" you can only extract and re-read old chat messages but you cannot restore them back to WhatsApp chat history.
– Find Deleted Images, Videos & Audios
You go to File Manager and in the WhatsApp folder open the Audio, Images or Video folder depending on the media you are looking for, scroll down the list to find the file. You can also do this on your computer by connecting your phone via USB cable and browsing the WhatsApp folders as below screenshot shown.
So above we have shown you how to recover deleted messages on WhatsApp in case you need to find important messages again.
https://TechtipsNReview.com/khoi-phuc-lai-tin-nhan-da-xoa-tren-whatsapp-1221n.aspx
Source: How to recover deleted messages on WhatsApp
– TechtipsnReview