As the latest and final version of one of the most popular operating systems in the world, it's no wonder that Microsoft is constantly rolling out updates and adding a lot of new features to Windows 10.
However, as you all know, new features do not always work perfectly, there will certainly be times when errors. This is really very unavoidable !
But with a popular operating system like Windows 10, the error will greatly affect companies and businesses that are using this operating system. Therefore, it is extremely necessary to control bugs and thoroughly test new features.
That's why Microsoft has developed a test version of Windows 10 called Windows 10 Insider Preview, this version will have a lot of new features compared to the official version.
Windows 10 beta version, also known as Windows Insider Preview, is a version of Windows 10 developed in parallel with the official version (Stable).

When you sign up for Microsoft's Insider program, you'll be a "guinea pig" to test out the latest features that normal users don't have.

During use, you can completely send reviews, report errors during use or what you find unreasonable to Microsoft's engineering team for them to modify.

And because it is a beta version, equipped with a lot of newly developed features, the biggest disadvantage of Windows Insider is its low stability, frequent errors during use.
And once you have used this test version, whether you have activated your Windows 10 license or not, in the lower right corner of the screen will still appear the words Windows 10 Pro Insider Preview….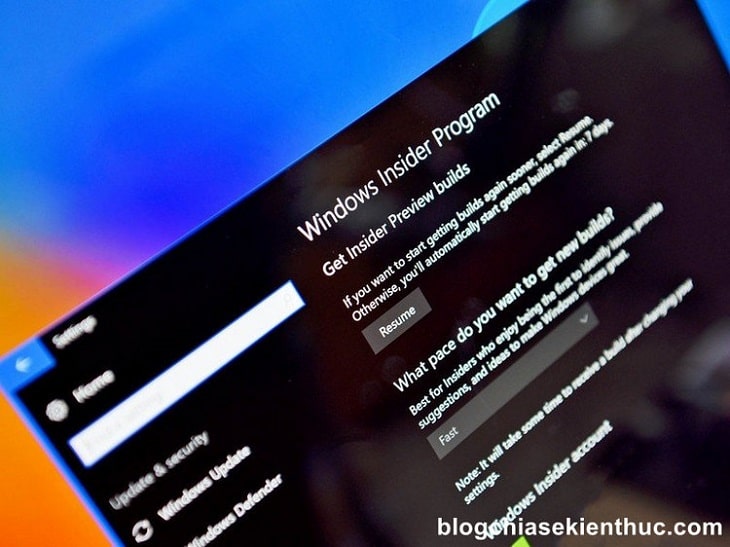 So the question is, is there a way to remove this Windows 10 Pro Insider Preview text?
Well, in this article I will show you how to remove this Windows 10 Insider Preview Watermark using UWD software.
#first. Reason for deletion?
As shown below, when you use Windows 10 Insider Preview, in the lower right corner of the screen will appear a Watermark like when Windows has not been activated, it looks quite annoying :))
It shows information about the version of Windows Insider you are using, such as the version of Windows (Pro, Edu, Home, …), the build number, and the release date.
This information does not make too much sense to the majority of users, unsightly and also looks very itchy.

So many people have been looking for ways to remove it from their Windows 10. We can completely edit ourselves in the Registry to remove this Watermark line. However…
To make things simpler, here I will use a software called Universal Watermark Disabler (UWD).
The reason is because unlike previous times, it is not as simple as just going to the Registry and then creating or editing the value of any key from first Fort 0 done.
And in this case, you also have to edit some system files, namely basebrd.dll.mui and shell32.dll.mui again.
The level of risk is very high so it is safer and more convenient to use the support software, UWD will do all the steps for you but that does not mean there is no error risk, the risk of error is very very low But is not there.
So you also need to be very careful before following this guide!
#2. How to remove the words Windows 10 Insider Preview with UWD
+ Step 1: Save any unfinished work because you will have to restart your computer as soon as the Watermark removal is finished, this is mandatory.
Universal Watermark Disabler is a completely free software you can download here or download by backup link here !
The version that I have here is 1.0.0.6, Last updated in February 2015. However, UWD still works extremely well with the latest Windows 10 Insider Preview version as of the time of writing.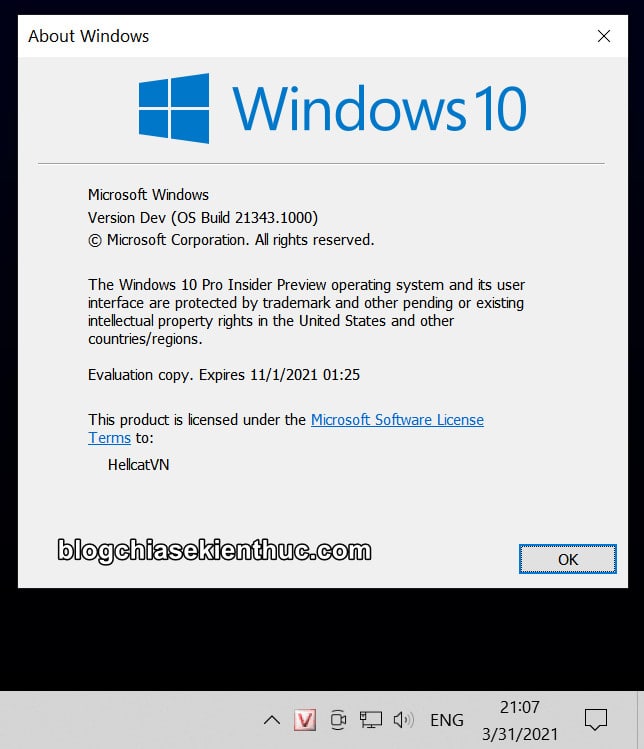 + Step 2: Download and extract the zip file, you will get a file .EXE about 610 KB with the name uwd.exe. Now run this file to start the process of removing the watermark line in the bottom corner of the Windows 10 screen.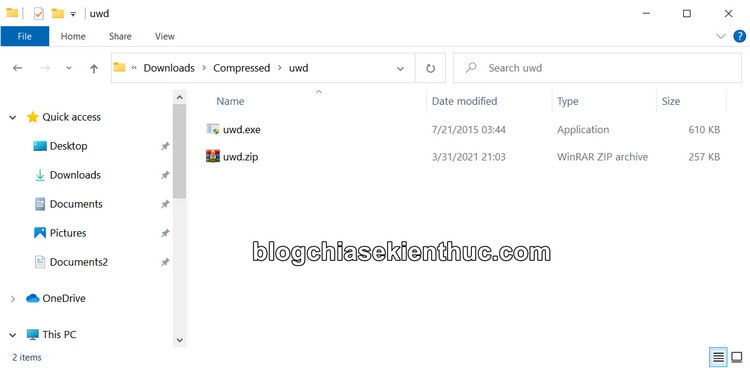 + Step 3: The main interface of Universal Watermark Disabler will be similar to the image below.
When the Status line has turned green: Ready for installation, click the button Install => and then press Yes again to confirm this removal.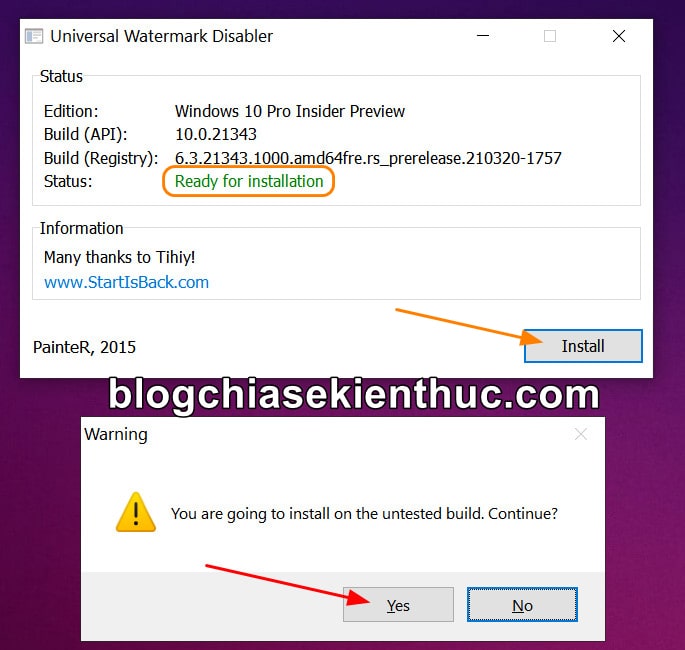 + Step 4: This process takes place very quickly, only about 30 seconds is done. You will see the Taskbar and the Start button suddenly disappear and then reappear like you just reset File Explorer!
Yes ! This is completely normal because while doing this, UWD will shut down and restart the system process explorer.exe of Windows 10.
When done, the software will prompt you to save any unfinished work because you will be logged out of Windows after clicking the button. OK this.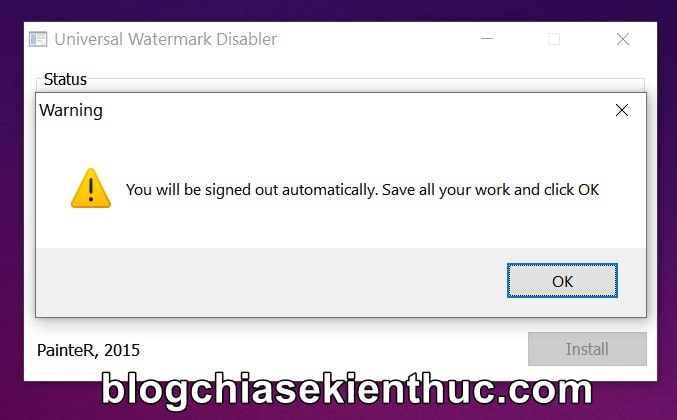 And here is the result, even though I'm still using it Windows 10 Pro Insider Preview but the familiar watermark line in the bottom corner of the screen has completely disappeared, the Desktop screen looks much more aesthetic, bright and repaired :))
//*read more*//
In case you want to restore this watermark line, please run the file again uwd.exe above => then press Uninstall it's done.
However, as I said above, the risk of operating system failure is very high, so you should not do this removal over and over again.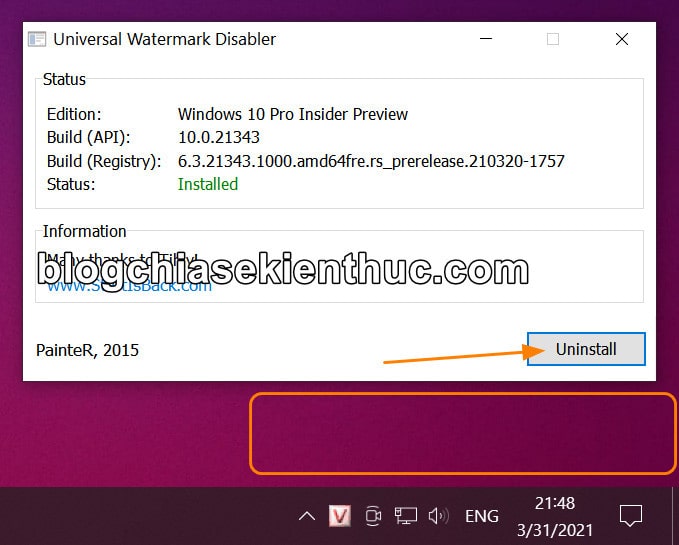 //*end of further reading*//
#3. Epilogue
Read more:
OK ! That's it, I've just finished showing you how remove the words Windows 10 Insider Preview in the lower right corner of the Desktop screen okay then.
Although it does not affect the performance of the system as well as the user experience, but if you are a perfectionist like me, this is the right thing to do. Because it's so annoying to look at
Hope that the trick that I share today will help you. Good luck !
CTV: Nguyen Thanh Tung – techtipsnreview
Note: Was this article helpful to you? Do not forget to rate the article, like and share with your friends and relatives!
Source: How to remove the words Windows 10 Insider Preview on the screen
– TechtipsnReview