Mail is the default email application (email) installed by Apple on the iPhone as well as products in its software ecosystem. This application is preferred by many iPhone users because it is deeply integrated into iOS, as well as allows sending emails with attachments quickly to many different email applications.
On iOS, if you block a contact in your contacts, the Mail app will also "blacklist" the email address associated with that contact.
However, by default, the Mail app does not completely block emails sent from contacts that you have blocked. Instead, it still receives these emails, marks them as sent from someone who has been blocked, and stores them in your inbox along with the rest of the emails.
If you don't want to see emails from senders that you've blocked, you can delete them from your inbox. This involves changing the settings for the Mail app to automatically delete emails from "blacklisted" accounts.
Set to automatically delete emails from blocked senders on iPhone
Follow the simple steps below to delete emails from blocked contacts:
1. Open the app Settings (gear icon) on your iPhone.
2. In the settings menu, scroll down and tap "Mail"To adjust some related settings.
Scroll down the category Threading. Here, click on "Blocked Sender Options".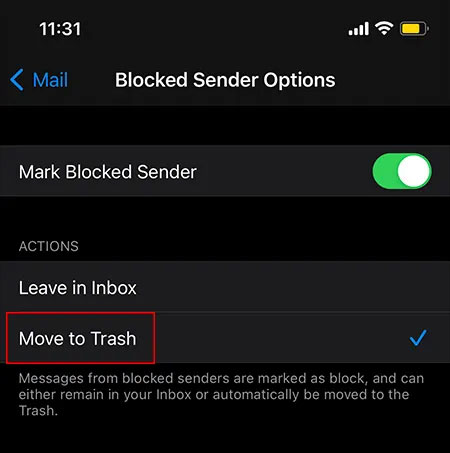 Click on options "Move to Trash". (Before that, the activated option was "Leave in Inbox").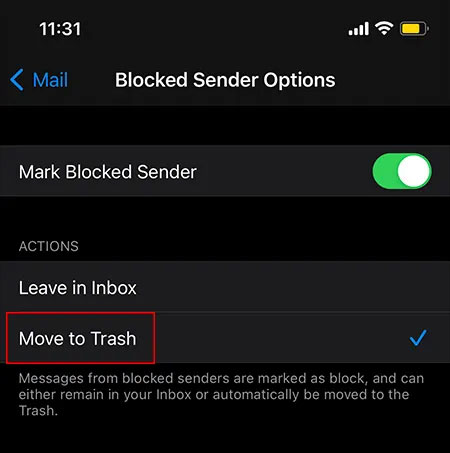 Now, incoming email from the people you blocked will be moved to the "Trash" section of the Mail app. If you want to view these emails, just open the Mail app and go to the "Trash". Note that they will only be stored in Trash for a certain period of time.
To manually manage the list of blocked contacts in the Mail app, simply navigate to "Settings -> Mail -> Blocked".
Source link: How to set up automatically delete emails from blocked sender on iPhone
– https://techtipsnreview.com/