When you visit some websites, the message "Sign in with Google" will be displayed to choose to access the website with a Google account or choose an account if you are logged in to multiple accounts on Chrome, with websites that support sign in with Google. This prompt can appear on a desktop browser or a mobile browser. In fact, using this login prompt is not necessary, so we can completely turn them off. The following article will guide you to turn off the Google login prompt on your computer.
Instructions to turn off Google login prompts
Step 1:
Users access the link below to enter your Google account management interface.
At this interface, you log in to your personal Google account if you are not logged in.
Step 2:
We will click on Security section on the left edge of the screen interface.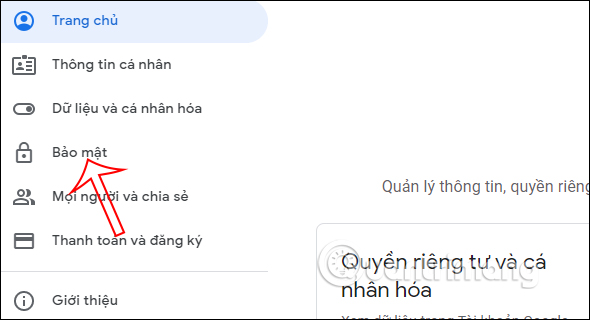 Step 3:
Switch to the new interface, users scroll down below to find management section Sign in to other sites. Next you click option Sign in with Google.
Step 4:
Switch to the new interface, users will see applications or websites that are logged in with your Google account. Also in this section there will be Google Account Sign-in Prompt option. You turn off this feature to no longer receive prompts to sign in with Google.
Right below will display the message Updated. In case you log in and use multiple Google accounts on a web browser, you must proceed to turn off each account one by one according to the above method.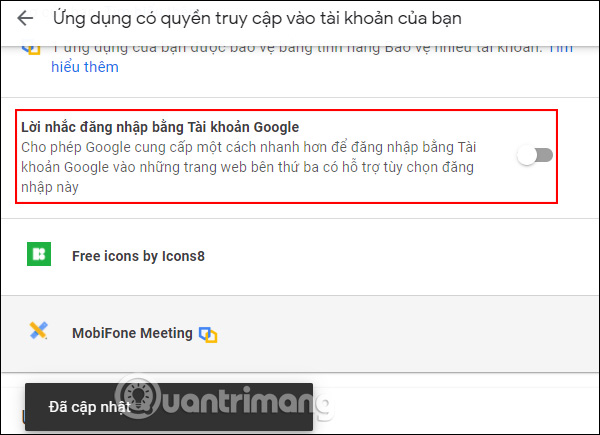 Source link: How to turn off Google sign in prompt on website
– https://techtipsnreview.com/