NOTE: Welcome to the Knowledge Sharing Blog! If you encounter any errors during use, such as error in download link, slow blog loading, or unable to access a certain page on the blog … please notify me. via Contact page. Thanks!
The notification feature on Windows, especially Windows 10, is really helpful in our daily use and work.
However, it is very annoying and annoying in many cases, for example when we are relaxing by watching movies, playing games … for example.
Your team was fighting fiercely, then suddenly an announcement message Facebook, Zalo or bla bla … appeared and you mistakenly clicked on it, so when you returned to the game, your Team lost the fight and lost the game. oh my god, it's very romantic ..
But with the new feature named Focus Assist – do not disturb mode Windows 10 will give you real entertainment without any more notifications bothering you. Note that these settings only work when you play games or watch Film Full screen, and when you work with applications, there are still notifications as normal.
Read more:
#first. Turn off notifications when playing games, watching movies in full screen on Windows 10
Instead of turning off all notifications, we will only turn off notifications while in Full screen mode, the rest still receive notifications as normal. I think that is reasonable!
+ Step 1: Go to Settings by pressing the key combination Windows + I, or open the menu Start => then click on the setting icon right on the power button icon => then select System => and select Focus Assist.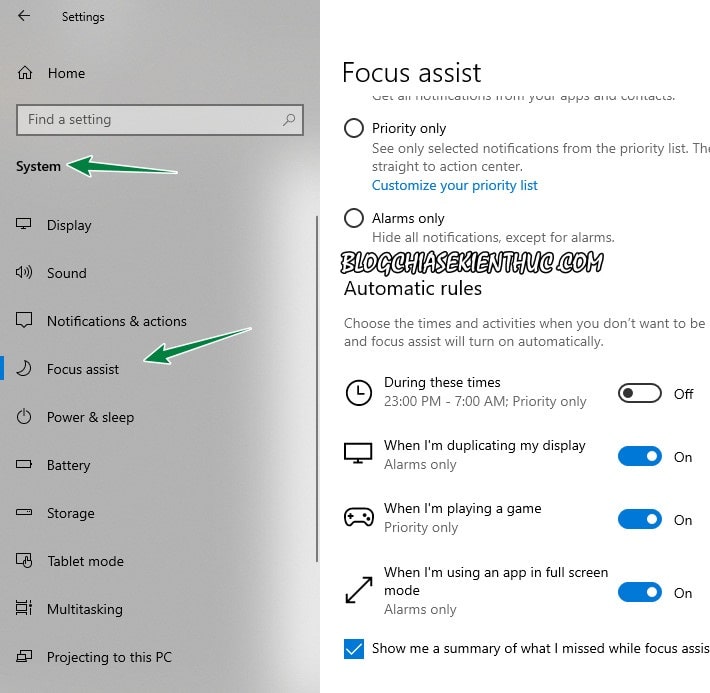 + Step 2: Or you can find by using (Windows + S/ Windows + Q) Windows Search, or frame Search in Settings => then type in the keyword Focus assist that it jumps itself into the frame Search always.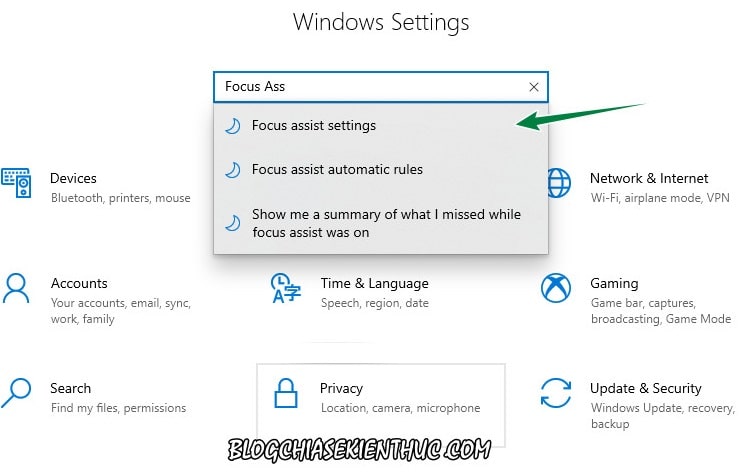 + Step 3: In the settings, scroll down Automatic Rules => and then flip the three-item switch below the word OFF to ON
When I'm duplicating my display.
When I'm playing a game,
When I'm using an app in full screen mode (when watching movies).
You can also turn on all or one or two depending on your needs.
During these times is to turn off notifications for a certain period of time like break time, hours you spend playing games or for example mom lets you play games from 7h evening comes 19h00 then you can also use this option, quite effectively.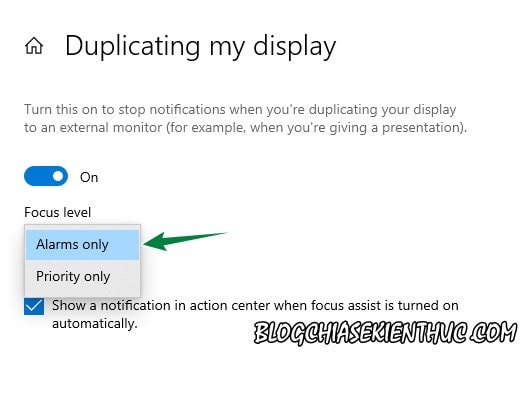 Then click on the items that you pop up, if you turn on as shown in the picture, then click:
When I'm duplicating my display.
When I'm playing a game.
When I'm using an app in full screen mode
=> Then let Focus Level was Alarms only. Click the drop-down menu to select it.
Then exit, and from now on you won't have to receive any notification while fighting League of Legends, PUBG or CS: GO with your friends, unless it's an alarm or an alarm because in the item Focus Level above we have chosen is Alarms only already.
And when you exit the app, you will receive notifications that you missed while playing the game full screen so don't worry about what you missed ?
# 3. Epilogue
So I just gave you very detailed instructions How to turn off notifications when playing games on Windows 10 okay, in other words Enable do not disturb mode on Windows 10 while you play games or watch movies, use the application Full screen …
Hope this article will be useful to you. I wish you success and have great entertaining and relaxing moments!
CTV: Nguyen Thanh Tung – techtipsnreview
Note: Was this article helpful to you? Don't forget to rate, like and share with your friends and relatives!
Source: How to turn off notifications when playing games, watching movies on Win 10
– TechtipsnReview