Windows 11 is Microsoft's latest operating system with outstanding features updated through each version. There are many ways to update Windows 11 Officially like using Windows Update, Windows 11 Insider or using iOS files to install Windows 11,…
Windows 11 is released as a free for copyright Windows 10 users. If you are using Windows 10you can easily Windows 11 update through the available Windows Update feature. In addition, you can also create a USB to perform a clean install of Windows 11 through an ISO file or install Windows 11 without USB.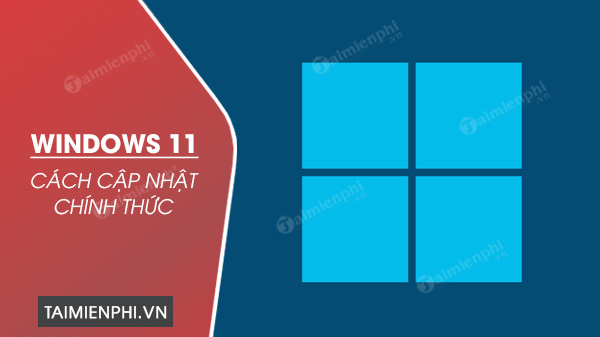 Ways to Update Windows 11
1. Update Windows 11 through Windows Update
The safest way to update Windows 11 is through Windows Update. This is a free service from Microsoft available in the Windows operating system, making it easier to check for updates, as well as update. To update Windows 11 using Windows Update, do the following:
Step 1: You open Start menu and click on Settings or press the key combination Windows + I to open the Settings app.
Step 2: In the window Settingsyou click Update & Security.
Step 3: In the window Update & Securityyou click on the item Windows Update in the left panel and click the . button Check for Updates. The system will then check for available Windows 11 updates.
Step 4: Finally, you click the . button Download and install Start downloading and installing Windows 11.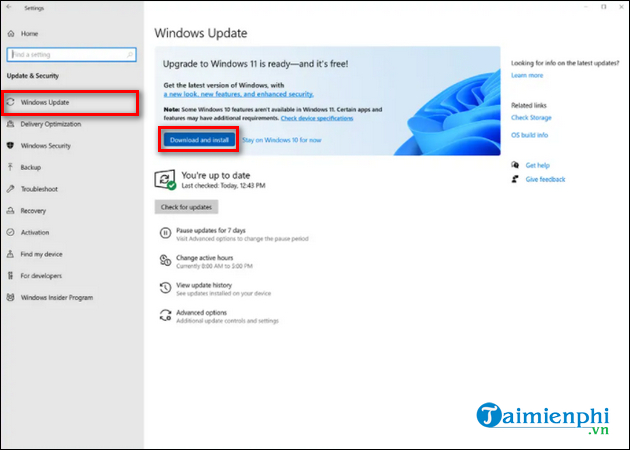 To complete the Windows 11 update, you'll need to restart your computer, but you can also do this later if it's not urgent. However, if you are experiencing errors in the new Windows 11 update, you can also fix it by removing this update and reverting to the old version.
See also: How to uninstall Windows 11 updates
2. How to install Windows 11 with ISO file
Many users update Windows 11 by upgrading from an existing Windows 10 installation, and for this you need an activated Windows 10 with a product key. However, if you want to install Windows 11 on an old computer or a test PC that doesn't have a licensed Windows installed, or if you want to perform a clean install without keeping all your old programs and settings, then the logical choice is to do so. The best idea is to install Windows 11 with an ISO file.
Installing Windows 11 with an ISO file gives you the flexibility to install this OS anywhere you want like a dedicated PC or virtual machine. TechtipsNReview.com has detailed how to do it in the article below:
See also: How to install Windows 11
3. How to install Windows 11 without USB
In addition to the two ways shared above, you can also install Windows 11 without creating a USB or Windows 11 installation disc. How to do it has been detailed in the following article:
See also: How to install Windows 11 without USB on PC
4. Notes before updating Windows 11
Before installing Windows 11, you need to make sure your computer meets the minimum system requirements that Microsoft announced earlier:
– CPU: 64-bit 2 cores with 1 GHz or higher.
– RAM: at least 4 GB.
– Storage capacity: from 64 GB or more.
– UEFI system firmware and enable Secure Boot.
– Support TPM 2.0 standard and above.
– Graphics card: Compatible with DirectX 12 or higher with WDDM 2.0 driver.
– Screen: 720p resolution, size 9 inches or more, 8-bit color support.
– Internet connection and Microsoft account.
https://thuthuat.TechtipsNReview.com/cach-cap-nhat-windows-11-chinh-thuc-65178n.aspx
Thus, the article has shared with you how to update Windows 11, Update Win 11 new version. If you have any questions or concerns, don't hesitate to leave your comments in the comments section below the article.
See also: How to update to Windows 11
Related keywords:
how to update windows 11
how to update windows 11, how to install windows 11 official version,
Source: How to update Windows 11 officially
– TechtipsnReview