File Converter is software to convert files right from the right-click menu without you having to access the application to convert file formats. Then users just need to click on the file they want to convert and then right-click to select the output format. Immediately after that, the software interface displays the conversion process for you to follow. The following article will guide you how to use File Converter to convert file formats.
Instructions for using File Converter convert files
Step 1:
First of all, visit the link below to download the File Converter tool to your computer and proceed with the installation as usual.
https://file-converter.org/index.html
Step 2:
After the installation is complete, click on the file to convert and then press Right click and choose File Converter. We will then see the output conversion format, depending on the original file format, the application makes output format suggestions.
If you want to batch convert files, you must select files with them in one format.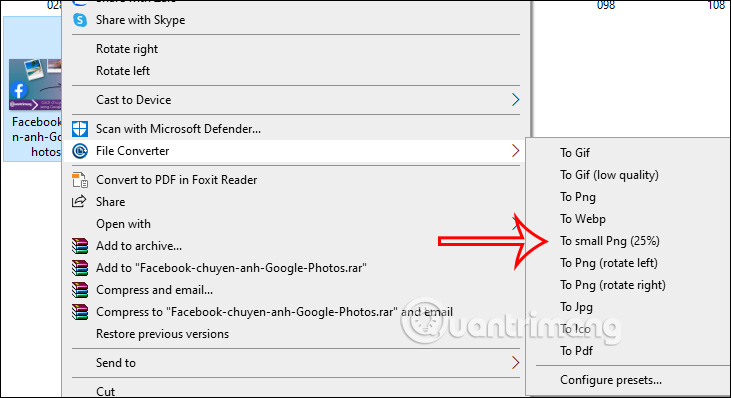 Step 3:
Select a new format for the file, then the file conversion interface displays. The files are converted in turn and the destination file will be in the same directory as the original file.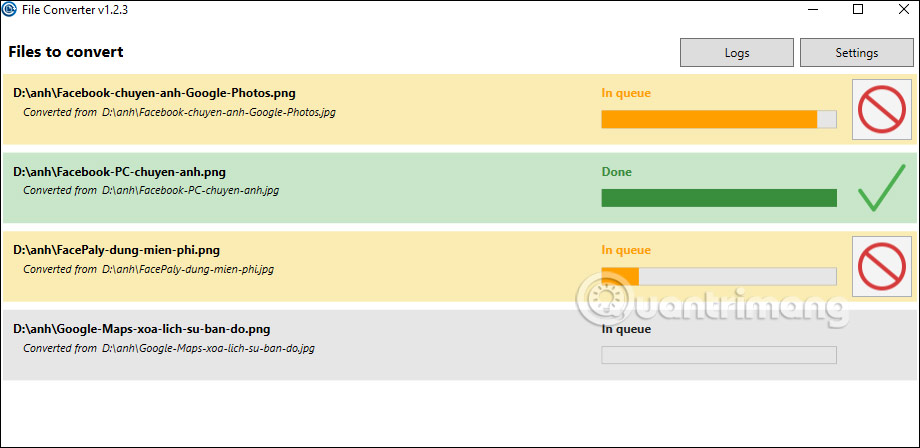 Currently File Converter supports the following conversion formats:
Audio: 3gp, aiff, ape, avi, bik, cda, flac, flv, m4a, mkv, mov, mp3, mp4, oga, ogg, wav, webm, wma, wmv to flac, aac, ogg, mp3, wav .
Video: 3gp, avi, bik, flv, gif, m4v, mkv, mp4, mpeg, mov, ogv, webm, wmv to webm, mkv, mp4, ogv, avi, gif.
Images: bmp, exr, ico, jpg, jpeg, png, psd, svg, tiff, tga, webp, pdf, doc*, docx*, odt*, odp*, ods*, ppt*, pptx*, xls* , xlsx* to png, jpg, ico, webp.
Document: doc*, docx*, odt*, odp*, ods*, ppt*, pptx*, xls*, xlsx*, bmp, exr, ico, jpg, jpeg, png, psd, svg, tiff, tga sang pdf.
Step 4:
To open setting interface app, press Right click on any file and select File Converter > Configure presets or open in start menu as shown below.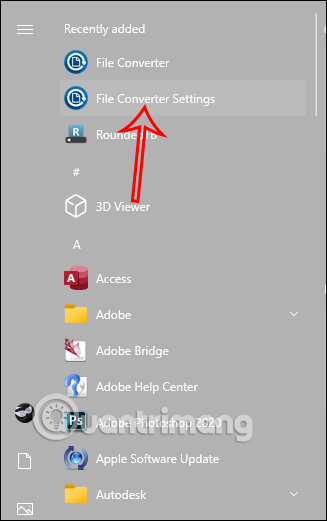 Next, in this interface, you will see the Conversion presets section to adjust the output file format. Next, select more native file formats supported at Input formats.
Click Save to save.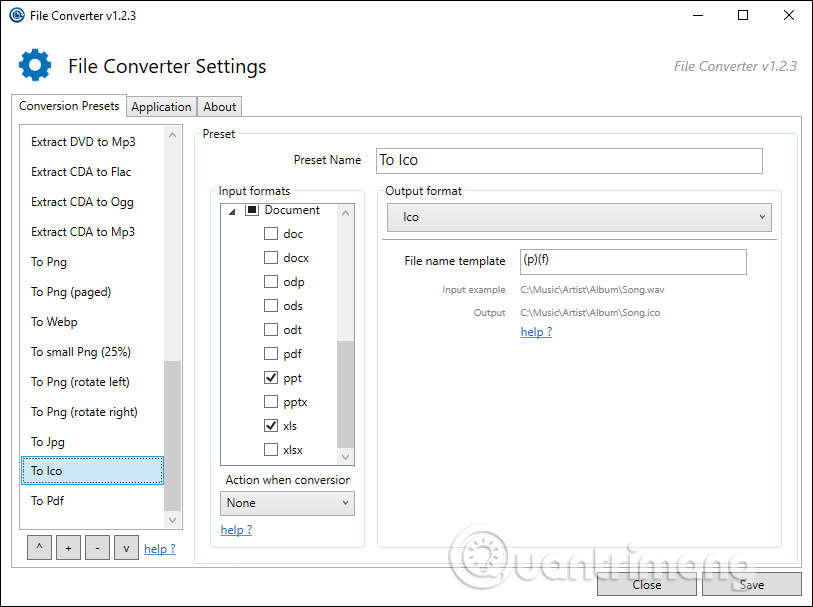 Source link: How to use File Converter to batch convert files from the right-click menu
– https://techtipsnreview.com/