One of the best ways to share or view photos is to turn them into a video slideshow and this can easily be done by ImageToVideo.
ImageToVideo is a simple online converter that allows to turn any image into a video. ImageToVideo is completely free, works in any browser, and requires no registration to use the service.
ImageToVideo.com allows processing up to 30 images. Users can also add their own favorite music. Here's how to use it ImageToVideo to convert images to videos quickly.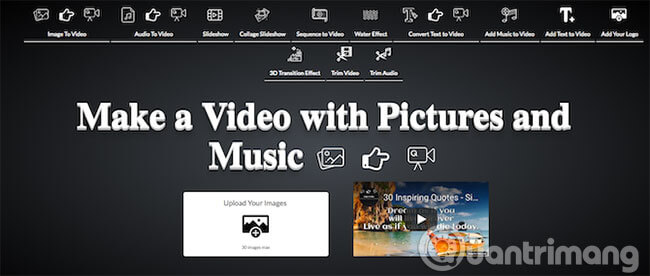 How to convert image to video using ImageToVideo
ImageToVideo makes it easy to turn a set of images into a video slideshow.
1. Click Upload Your Images then select photo.
2. Next, you will see thumbnails of the selected photos. Click and drag to rearrange them or press the sign X red to remove any photos you don't want to appear anymore. Press Next (>>) to continue.
3. Now select some music as background. Format MP3 Supported.
4. Add some text or logo. Choose Logo to stamp the video. Use Logo Options to set the position and size for the logo.
5. Select Text to add a caption to each photo in the video. Add text content and adjust with different options. Press the icon + to add text for subsequent images.
6. Finally, click Create the Video Now. The photos and music will now be uploaded and this process will take a few minutes to complete.
7. Now you can download videos in MP4 or watch online.
ImageToVideo can produce really great results and is suitable for many different uses. Here is an illustrative example to help you understand better:
The image-to-video conversion process is simple and fast, but you have only limited control over the final product, just like with other online converters you may already be familiar with, for example like Kapwing or Online-Convert.com. These software are all good quality and most of the features are similar to ImageToVideo.
If you prefer a more practical approach, please refer to the article: Instructions for creating animations and GIFs with Adobe Photoshop.
Other notable features of ImageToVideo

ImageToVideo offers some additional features. These features allow users to add effects to created videos or even edit existing videos. Options include:
Create a video collage (video collage) and can choose two different backgrounds.
Add water effect to photo in video.
Create a video from text.
Add music or text to an existing video.
Add watermark to existing video.
Trim a video or audio file.
If you need more control over how to edit videos, please refer to the article: Top online video editing websites, making videos online.
Turn images into videos on Android and iOS
As can be seen, it is very easy to use this online converter. But if you're on a phone, you'll find it even easier to use an app to get the job done.
You can use Google Photos to convert images to videos on both Android and iOS. Google Photos does this via the option Animations. This is one of the things that Google Photos Assistant can do.
Google Photos Nor is it the only option. Most of the best free video editors for iOS can turn photos into slideshows. And there are plenty of Android apps that create interesting movies from pictures for you to explore.
Hope you are succesful.
Source link: How to use ImageToVideo to convert images to videos
– https://techtipsnreview.com/