The Save Edge Tabs For Later utility on the Microsoft Edge browser has the effect of saving and restoring previously closed browser tabs. Users will save which tabs they need to review, without having to save them to bookmarks on Edge. And after you want to reopen the tabs on the Edge browser, you just need to open it in the utility. The following article will guide you to use the Save Edge Tabs For Later utility.
Instructions for using Save Edge Tabs For Later on Edge
Step 1:
We download the Save Edge Tabs For Later utility for Microsoft Edge browser according to the link below.
Step 2:
Next we open the tabs and access the web as usual. When you want to close all tabs and save them to open later, click widget icon in the address bar. Note that users need to save the currently unfinished work on the browser
Now display the utility interface, we Click on Save Tabs Aside. Immediately all open tabs on the browser will close.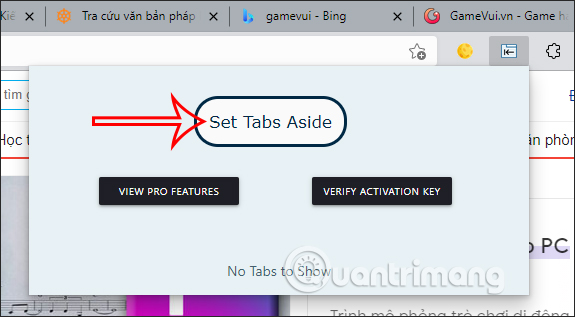 Step 3:
You can close the browser without worrying about losing the list of previously opened tabs. For reopen closed tabs, click the Save Edge Tabs For Later utility icon again.
Then in the interface you will see a list of saved tabs, along with the site name and site icon. To reopen all of these sites, we Click on Restore. Tabs will open in a new tab, if you want to remove the backed up tabs, press Delete.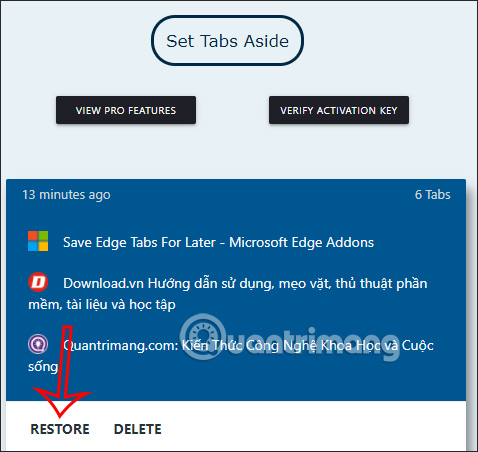 The utility does not have the option to open individual tabs in the list of saved browser tabs, so it is quite inconvenient for users.
Source link: How to use Save Edge Tabs For Later to reopen tabs on Edge
– https://techtipsnreview.com/