Suppose in some case when you try to connect your Gmail account to Outlook but get an error that can't be connected. So how to fix this error, please refer to the following article of Quantrimang.com.
Fix Gmail cannot be installed in Microsoft Outlook
If you cannot connect Gmail to Outlook after setting up and filling in all the information because Outlook displays some messages asking for a password (Enter Network Password dialog box), or an error message occurs in the box Test Account Settings dialog like this: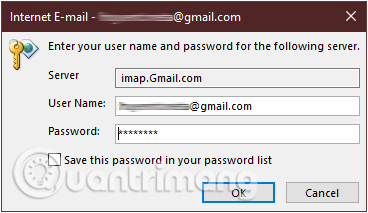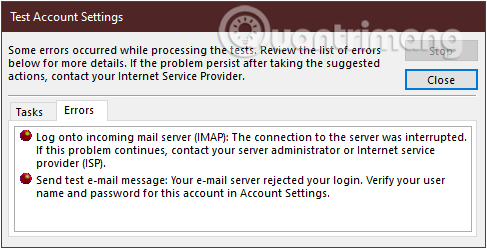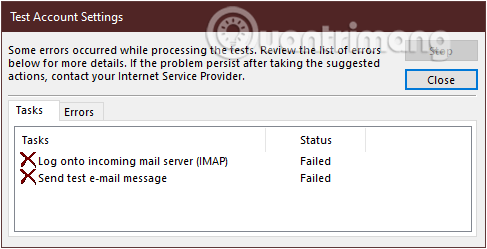 The cause of this error is mostly due to incorrect POP/IMAP settings in your Gmail or because the security settings of your Gmail account prevent 3rd party access or verification mode. 2 class account.
To fix it, do the following:
Solution 1: Enable POP/IMAP in Gmail settings
Double check that you have enabled POP/IMAP in Gmail settings
Step 1: First of all you need Sign in to your personal Gmail account on the computer.
Step 2: At the main interface, click cog gear icon and choose Setting (Settings).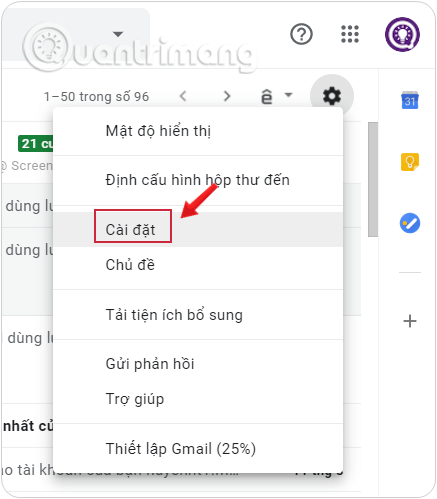 Step 3: Next, click on the item Forwarding and POP/IMAP (Forwarding and POP/IMAP) in the options bar in this interface.

Step 4: You follow down the content of the following sections:
Download via POP (POP download), click Enable POP for incoming mail from now on in the section Status: POP enabled for all mail.
Access via IMAP (IMAP Access) and click Enable IMAP (Enable IMAP).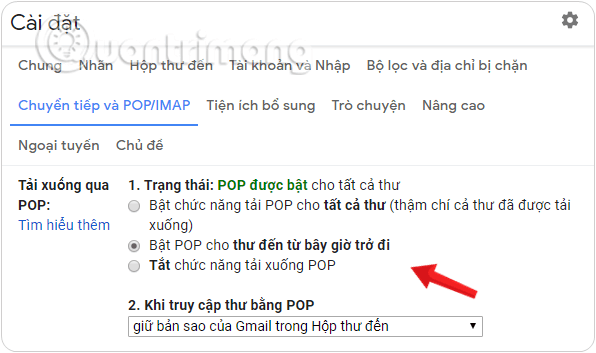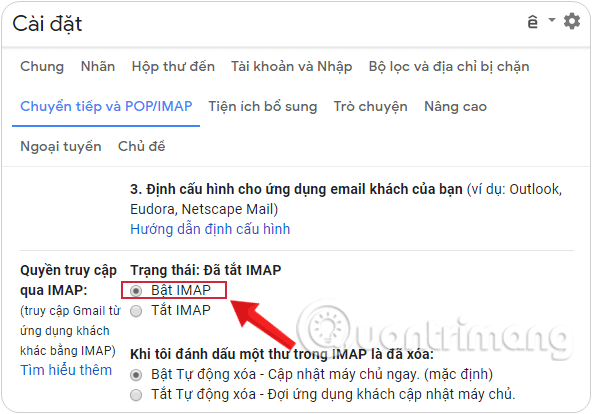 Step 5: After changing the setting, scroll down to the bottom and press the . button Save changes (Save Changes) and proceed to close your browser.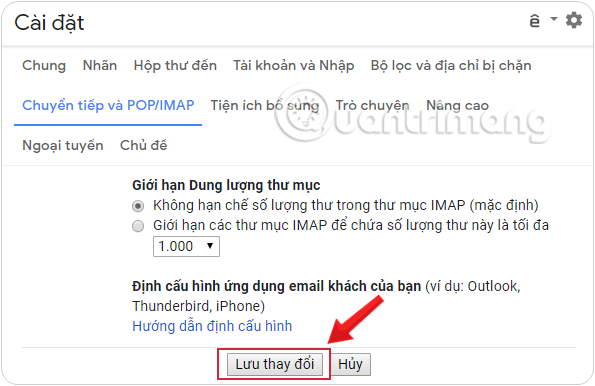 Next, you follow the steps to sign in to Outlook automatically or set up manually as usual.
Reference: Instructions for adding Gmail accounts to Outlook 2013 and 2016 using IMAP
Solution 2: Enable Less Secure Apps Access in Google Account.
Step 1: Access your personal Gmail account.
Step 2: In the main interface, click on the avatar and select Google Account (Google Account).
Alternatively, from any Google app, you click Account (Account) in the Google Apps list at the top right of the screen.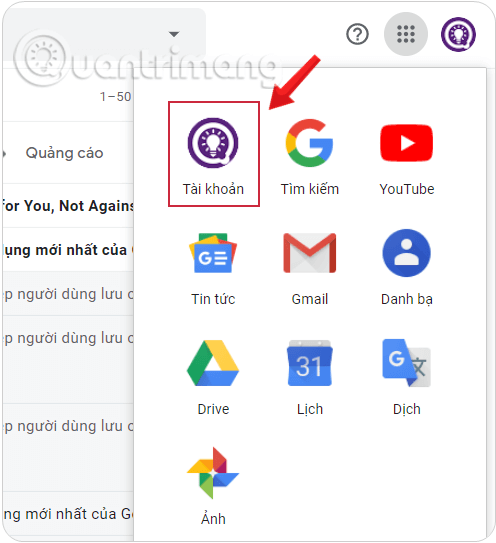 Step 3: In the new window, click Security in the menu on the left.

Step 4: In the App access is less secure, Please pay attention to whether this mode is on or off, if it is off, turn it on.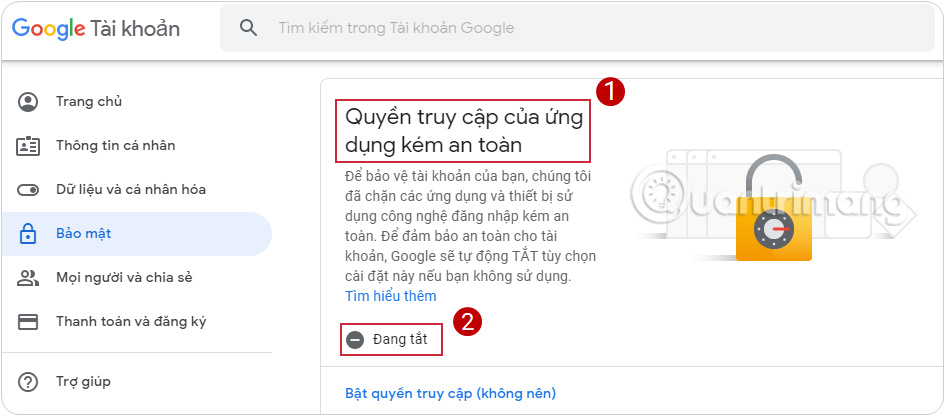 Step 5: If it's off, tap Enable access in this part.

Step 6: The next screen is displayed, click ON done.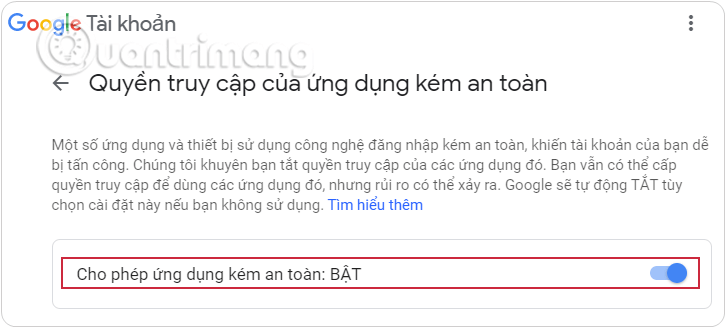 Go back to Outlook and see if the error is still there, have you connected your Gmail account yet.
Solution 3: Turn off 2-Step Verification setting in Google account.
Steps 1, 2, 3: Do the same for solution 2
Step 4: In the Sign in to Google, Please pay attention to the item 2-Step Verification is it on or not, if so, click to turn it off.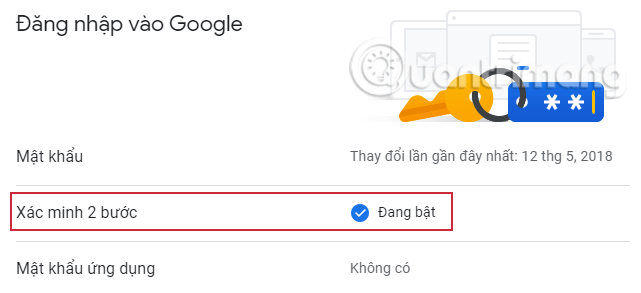 Step 5: After selecting to turn off 2-Step Verification, you will be redirected to the new interface, here please re-enter the current password of the Gmail account you are using. Press Next to move to the next interface.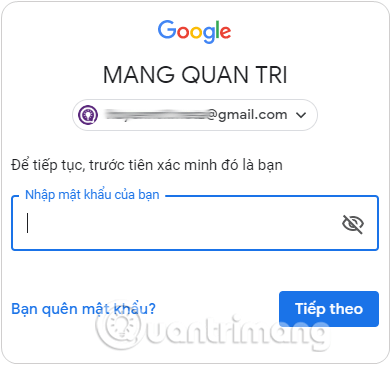 Step 6: After logging in with a password, Gmail asks you to open the Gmail app on your phone to confirm the 2nd step, press Have displayed on the device screen for successful login on the computer.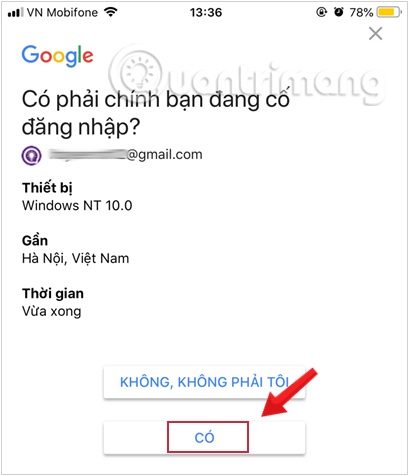 Step 7: The next screen is displayed, click TURN OFF to disable 2-layer security.

Step 8: Confirm again turn off two-factor security, click Turn off done.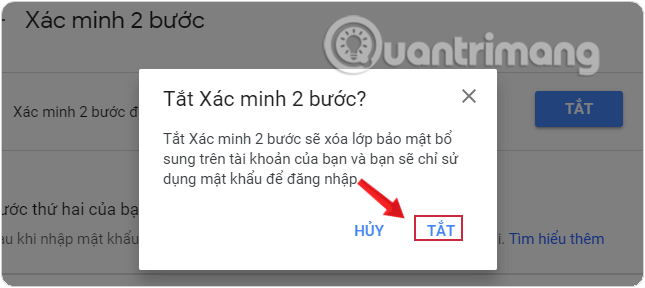 Go back to Outlook and see if you can connect your Gmail account.
Check out some more articles below:
Good luck!
Source link: Instructions to fix the error that cannot add Gmail account to Microsoft Outlook
– https://techtipsnreview.com/