As you know, Driver is an extremely important device driver included in a computer.
Drivers enable operating systems and software to use, interact with, and take full advantage of your computer's hardware, so you can surf the web, go online, play games, edit photos, and render videos. …
The most obvious example is the driver of the video card, without it, even if you have 2 Geforce RTX 2080Ti running NVLink or Radeon RX 5700, it will not do anything.
My laptop has also had a video card driver device, to be more precise, the driver is too old because it has not been updated for a long time. You know why?
I can't adjust the screen brightness, the picture when I open it up is blurry, even faulty… And after I update the video card driver to play, it's smooth again 😀
Unlike on Windows 7 operating system – you will have to find and download drivers for each corresponding hardware or use software to automatically search for drivers such as DriverEasy, Driver Booster …
On Windows 10 it's different!
After installing Windows 10, it will automatically update all the necessary drivers for the system if you have an Internet connection, even the AMD and nVidia VGA drivers. And if you want to upgrade the driver, you just need to upgrade the Windows 10 operating system.
However, this is also a drawback. The drivers of the video card updated by Windows Update will usually be the latest version, so there are many cases of errors when manufacturers have not been able to fix it.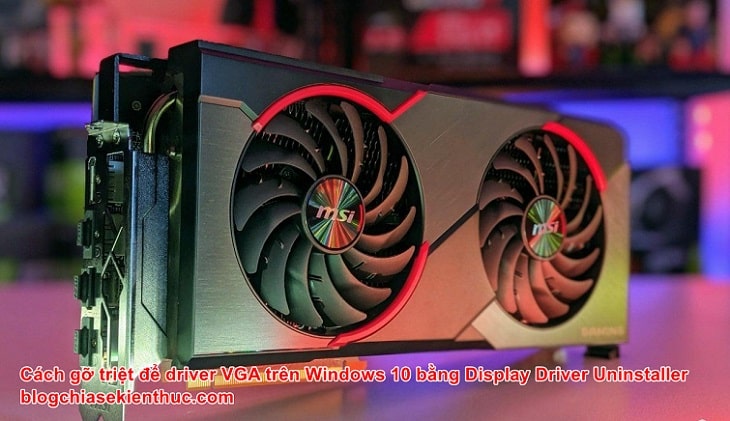 So in this article, I will guide you How to completely remove VGA driver? Windows Update updates itself to reinstall correctly!
#first. About Display Driver Uninstaller (DDU)
Normally, to remove the video card driver, you can go to Device Manager => then right-click on the name of the pre-installed VGA driver in the Display Adapter => then select Uninstall.
NOTE: To open Device Manager then you open the Run dialog box (Windows + R) => then enter the command devmgmt.msc => and press Enter. There are many ways but this is the fastest way.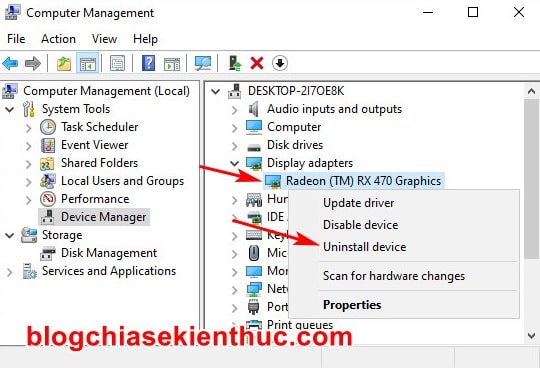 You can use this method, but definitely removing this way will not be thorough. Because part of the information and files related to the driver is still kept in the Registry, the computer's hard drive.
The fact that you continue to install another version of VGA driver will easily cause conflicts, unnecessary errors with the graphics card, which reduces the user experience as well as your work performance.
Even the driver version that Windows Update has installed for the graphics card can cause errors, typically the MSI RX470 Gaming X that I am using, when running with the driver installed by Windows Update, it crashes at all all games after opening for a few seconds.
That's why I found a way to Thoroughly remove the video card driver out and reinstall the more standard driver version, the drivers recommended by the AMD group on Facebook.
The best candidate for this is Display Driver Uninstaller aka DDU. This is one of the completely free software, supporting for Windows 7, 8, 10 and developed by the famous Guru3D computer hardware and consumer electronics review and evaluation site.
True to its name, its main effect is to help you completely remove everything related to the VGA driver installed on the operating system when you want to reinstall the driver or upgrade to another better VGA sister, higher level.
Display Driver Uninstaller proved to be very effective when it received a lot of positive reviews, as well as recommended by many users, including myself, I am also evaluating and recommending it to you through this article. here
#2. How to remove VGA driver thoroughly and safely with DDU
+ Step 1: This is a 100% free software, so please feel free to visit Guru3D's download page to download DDU:
Scroll down to the bottom of the page, section Download Location You will be provided with 7 servers to download, you can choose the one that feels close to the fastest speed, or you can try them all. It's up to you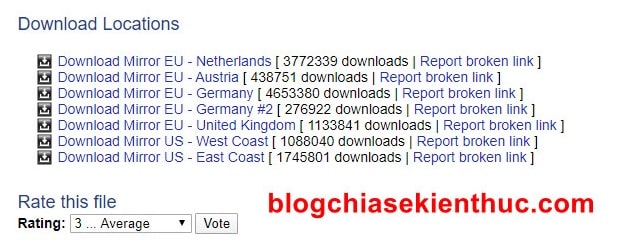 + Step 2: After downloading the DDU installer, open it up and double-click on the file DDU vxx.exe to install the application.
Right after that, a window named 7-Zip self-extracting archive will appear, click on the 3 dots to select the path out of the Desktop like me => then finally click Extract to extract it to the Desktop.
NOTE: Actually, it is not necessary to extract to the Desktop, you can extract it anywhere as long as you find it convenient.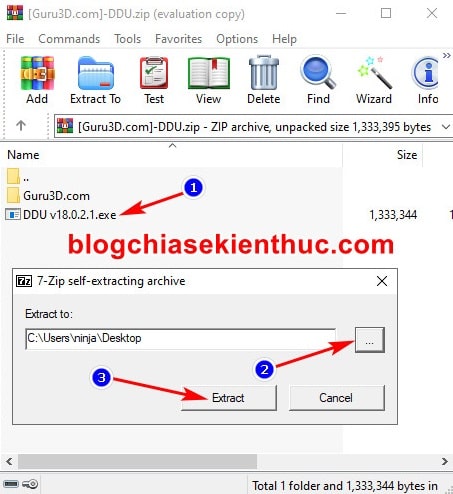 + Step 3: After decompressing, you access the folder with the same name as the downloaded file (here is DDU v18.0.2.1)
There will be files like this in here, check if it's missing, try downloading it again or extract it again! Now double click on the file Display Driver Uninstaller.exe to run the DDU software.
+ Step 4: The first time you open the software, there will be a window Options with so many options like this appearing.
The rest you don't need to care about, look at the bottom and check the box Prevent downloads of driver from "Windows Update" when "Windows" search for a driver for a device => then press Close.
This option is very important as it will prevent Windows from automatically installing the latest driver for VGA with Windows Update when an Internet connection is available.
And if you don't use this option, you can do it manually, that is, disconnect the network on the computer and you're done but the software is already functional, so why not use it, right 😀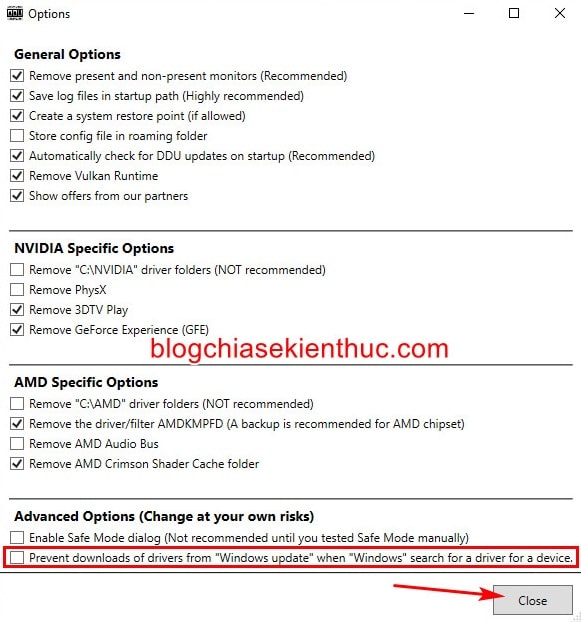 + Step 5: Then there will be a notification that you are not running Display Driver Uninstaller in Windows 10's Safe Mode => press OK to forgive.
Using DDU in Safe Mode will help remove the driver more thoroughly, but I have also tried it in normal mode as in the article and it is completely OK, no errors at all.

+ Step 6: And this is the main interface of Display Driver Uninstaller, very simple and easy to use. To remove the VGA driver installed on your computer, first click on Select device type => then select GPU.
Immediately it will recognize the type of VGA you are using, for example: AMD, NVIDIA and Intel HD Graphics.
If the software detects something wrong or you want to choose to remove it, Intel HD Graphics then you can click Select device to choose again.
Previously, just opening the software would be able to immediately detect what type of graphics card you have, but because it has just been added to the Audio driver removal feature, we have to choose it manually.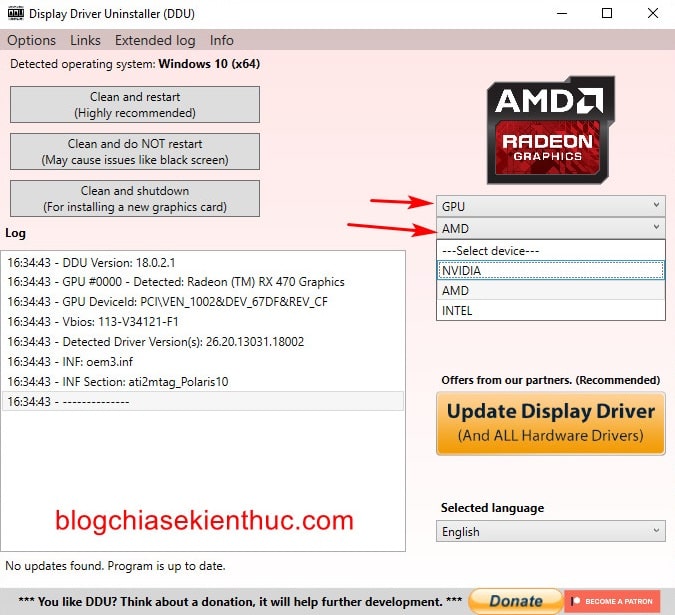 + Step 7: After choosing the right type of graphics card driver to remove, the software will give you 3 options to uninstall the driver, they include:
Clean and Restart (Highly Recommended): Uninstall the video card driver and restart the system to reinstall another driver version (

recommended

).
Clean and do NOT restart: Uninstall the video card driver but do not restart, in some cases may cause black screen error.
Clean and Shutdown: Uninstall the video card driver and then turn off the computer. This option is suitable for those who want to upgrade to a new card.
=> In this case, I need to reinstall the older driver version of RX470 to be able to use it normally, so I will choose Clean and Restart Hey, please choose an option that's right for you.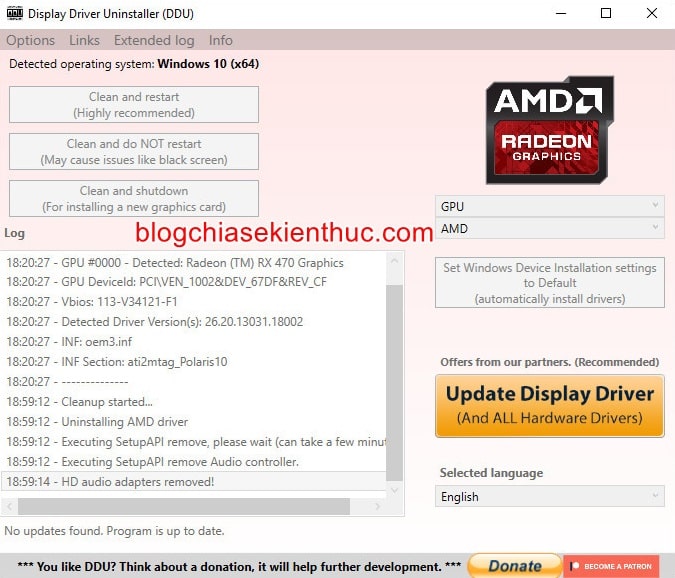 + Step 8: Immediately, DDU will execute the commands you have given:
Uninstall the driver and automatically restart the operating system for you, in the process of removing, the screen will flash a few times, so don't worry about the damaged card or the screen!
And here is the result, you can see in the window dxdiag, in tab Display this part Device then came back Microsoft Basic Display Adapter then, that means Windows has not yet recognized the video card because it does not have the correct driver.
Now you can download and install the desired driver for your graphics card!
#3. Epilogue
So I have just finished showing you how to use DDU to remove the VGA driver thoroughly and safest on Windows 10 operating system ha.
Hope this article will help you. In the following article, I will guide you in detail on how to reinstall the drivers for the AMD red team's VGAs in more detail. Good luck !
CTV: Nguyen Thanh Tung – techtipsnreview
Note: Was this article helpful to you? Don't forget to rate the article, like and share it with your friends and family!

Source: Instructions to thoroughly remove the VGA card driver on Windows 10
– TechtipsnReview