Although it has been released for a long time and is inferior in many aspects when comparing HDDs with SSDs, there is no denying that nowadays HDD hard drives are still being widely used in data storage. Whether.
Because when choosing a hard drive to store data, read and write speed is no longer an important factor for individual users, but instead large capacity is the first factor.
The largest currently is Seagate's 20TB hard drive and is on an increasing trend, along with a much cheaper price when compared to SSDs of the same capacity.
In addition, HDD is also the main data storage device of computers, especially on cheap PC/Laptop models for students or older computers.
But when using Windows 10 operating system with HDD hard drive, it means that you will have to face 100% Full Disk error, the machine often lags when working with heavy tasks.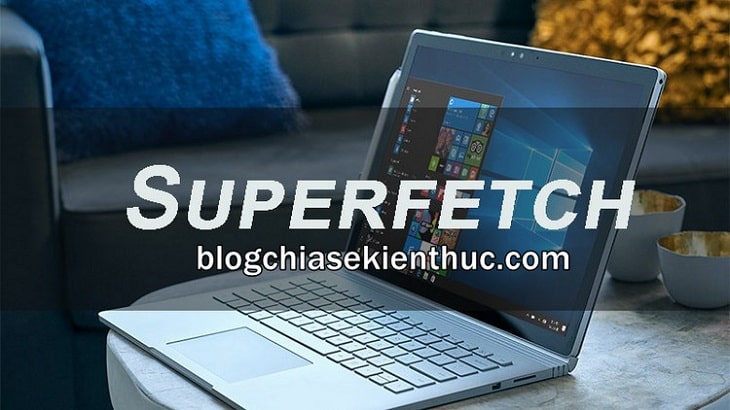 Fortunately, we can still apply a few tweaks / settings to reduce this situation.
And in these few posts I will guide you how to turn off service Superfetch (Sysmain) on Windows to fix Full Disk error on Windows 10!
I. How to turn off Superfetch (Sysmain) on Windows 10
On the blog, there are several tutorials on how to optimize and speed up Windows 10, which also talk about how to turn off the Superfetch service (in part #6), and instructions to turn off using Windows 10's default Services Manager.
So please read those articles again if you want, and within the framework of this article I will not say it again.
But here I will share with you some advanced ways to be able to disable Sysmain service on Windows in case the Services Manager cannot be used.
I. How to turn off Sysmain with tweaks in the Windows Registry
Registry is a place to store information as well as most of the settings of the Windows operating system, with it you can intervene very deeply into the system with simple tweaks.
On the contrary, editing the Registry comes with a very high risk of Windows errors, so you need to back up the entire Registry before following any instructions, so that you can restore it when needed – avoiding unnecessary data loss.
Perform:
+ Step 1: First, you open the RUN dialog box (Windows + R) => then enter the command regedit => and press Enter to access the Registry Editor tool on Windows 10.
Besides, you can press Windows + WILL to open Windows Search => then enter this command directly in the search box or keyword Registry Editor I can also open this tool, I'm more used to using Windows RUN because it's simple and convenient.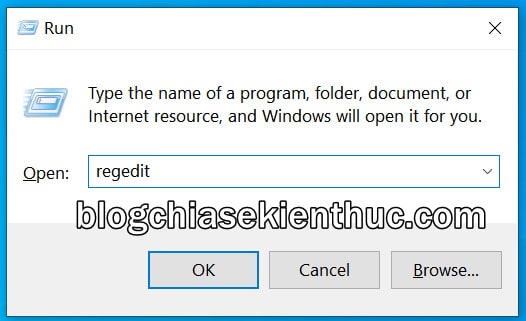 + Step 2: Then you access the folder Sysmain in the Registry of Windows 10 follow the path:
HKEY_LOCAL_MACHINESystemCurrentControlSetServicesSysMain
You can paste this path directly into the address bar of Registry Editor => and then click Enter for faster access.
If you do not see the address bar as shown in the image below, please click on the word View on the horizontal navigation bar and select the line Address Bar to display the address bar.
+ Step 3: Then in the mail Sysmain hey, you'll see a lot of keys that dictate how the Superfetch on Windows 10.
According to the information here, Superfetch has no executable file *.exe specifically, only the file sysmain.dll is located in the directory System32 and works thanks to the Service Hosts.
Back to the main point, look in this list for a key named Start, this is the key that regulates the on-off state of Superfetch on Windows 10. Right click on this key => then select Modify… to correct its value.
Default lock Start already available in the Windows 10 Registry, but in case you don't see it, you can completely recreate it by:

Right click on any empty space in the right window => select New => DWORD (32-bit) Value then name it Start and start editing.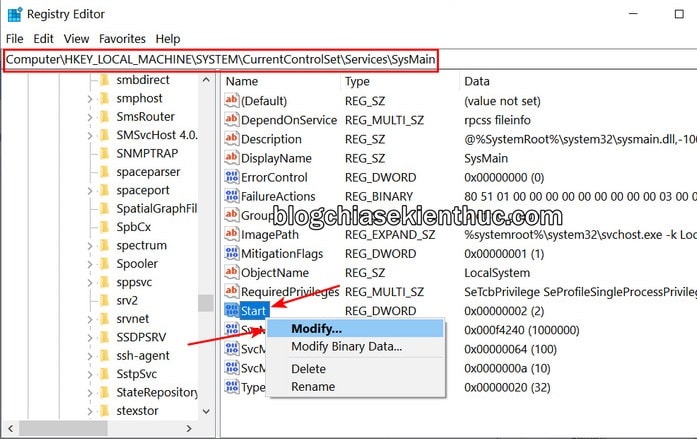 + Step 4: Window Edit DWORD (32-bit) Value appears, edit only the value in the cell Value data, the rest keep the same. With Value data, we have 4 values ​​corresponding to 4 service states Superfetch This includes:
first –

Automatic

(Delayed Start)

– Automatically run but only when Windows has finished booting
2 – Automatic – Automatically run and start at the same time with Windows – This is what I am leaving as you can see in the picture above.
3 – Manual – Run only when you or some software start it up.

4

–

Disabled

– Turn off Superfetch
=> Because in this article we want to turn off Superfetch to fix Full Disk errors and speed up Windows 10, please enter in the box Value data number 4 => then press OK to save.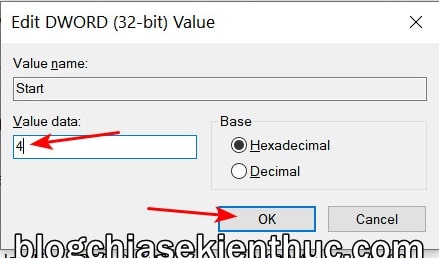 + Step 5: Registry editing is complete, you can now close Registry Editor and restart the machine when possible for the changes just made to take effect.
#2. Disable Superfetch with the command in CMD
If you do not like editing in the Registry for fear of making mistakes or are not familiar with computers, you can also use a few command lines below in the Command Prompt window.
Perform:
Open Windows Run (Windows + R) => then enter cmd and use the key combination Ctrl + Shift + Enter to open CMD with Admin rights, I encourage you to use this way because it's convenient 😀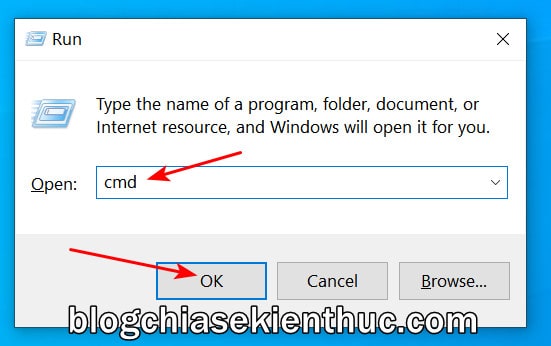 First, we need to stop the Superfetch service so that it stops consuming RAM and hard drive, and also because it cannot End Task directly with Task Manager, so we have to use Command Prompt.
Type in the Command Prompt window the command line sc stop "SysMain" => then press Enter to suspend the Superfetch service, if you see the results returned as shown below, it's OK.
And if you see the message OpenService FAILED : Access is denied Remember to run Command Prompt again with Admin rights.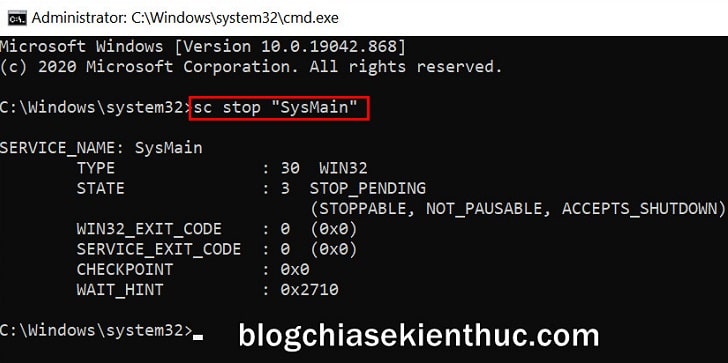 Finally, use the command sc config "SysMain" start=disabled to turn off Superfetch service completely on Windows 10.
Besides, you can also change disabled in start by other options such as boot, system, auto, demand, delayed-auto again.
After running, the text will appear [SC] ChangeServiceConfig SUCCESS as below, you have successfully turned off the Superfetch service on Windows 10 with just 1 command line. Now you also need to restart your computer for the changes to take effect.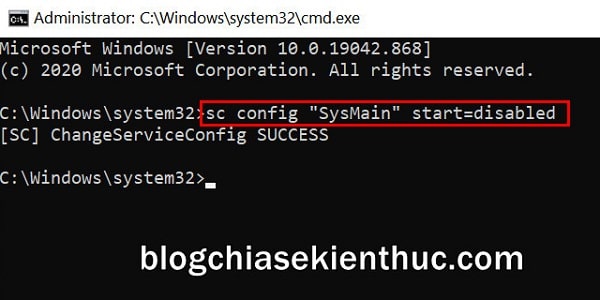 II. Epilogue
That's it, I've finished the guide for you disable SysMain service on Windows to fix the Full Disk error on the HDD hard drive.
In general, you should also read for more reference, but actually the two ways I just mentioned above are not fast and convenient using Service Manager as usual.
Hope this article will be of help to you. If you find it interesting, don't forget to share to support techtipsnreview. Good luck !
CTV: Nguyen Thanh Tung – techtipsnreview
Note: Was this article helpful to you? Don't forget to rate the article, like and share it with your friends and family!

Source: Instructions to turn off Superfetch (SysMain) on Windows 10
– TechtipsnReview