It is convenient to use the iPhone camera to get good and fast photos. However, sometimes the iPhone camera doesn't work properly, possibly due to software or hardware failure. This article will show you how to fix some common problems with the iPhone camera.
1. iPhone camera appears black screen
You can see the details of the article How to fix the problem of Camera crashes or black screen on iPhone to know how to fix the problem.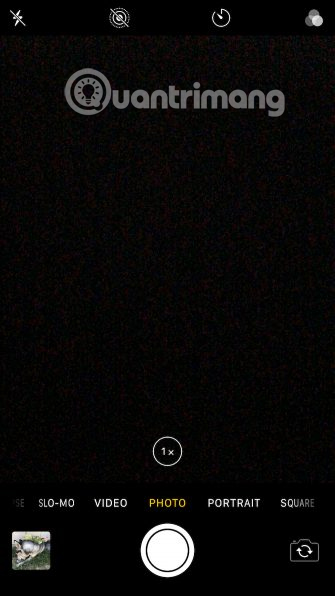 2. iPhone camera is blurry or out of focus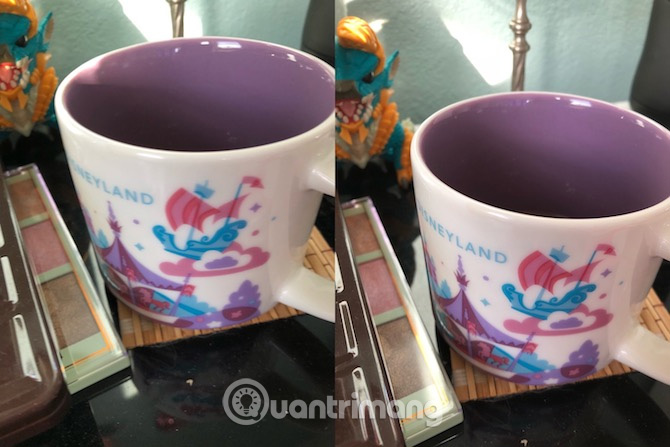 If, when taking photos, you find the captured images blurry, out of focus, try these steps:
Make sure the camera lens is clean. If there is a stain, wipe it with a soft cloth. If you find dirt or debris inside the lens, you'll need to take your phone to an Apple store or an authorized service provider for help.
If you own an iPhone with optical image stabilization (iPhone 6s Plus, iPhone 7/7 Plus, iPhone 8/8 Plus, and iPhone X), you'll see a metal case or lens attachment from may affect this function. Try taking these accessories off, then take a photo and compare it with the previous one.
See also: Trendy photography features on a smartphone
When taking a photo, keep your hand steady then press the shutter button or the volume up button. If you still experience shake when shooting, you should buy a portable tripod to keep it steady.
3. iPhone camera flash not working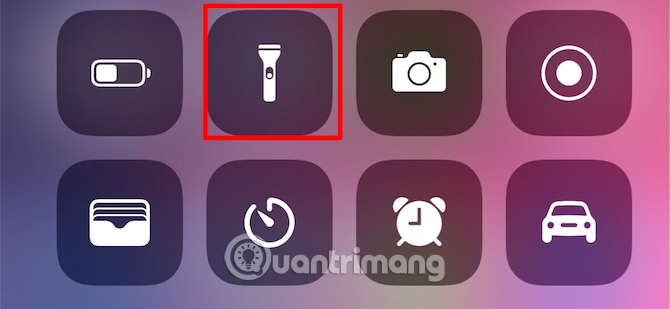 While photos usually look better without the flash, sometimes you need more light from your device. When the flash does not work, try the following solutions:
Test your phone's LED flash with a flashlight, accessible from Control Center. If this doesn't work, you need to contact Apple support.

Make sure flash settings are set to auto, On or Off by tapping the lightning icon in the top left corner of the screen.

Be careful when using flash in extended videos or hot environments. You will see a notification that the flash is off until your device cools down.
4. iPhone photos are upside down when loaded
Many users have encountered this problem, usually with horizontal photos. When uploaded, they will be upside down vertically. Maybe many people have realized this also happens when taking pictures with the top volume button, because pressing the volume up button is more convenient than pressing the shutter button. If you encounter this problem, try the following steps:
Take a horizontal photo using the volume down buttons. This has to do with the iPhone's sensors and the data they put into the image's EXIF ​​data.
You can always edit an image on your phone to make sure it's in the correct orientation before you load it, or modify it on your computer with a photo editor.
Third-party apps, such as Camera+, can encode your images for correct orientation.
See also: Top free photo editing apps on iPhone
5. iPhone camera not found or crashes when converting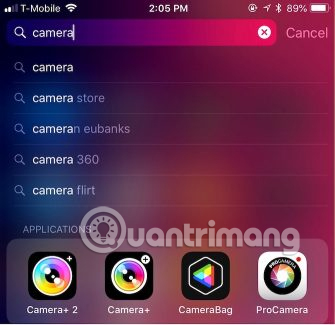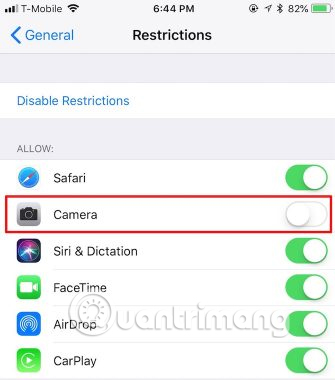 If you're having trouble finding the Camera app on your home screen, or crashing when switching between cameras, it could be due to your settings. Restrictions. To check this out:
Step 1: Access Settings > General > Restrictions.
Step 2: Enter password Restrictions.
Step 3: Make sure Camera is turned on (green).
6. Fix iPhone camera software errors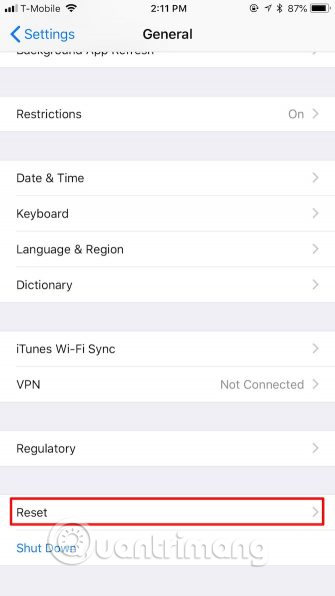 If you experience any of these other issues with your iPhone camera, you should try to deal with the software first. The steps below are relatively easy and should fix any hardware problems that arise:
Force close the app and try restarting.

Restart the device and restart the camera.

If the above two methods don't work, please try Settings > General > Reset > Reset All Settings. Note that you will need to reinstall everything after using this method.

When the above still doesn't work, try restoring the device or setting it up as a new device. This is the last resort and can eliminate all software issues that cause problems with the camera.
See also: Instructions to restore factory settings Reset iPhone
7. iPhone Camera Hardware Repair
If you've tried everything above and that doesn't fix the camera problem, then you may have a hardware problem.
Double-check that the camera lens is not obstructed by cases, stickers, or similar objects.
Make sure there are no smudges, dirt or debris on the camera lens. Stains and fingerprints should be wiped off easily with a small cloth. If dirt and debris is under the glass lens, take it to an Apple store or an authorized service provider.
These are some of the most common problems you may encounter with your iPhone camera. And if your problem is not listed here, then try the general software troubleshooting trick.
If you're wondering why your selfies are always cluttered, that's just the way Apple designed the front-facing camera. Its compositions are like a mirror, but the end result is turned upside down as if someone took the picture for you, instead of you taking it yourself.
And if you run out of storage space and can't take any more photos, check out these tips on managing photos on iPhone to help you reclaim precious space, refer to the article How to manage photos on iPhone with iPhone Photo Manager.
Source link: iPhone camera not working and how to fix it
– https://techtipsnreview.com/