Nine Yin Chan Kinh Mobile is an MMORPG with the theme of swordplay. The game belongs to the series of Nine Yin Chan Kinh games developed by Snail Games and published exclusively in Vietnam by GOSU.
Of course, a game like Nine Yin Chan Kinh will not lack the giftcode feature like many other mobile games. Some mobile games also have codes like Saitama code, Code Vien Chinh Mobile, Code Warrior Universe, Code Three Kingdoms Than Ma…
The latest Code of Nine Yin Chan Kinh
| | |
| --- | --- |
| Code | Effective time |
| DIHOACUNG | New |
| HOAVOKHUYET | New |
| PHIENBANHOT | New |
| CHECKIN397 | New |
| TIEUDAOTU | New |
| MOCUYENTHANH | New |
| CUUAMMTV | Still usable |
| DANGKYSOM | Still usable |
| VOHOC129 | Still usable |
| NOICONG397 | Still usable |
| THANBINH147 | Still usable |
How to enter the code Nine Yin Chan Kinh
Step 1: First, select the Benefits section right in the main interface of the game.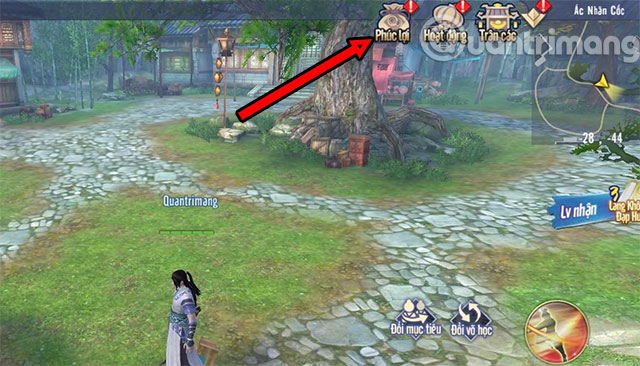 Step 2: Then scroll down the feature list and you will see the Gift Code section. Enter one of the codes above into the code input box on the right.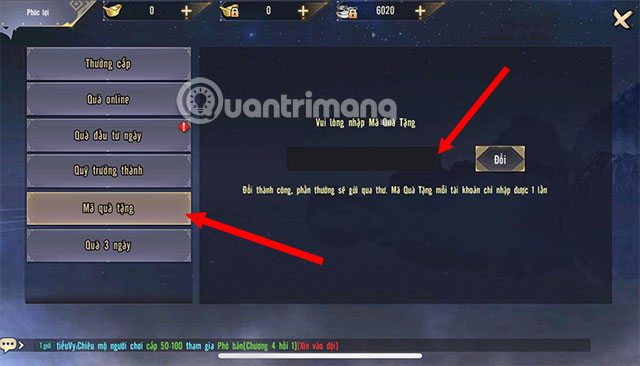 Step 3: After entering the code, select Change. If the code is still valid, you will see Change successful, pay attention to the mailbox.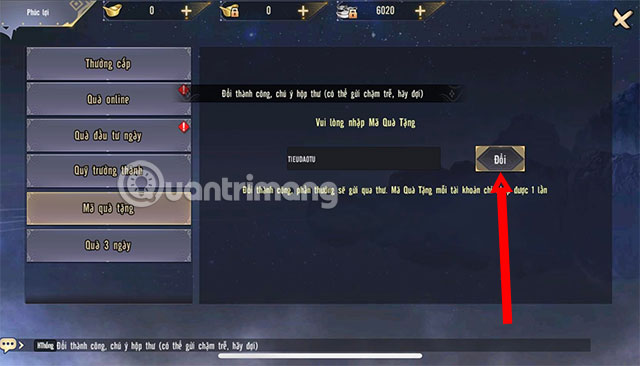 Step 4: After you have entered the code, select the Mail item. If you don't see this icon, click on the feature expansion icon right below the map.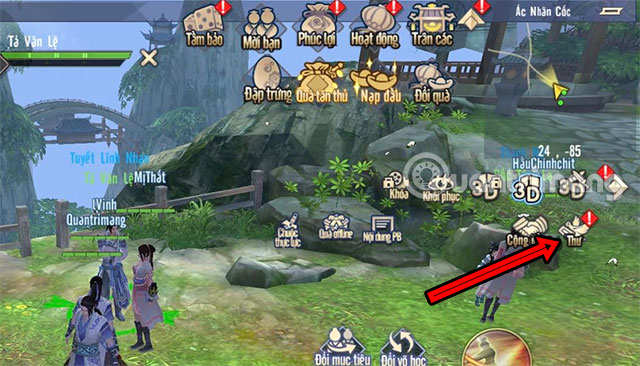 In the Mail section, select Get Quick to receive all the rewards available in your Mail.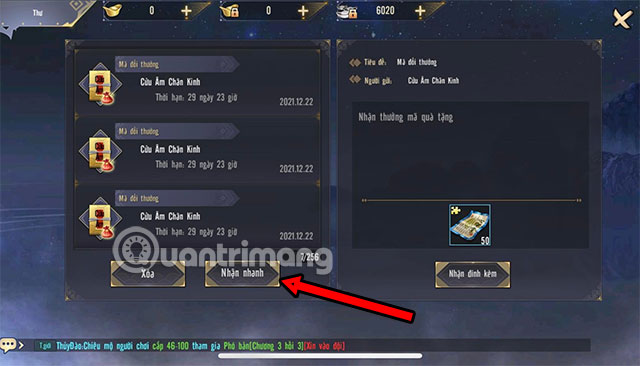 And all rewards will be added to your inventory.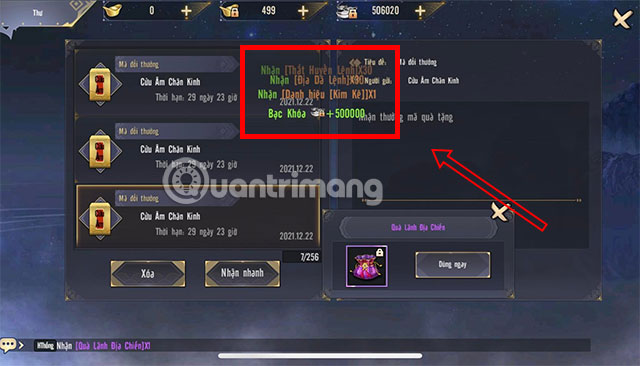 Outstanding features of the Nine Yin Zhen Jing
The sect is suitable for each style of play
When participating in the Nine Yin Chan Kinh, you will be able to choose one of the sects according to your own way of playing. The sects will be Wudang, Cam Y Ve, Minh Giao, Duong Mon, Nga Mi, Lang Tieu Thanh… Players can participate in in-game activities such as Forbidden City, Tong Kim, Hoa Son Luan Kiem, etc. Search for martial arts secrets and realize long-lost secrets in the martial arts world.
Own martial arts system
The self-created martial arts system in Jiu Yin Chan Kinh Mobile allows players to create their own set of martial arts for themselves. Combined with sect skills will form a powerful and extremely beautiful combo chain.
Get rich from the Forbidden Land
The daily Forbidden Land system is the place where gamers can exploit secrets, internal skills, martial arts or other types of secret to crafting unlocked equipment from which players can earn a lot of money from selling. they go through the game's trading system.
Spirit Soldier
Shen Binh in the Nine Yin Chan Kinh is divided into many levels such as: Normal, Dignity, Land, Heavenly, and Divine. Particularly, Do Long Dao and Ỷ Thien Kiem are two powerful and unique gods in Gypsy.
Fiery PK feature
1VS1: Lei Dai
5VS5: The Hero's Trousers
10VS10: Tran Hai Dien Vo
50VS50: Song Kim Battlefield
first00VS100: Territory Battle
Obviously, in the Nine Yin Chan Kinh, there are different types of arenas for players to get acquainted with and show off their strength.
Get married
Of course, the Phu The feature will be indispensable in the game to help many players avoid the feeling of loneliness. Especially when it comes to getting married and having children, your children can fight alongside their parents.
See more:
Source link: Latest Nine Yin Chan Kinh Code and how to enter
– https://techtipsnreview.com/