The League of Legends tournament system is organized by scale based on each region. The biggest is the World Championship tournament organized by Riot. Smaller tournaments are tournaments held in regions and countries.
The tournaments that attract a lot of gamers around the world that you can list like the LCK of Korea, LCS of North America, LPL of China, LCS of Europe.
To help gamers keep track of LOL's tournaments, Quantrimang has compiled some schedule of some ongoing tournaments for you to follow below.
League of Legends World Championship 2021
The 11th League of Legends World Championship will run from October 5 until November 6, 2021 at Laugardalshöll Indoor Stadium, Reykjavík, Iceland. This is the place where the very successful MSI 2021 was held before and will also be the place where the final match between the two strongest teams in the world will take place.
The tournament is divided into 3 stages including the warm-up round, the group stage and the knockout round with the participation of the 22 strongest teams from around the world. They gathered together to win the Summoner's Cup – the most prestigious cup in the world of League of Legends and the championship of the biggest League of Legends tournament on the planet.
LTD 2021 Worlds group stage – first leg
October 14

October 15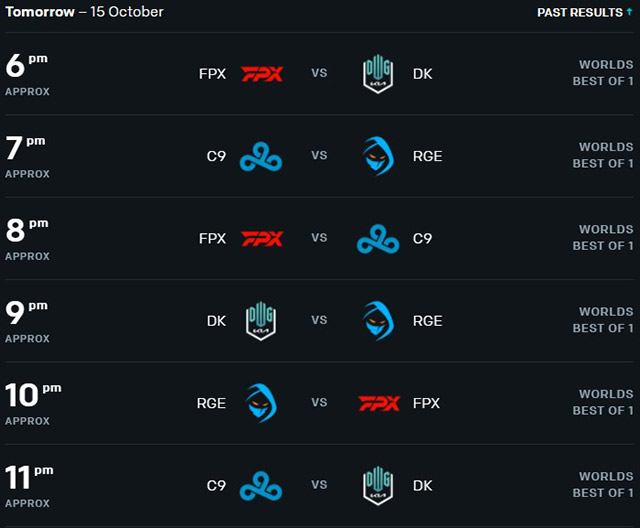 October 16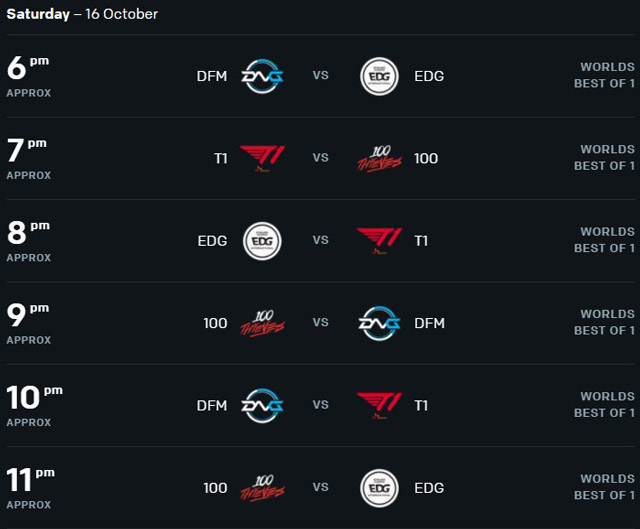 October 17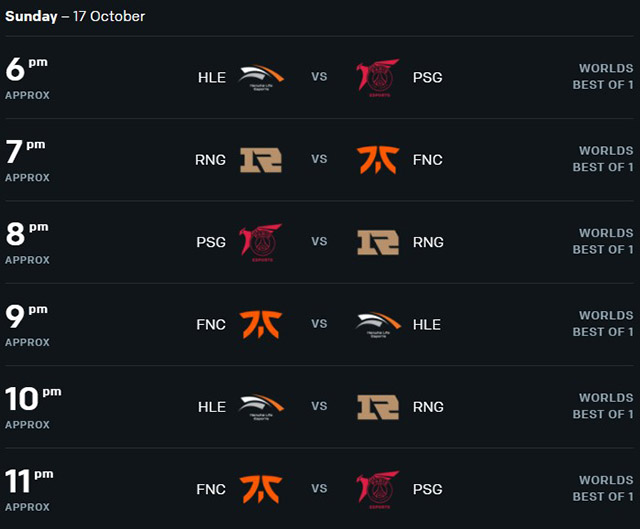 October 18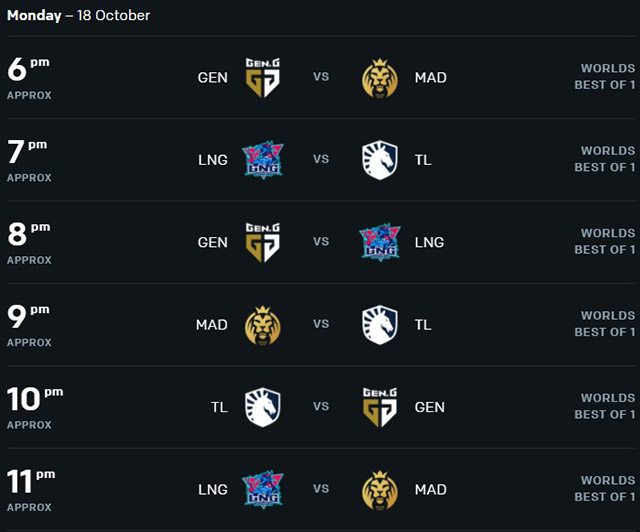 Results of Round 1 Play-in:
Day
Hour
Battle
Board
5/10
18h00
Hanwha Life Esports 0-1 LNG Esports


A


19h00
INFINITY 0-1 RED Kalunga
20h00
LNG Esports 1-0 PEACE
21:00
Hanwha Life Esports 1-0 INFINITY
22:00
Unicorns of Love 0-1 DetonatioN FocusMe
REMOVE
23h00
Galatasaray Espor 1-0 Beyond Gaming
6/10
0h00
DetonatioN FocusMe 0-1 Cloud9
REMOVE
1h00
Unicorns of Love 0-1 Galatasaray Espor
18h00
PEACE 0-1 Hanwha Life Esports
A
19h00
RED Kalunga 0-1 LNG Esports
20h00
INFINITY 0-1 PEACE
21:00
RED Kalunga 0-1 Hanwha Life Esports
22:00
Beyond Gaming 0-1 Cloud9
REMOVE
23h00
Galatasaray Espor 0-1 DetonatioN FocusMe
7/10
0h00
Beyond Gaming 1-0 Unicorns of Love
REMOVE
1h00
Cloud9 1-0 Galatasaray Espor
18h00
LNG Esports 1-0 INFINITY
A
19h00
PEACE 1-0 RED Kalunga
20h00
DetonatioN FocusMe 1-0 Beyond Gaming
REMOVE
21:00
Cloud9 0-1 Unicorns of Love
Results of round 2 Play-in:
| | | | | |
| --- | --- | --- | --- | --- |
| Day | Time | Team | Score | Team |
| 08/10 | 18h00 | GS | 2-3 | BYG |
| 08/10 | 23h00 | PCE | 3-2 | RED |
| 9/10 | 18h00 | BYG | 0-3 | HLE |
| 9/10 | 23h00 | PCE | 0-3 | C9 |
Quarterfinals
Start from October 22 to 25 in the form of Best of 5 – The four winning teams will advance to the semi-finals.
Semifinal
Start from October 30 to 31 in the form of Best of 5 – The two winning teams will go directly to the Finals
Final
Happen in day November 6 in the form of Best of 5 – The winning team will become the 2020 League of Legends world champion.
2020 LPL Summer Schedule
Below is the official LPL 2020 schedule, including 17 teams that will participate: Bilibili Gaming, Invictus Gaming, ViciGaming, Dominus Esports, Royal Never Give Up, Suning, EDward Gaming, eStar, JD Gaming, LGD Gaming, LNG Esports, Oh My God, Rogue Warriors, Team WE, Top Esports, Victory Five, FunPlus.
2020 LPL Summer Schedule
Game time
Teams participating in the competition
03/08 16h00

WITH

03/08 18h00
04/08 16h00

Edward Gaming
WITH
Victory Five

04/08 18h00
06/08 16h00

Victory Five
WITH
Rogue Warriors

06/08 18h00

Royal Never Give Up
WITH
Bilibili Gaming

08/07 16h00
08/07 18h00
08/08 14h00

LNG Esports
WITH
Dominus Esports

08/08 16h00
08/08 18h00
Top Esports
WITH
Team WE
09/08 14h00
Royal Never Give Up
WITH
Rogue Warriors
09/08 16h00
Suning
WITH
FunPlus Phoenix
09/08 18h00
Vici Gaming
WITH
Invictus Gaming
LCK 2020 League Schedule
The LCK is a fairly familiar tournament that often gathers top Korean teams and players including: SKT Telecom T1, DAMWON Gaming, Gen.G, Hanwha Life Esports, Team Dynamics, KING-ZONE DragonX, SANDBOX Gaming, KT Rolster, Afreeca Freecs, DRX.
Game time
Teams participating in the competition
08/06 15h00
06/08 18h00
08/07 15h00
08/07 18h00
08/08 15h00
08/08 18h00
09/08 15h00
09/08 18h00
August 13 15:00
August 13 18h00
August 14 15:00

kt Rolster

WITH

SeolHaeOne Prince

August 14 18h00

DRX

WITH

Hanwha Life Esports

August 15 15:00

Team Dynamics

WITH

DAMWON Gaming

August 15th 18h00

Afreeca Freecs

WITH

SANDBOX Gaming

August 16 15:00
16/08 18h00
August 20 15:00
August 20 18h00
August 21 15h00
August 21 18h00
22/08 15h00
22/08 18h00
August 23 15:00
August 23 18h00
MSI 2020 League of Legends Fixtures
MSI postponement time will be from May every year July in 2020. The rescheduling of the tournament increases the likelihood that travel restrictions will be lifted. Allows teams from tournaments to move and compete more safely.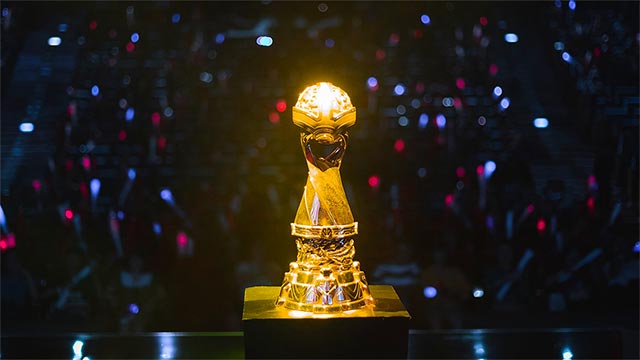 Venue and other details will be posted as soon as information becomes available. Everything is currently still only at a predictable level because the situation of the COVID-19 epidemic is very complicated and greatly affects international travel.
Even so, Riot Games ensures that MSI is still an impressive global experience tournament like every year.
In addition, the Summer Leagues of the regions around the world also have a slight change in the start date. They will be started before MSI, and here are the times of the pre-MSI tournaments.
OPL on May 15
VCS on May 15
LCS on May 16
TCL on May 16
LCK on May 20
LEC on May 22
CBLOL on May 23
LPL on May 23
PCS on May 30
LLA on May 30
LJL on May 31
LCL date 6/6
In addition to the above information, the Battle Zone schedule has also been canceled in the remaining regions.
LCK/LMS/VCS 2019 League of Legends Tournament Schedule
The matches in the group stage will take place in a BO1 format, the 1st place area will go directly to the final round. While the 2nd and 3rd regions will compete in the semi-finals to get the remaining ticket. Semi-final and final matches will be BO5.
See more:
Source link: League of Legends World Championship 2021, LPL, LCK…
– https://techtipsnreview.com/