What game is Minecraft?
Minecraft is a sandbox game developed by Mojang Studios. Where players interact with a three-dimensional environment with surrounding blocks and entities. You can choose between Survival or Creative game modes.
Creative mode will help Minecraft players express their creativity by combining cubes together into buildings and architecture. Or show your ability to survive by gathering resources, crafting weapons, food, clothes… and fighting with dangerous creatures around.
Gameplay and game modes in Minecraft
Although it is an open world game, the player does not have a specific goal to achieve, so you can choose your own way of playing.
However, the game still has achievements for the player, the default perspective of the game will be first-person. But the player can choose to go to the 3rd person perspective or the view in front of them.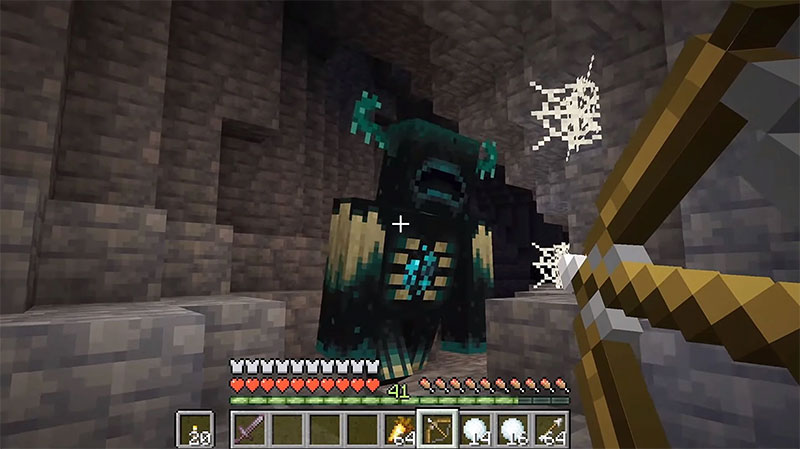 There are 3 main game modes in the game: Survival, Super Hard and Creative. But the common world in the game that players will explore is mainly 3D cubes located in the map and different resources such as soil, stone, wood, mineral ores. Blocks can only be placed in a certain fixed position.
You can collect these blocks to create other items or blocks and place them where you want to create different constructions.
Survival Mode
In Survival mode, during the game, players will encounter mobs including animals such as pigs, chickens, sheep, cows, mushroom cows, horses, polar bears, rabbits, dolphins, turtles, squids. .. along with villagers and monsters. With animals, you can hunt and collect food or items dropped from them to craft items and materials.
As for the villagers, you can exchange the resources you have for other items. With monsters, you need to prepare before facing them, including weapons and armor to fight them.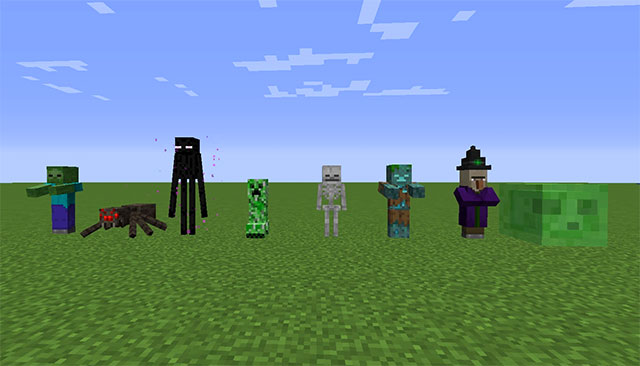 Creative Mode
As for Creative mode, players will show their creativity with all the items, blocks and all that are in Minecraft with an infinite amount right in their hands without having to go to search like in Survival mode.
Super Hard Mode
This mode does not allow players to respawn like Survival mode, you only have one life and if you die, the game will end. Although you cannot respawn, you can still visit through Spectator mode, which is only available in Minecraft: Java Edition.
There are also two other modes that are Spectator mode, where you can see everything, fly through blocks and can see the world from the perspective of another character or creature.
As for Adventure mode, the gameplay is similar to Survival mode, but there are restrictions for people on how to break blocks and place different blocks. True adventure and explore the locations available in this mode.
Minecraft versions
Minecraft: Java Edition is the first version for Windows, Minecraft: Legacy Console Edition is developed for consoles like Xbox, PS. Minecraft: Bedrock Edition is written to support cross-platform online play. Minecraft: Education Edition is for education, Minecraft: Raspberry Pi Edition is specifically for the Raspberry Pi embedded board based on a very old version of Minecraft: Pocket Edition.
You can now download Minecraft on your PC with operating systems like Windows, MacOS, and Linux.
Configure Minecraft on PC with Windows
Operating system: Windows 7 64bit or higher
CPU: Intel Core i3-3210 3.2 GHz / AMD A8-7600 APU 3.1 GHz or equivalent
RAM memory: 4GB
Graphics card (integrated card): Intel HD Graphics 4000 (Ivy Bridge) or AMD Radeon R5 series (Kaveri line) with OpenGL 4.4*
Graphics card (discrete card): Nvidia GeForce 400 Series or AMD Radeon HD 7000 series with
OpenGL 4.4
Free memory requirements: At least 1GB for games, maps and other files.
See more:
Source link: Minecraft for PC
– https://techtipsnreview.com/