NOTE: Welcome to the Knowledge Sharing Blog! If you encounter any errors during use, such as error in download link, slow blog loading, or unable to access a certain page on the blog … please notify me. via Contact page. Thanks!
There are countless reasons the computer lost soundSimple yes, complex also. So if you put it in your position, if this were the case, how would you handle it?
In this article, techtipsnreview will guide you 7 steps to overcome natural sound loss on the computer in most detail. Take turns from simple to complex steps so that you can 100% successfully overcome this error.
Note: Before you start on the main content of the article, please put the VOLUME icon (the LOA image) out of the Taskbar for convenience as well as follow the instructions in the article. If it has that icon already, then no need to do this step.
Click the direction arrow below the bar Taskbar and choose Customize....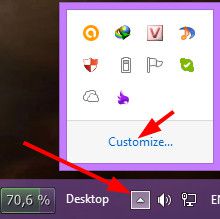 Next look for the icon Volume rub select Show icon and notification Leave it out, thank Tasbar.

Step # 1: Check the speakers, jacks
The simplest step but many of you skip it. If you are using Speakerphone, make sure the jack connected to the computer is still working fine.
As for Laptop, if you are using your computer's speakers, check if the LOA icon under the Taskbar is disabled or not?
Or see if you turn off the Volume of Audio or Video … that you are watching, this one girls often do not pay much attention ?
Step # 2: Reboot the computer
Another very common cause is that your computer has been using it for too long without shutting down or not being reset.
Or It could also be due to a software conflict on the computer that makes it unstable. So reset your computer for it to be freed. Sometimes an action is so simple but it will save the situation ?
Tips: Not only in the case of sound loss, but also other minor errors, you should also reset the computer to see if it is possible to take into account the next treatment options. This is a "panacea" there ?
Step 3. Loss of sound but using headphones is still possible
In the case that when you use the headset, it still emits normal sound, but when using the Laptop Speakerphone, you do not handle the following:
Right-click the VOLUME icon below the bar Taskbar and choose Playback devices.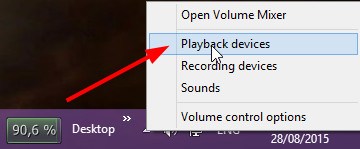 Next, right-click Speakers and choose Enable Please.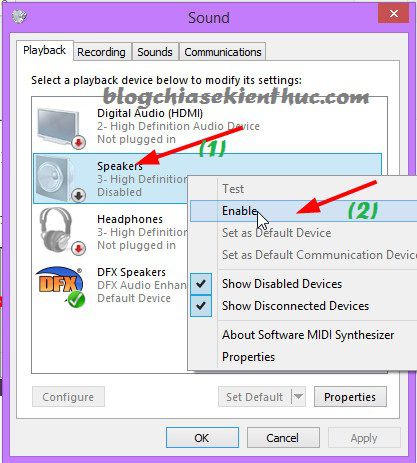 Make sure it lights up like this.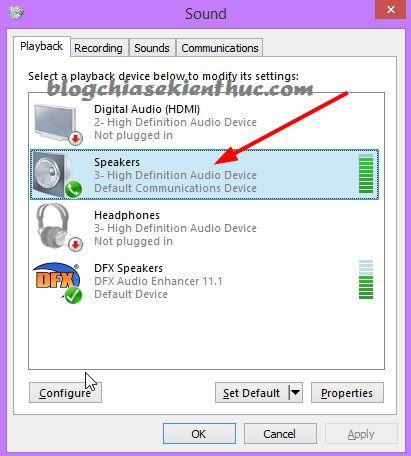 Tips: By the way, on the topic of computer speakers, I also share a little tip for you. In the past, older laptops would have 2 3-cup jacks to help you plug in external speakers or use headphones easily.
But many new generation laptops today they do not make as many ports as before. This means that the Laptop will only have 1 port to use for headphones and speakers, so if you want to use the external speaker for the Laptop, it will take another step to set up as follows:
Right click Speakers and choose Disable.
Click Headphones and choose Enable to activate.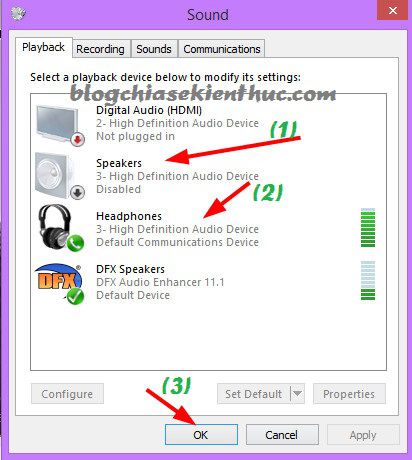 Getting back to the main problem today, if your computer still has no sound, then continue to step 4 as follows:
Step # 4: Check the Sound Driver
Right click Computer (This PC) => select Manager => select Device Manager and go to the Sound Driver section to see if it is missing? (If missing, there will be a yellow exclamation mark or accent x red)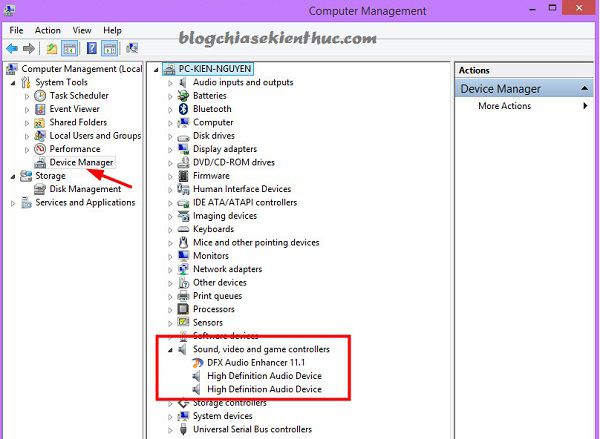 There are also cases where the Sound Driver icon is still normal, but maybe it has failed, your job is to reinstall the sound driver for the computer. This is too simple, you can follow the instructions in this article:
Download Wandriver 5.33 (or later versions) and then check the line MEDIA and install according to the instructions in the article.
After the installation is complete, reset the computer and try again to see if the computer has sound or not.
Step # 5: Install anti-virus software
In many cases, your computer gets infected with viruses and it automatically damages or disables the sound drivers in your computer. So to ensure stable sound and smooth computer operation, you should immediately install an anti-virus software if you do not have it.
After the virus scan is complete, restart your computer and repeat step 4.
Step # 6: Use USB BOOT to check
If you have done the above 5 steps and the computer still has no sound, then I suspect your computer has damaged the sound card, damaged the computer hardware and need to bring it to the maintenance shop to repair and replace.
But before you bring it to the store and determine if you are sure your computer has hardware failure, make yourself a multifunctional bootable usb.
Then go to Mini Windows and try to play an audio or video file to see if there is anything still. If so, it seems that your computer has just broken Win, you can ghost or reinstall Windows to fix. But if not then…. to step 7 ?
Step # 7: Replace and Repair
After doing all 6 steps above but the computer still has no sound, condolences…. Your computer is 100% broken hardware. Now bring it to the store for people to check and replace.
Epilogue
Above are 7 steps to identify and fix the condition The computer naturally lost sound from simple to complex. And if you keep checking according to the instructions above, I guarantee you will catch the correct disease that your computer is having.
P / s: If you have any other interesting experiences, please share them with everyone to apply. Thanks All !!!
Good luck!
Kien Nguyen – techtipsnreview
Note: Was this article helpful to you? Don't forget to rate, like and share with your friends and relatives!
Source: Naturally, the computer lost its sound and how to fix it successfully!
– TechtipsnReview