NOTE: Welcome to the Knowledge Sharing Blog! If you encounter any errors during use, such as error in download link, slow blog loading, or unable to access a certain page on the blog … please notify me. via Contact page. Thanks!
As you all know, Word, Excel, Powerpoit or PDF are very popular file formats, but we still have to contact and use every day, right.
Of course, to open it, you need to use an office suite such as Microsoft Office (Office 2003, Office 2007, 2016, …), WPS Office or Office Online of Microsoft, Google Docs, Google Sheets things, stuff …
However, it is not always possible to install these software quickly (for example, when using a salon) or power failure, no Internet access, while you are not using your computer. How to do your own?
Read more:
Okay, let's find out a new solution in this article!
View files from Word, Excel… with the My Office App
My Office App Is a really great option for you when you don't have the Internet, this is a free application on the Microsoft Store with a very compact capacity, only about 65MB.
// Saying there is no need for the Internet, but in fact, it still requires an Internet connection, but you can use the wifi transmission from your phone to your computer for fast downloads. Because it is very light, it will not consume too much data of your data. As for the Office installer, it is very difficult to do this ?
Although light and compact, it still meets two basic usage needs: Open file view, and edit internal file.
This app is only available on Microsoft Store So it can only be used on Windows 10, remember not to turn off Windows Update so you don't get errors during the installation process.
+ Step 1: To install My Office App first tense open Microsoft Store Click on the Microsoft Store icon on the bar Taskbar, or in Menu Start => Search in the keyword search box my office app => and drag down select the result as in the picture.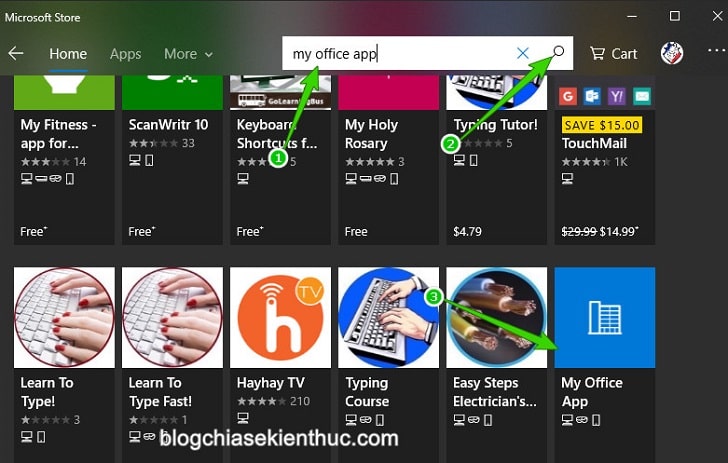 + Step 2: Press GET and wait 1-2 minutes for the app to be installed => then press LAUNCH to run My Office App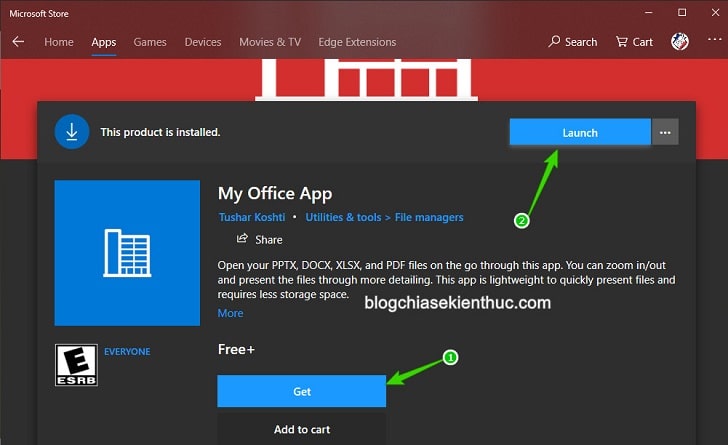 Open the application, you will see an interface with four file-opening options like this with ads too ~~: Including 4 types of files that the application supports, specifically the file extensions that this application supports are:
Word: Docx, doc, dot, docm, dotx, dotm, docb
Excel: XLS, XLSX
PDF: PDF
Presentation File: Potx, pptx, pptm, potm
Quite sufficient for the need to open regular files.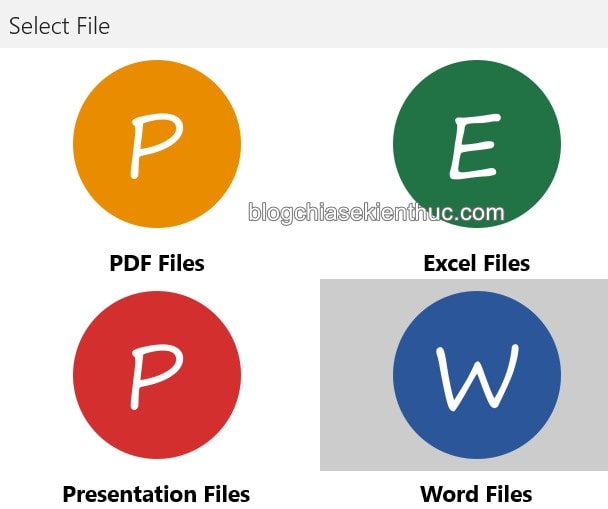 + Step 3: Then now to open a certain file type, please click the corresponding icon, for example if you want to open the Word file, you will click Word Files, in Windows Explorer select the file you want already Open is to be.
+ Step 4: Interface when viewing files of My Office App It is also quite simple, not colorful with the functions of the icons that have been clearly annotated in the image below.
To edit the file, click the Edit icon next to the frame Search right corner.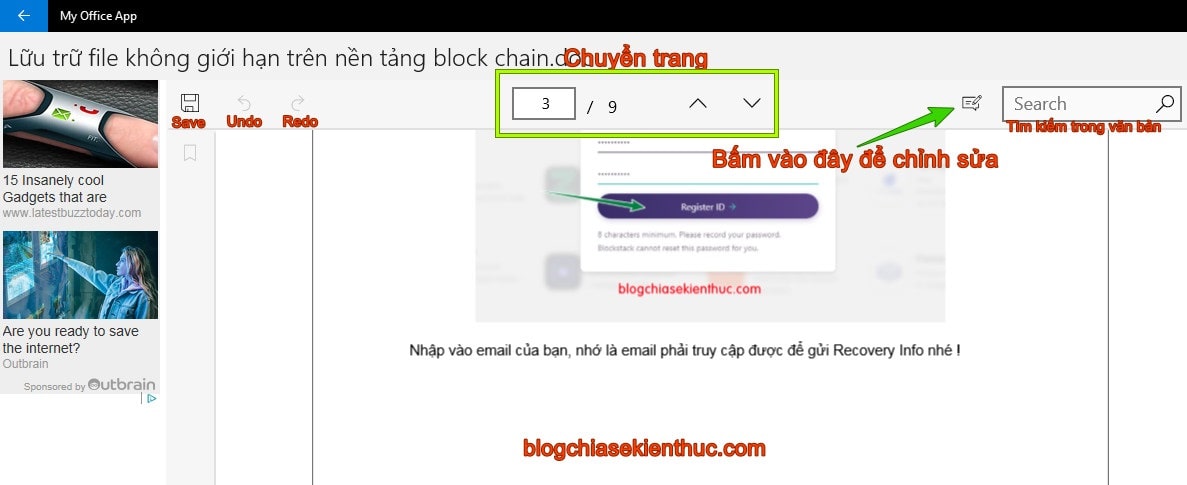 The functions in the editing section I have annotated in great detail in the image, you can download and go to each item to test carefully.
Edit Here it is inserted, but you cannot edit the content (image, text) in the Word file, you need to note this.
In this software you cannot Undo good Redo right in editing that must Back out => already CTRL + Y or CTRL + Z, or click Undo/ Redo home. Finished editing, then press the save button next to save.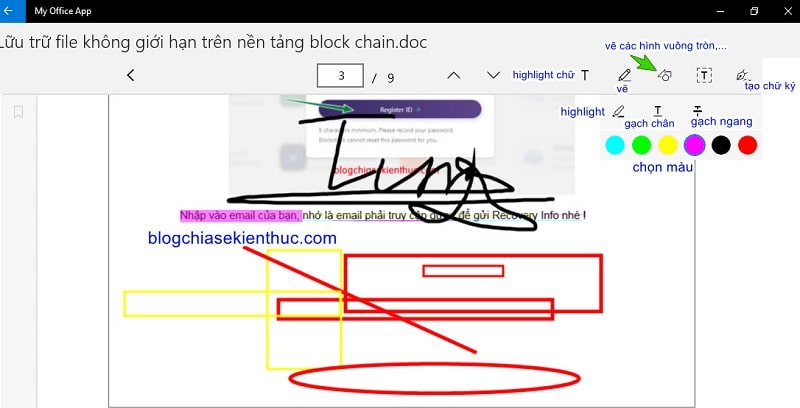 Open PDF file interface, the files are also completely no different from Word files at all.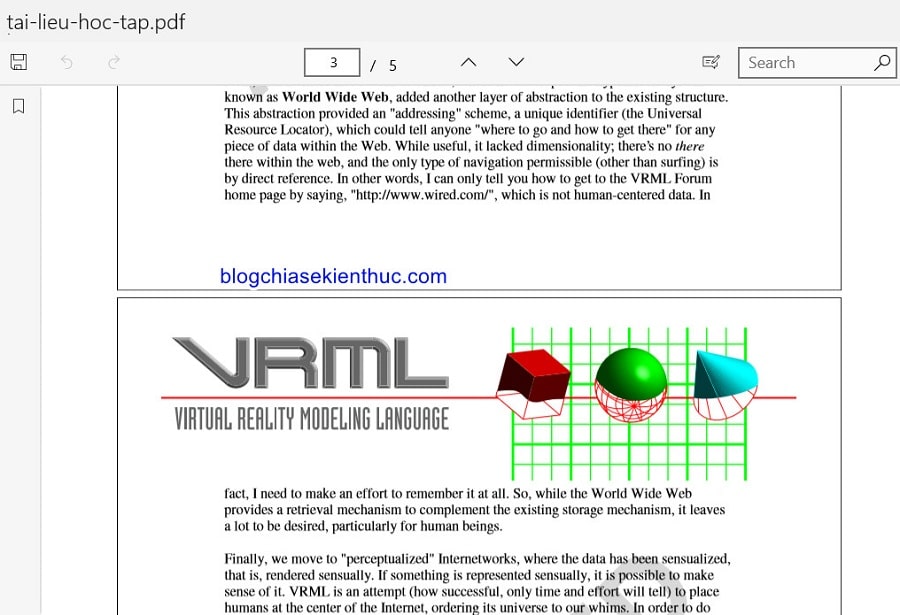 The editing interface is exactly the same, no different, full of necessary functions.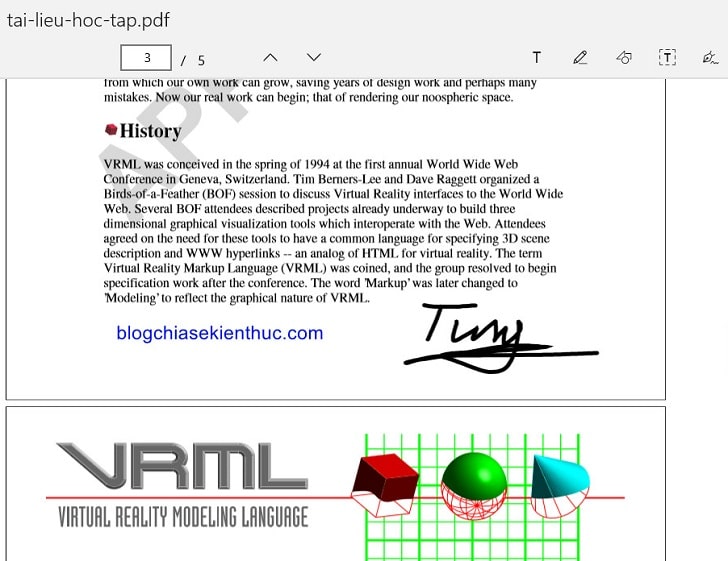 Epilogue
My Office App is a really useful application for those who are working in the office, it helps us to open the content view and edit if needed when you cannot install the Microsoft Office office suite on your computer in one. short time.
Well, there's another cool trick to open text files, music files, and videos in an emergency. You can refer to this article: How to read PDF files using Chrome / FireFox / Coc Coc web browser
Hope the article shared above will be useful for you. If you find it useful, don't forget to share it with your friends and relatives and colleagues!
CTV: Nguyen Thanh Tung – techtipsnreview
Note: Was this article helpful to you? Don't forget to rate, like and share with your friends and relatives!
Source: Open Word, PDF, Excel files … without Office installed
– TechtipsnReview