Recently, I came across a question online about Windows 17. At first, I thought this was a photoshop product, not real.
However, after asking Mr. Google to verify, it turns out that Windows 17 really exists, guys. The problem is that this particular version of Windows is not made and released by Microsoft.
In fact, Windows 17 is a custom Windows version created by Mr. Nguyen Dinh Bach, also known by the nickname khatmau_sr. Windows 17 combines the best features of Windows 10 with the stylish look of Windows 7.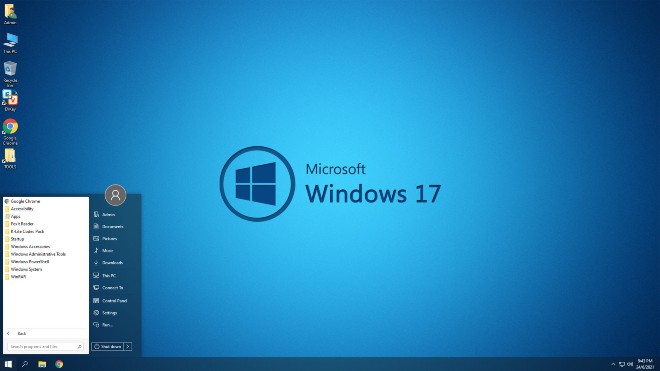 Software that is often considered unnecessary such as Windows Apps, Windows Defender, Cortana, Store has been removed. The traditional Start menu is back with more customizations. The author also changed the Explorer interface to make Windows operations and management more convenient.
Windows 17 is also fully integrated with basic software including Office 2016, full fonts, Chrome, Winrar, Unikey, IDM, VC++ Enable .Net 3.5…
Due to being heavily customized, Windows 17 will not be able to install using an ISO file. Instead, the author provides .GHO and TIB files so that you can install Windows 17 by ghost method. How to install Windows with ghost file you can refer here:
Here is the link to download Windows 17 versions:
Note: The ghost of Windows 17 has turned off Windows Update and has not integrated the driver. After the ghost is finished, you must manually install the necessary drivers. The password to extract the file, if any, will be win10.vn.
I wish you a successful installation!
Source link: Please download the Ghost Windows 17 version, combining the power of Windows 10 with the Windows 7 interface
– https://techtipsnreview.com/