You are a person who often has to move or go on long business trips to places where there is no internet or wifi. You are trying to use the internet on your laptop without any other option. Meanwhile, you own a modern and full-featured Samsung Galaxy S5. In this article, we will show you how to broadcast wifi from your Samsung Galaxy S5.
Fix the error of not playing Wifi on Galaxy S5
Samsung Galaxy S5 – How to schedule Wifi to turn on and off
Fix, fix cannot delete photos on Samsung Galaxy S5
8 great tips for Samsung Galaxy S5, great Galaxy S5 tips
Samsung Galaxy S5 – Speed ​​up file download
To broadcast wifi for lapop or other devices, you first need to register for 3G or 4G service of the carrier and remember to maintain enough money to use the service. Next, follow these steps to turn your Samsung Galaxy S5 into an ideal wifi hotspot. The method is similar to creating points Samsung Wifi transmitter that we already know.
INSTRUCTIONS TO CREATE WIFI POINT ON SAMSUNG GALAXY S5
Step 1: Go to Settings. You can do this by opening the Application Menu select Settings or can drag the bar Notifications (notification bar) and select the gear icon as shown in the figure.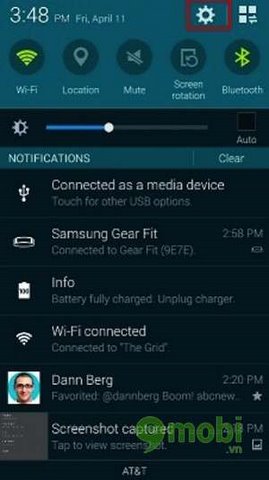 Instructions to play Wifi Samsung Galaxy S5
Step 2: Click "Network Connections" and press "Tethering And Wi-Fi Hotspot"
Instructions to play Wifi Galaxy S5
Step 3: Click "Mobile Hotspot"
How to play Wifi Galaxy S5
Step 4: Enable feature Mobile Hotspot by flicking the horizontal bar at the top of the word off luxurious on
How to create a Wifi hotspot Galaxy S5
Step 5: Press the button "Ok" to disable Wi-Fi connection (If you are on wifi connection). This will activate the 3G,4G connection so you can share the network connection with other devices.
Step 6: To connect your laptop, or other devices to the Wi-Fi network emitted by the Samsung Galaxy S5, turn on the Wi-Fi in your device and detect the Wi-Fi emitted from the Samsung Galaxy S5.
On the Samsung Galaxy S5 after setup, it will notify you of the Wi-Fi network name and password for you to fill in your other device. In the picture below, the Wi-Fi network name is Galaxy S5 3268and the password to access is ymgu8055. Currently with this function you cannot set a wifi password for the network you just created, so you can only use the default wifi that the system offers.
Galaxy S5 Wifi broadcast successfully
Above TechtipsNReview.com has finished guiding you how to broadcast wifi from Samsung Galaxy S5 for laptops as well as other devices. Hope you will do it easily. If you are using S6, you can refer to the guide to create points Wifi transmitter Galaxy S6 recently implemented by TechtipsNReview.com.
https://TechtipsNReview.com/samsung-galaxy-s5-cach-phat-wifi-15n.aspx
Source: Samsung Galaxy S5 – How to play Wifi on S5
– TechtipsnReview