Besides useful features on SmartPhone devices, how to search Google Voice on iPhone will help you quickly get the desired search results without having to enter characters on the iPhone keyboard.

How to select Vietnamese in Google voice search on Android
Chrome for Android will soon use Google Assistant for voice search
Voice messaging on iPhone 6, 6 Plus
YouTube for Android updates the voice search interface
Listen to Google Maps with Vietnamese voice directions
Before that, we went to learn about the steps together install iPhone keyboard with voice so you can optimize the process of composing messages and texts more easily. In this article, we will continue to familiarize ourselves with how to search Google by voice on iPhone.
Instructions for searching Google by voice on iPhone
To perform a Google voice search on an iPhone, we will have the following steps:
Step 1 : To be able to perform a quick search of search information on iPhone, from the main screen of the phone, we will swipe the screen from left to right to switch to the Utilities bar. Here you will press select the "Microphone" icon to search Google by voice on iPhone.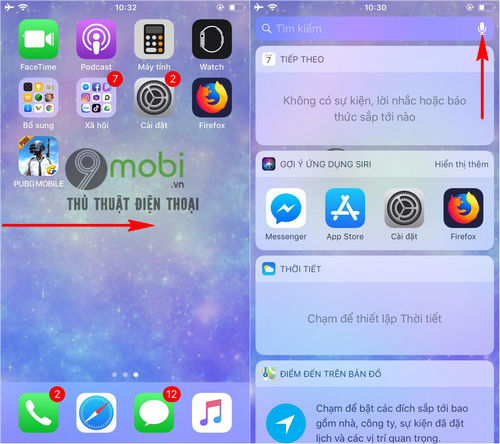 Step 2 : Immediately, the system will record the voice emitted through the Voice Mic unit, in case you haven't said anything yet, we can press this Microphone icon again, or press Select the "Record" icon from the iPhone keyboard.
Step 3 : The system will search for information related to the keyword you just entered by voice as shown below. And to search Google by voice on the iPhone that we just obtained, press select the Search Web icon .
And now, the system will switch us to the web browser interface to search Google with the corresponding keyword so that you can get the desired results.
* Notes when performing Google Voice Search
– Currently the Google Voice Search feature on iPhone will depend on the keyboard language you are using for you to use. By default iPhone will support you English language.
– If you want to search Google with Vietnamese voice, you need to set up Vietnamese language as follows:
Step 1 : You will access the application Setting (Settings), and select the item General settings (General) as shown below.
Step 2 : Then we will search and press to select item Keyboard (Keyboard) and enable the feature Turn on dictation (Enable Dictation).
– At this point, you will confirm the process enable Enable Dictation mode . This is a feature that allows you to enable the voice recording icon on the iPhone keyboard. Then to change the Google voice search language on iPhone, we will continue to press the item Dictation Language (Dictionary Languages).
Step 4 : Next, the system will display languages ​​that you can choose to use to search Google by voice on iPhone, as well as the language when you compose voice messages.
So, we have just come together to learn about the steps to perform Google voice search on iPhone as well as the notes for you to use this feature in the best way to find yourself the answers. words quickly and accurately. In case you want to delete your Google search history so that others don't know what you've just searched, please check out the article clear google search history here
https://9mobi.vn/tim-kiem-google-bang-giong-noi-tren-iphone-23497n.aspx
In addition, if you still do not know how to do voice messaging on iPhone, 9Mobi.vn invites you to refer to the article how Voice messaging on iPhone to better understand the features of texting, email, voice search on this classy iOS device.
Source: Search Google by voice on iPhone
– TechtipsnReview