Although today it is much more convenient to back up data to USB and portable hard drives, the traditional method of burning files to CD or DVD still has certain advantages that have not been eliminated. If you are in need of this, let's find out with GhienCongListen to lie down how to burn files to CD on Win 10 please.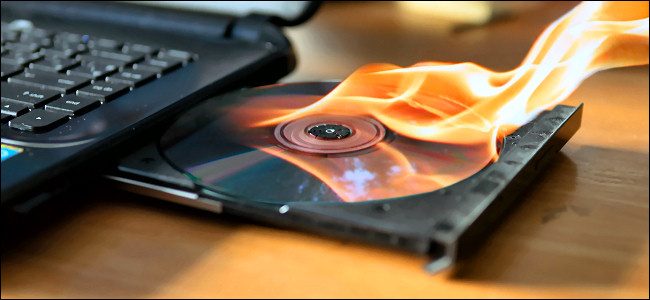 Advertisement

Basic concept
Before you start, assume you have an optical drive that is capable of writing data to your disc. It can be a built-in optical drive on the computer or an external optical drive. Also continue to assume that you have installed all the necessary drivers for your computer to recognize this optical drive and command it to work.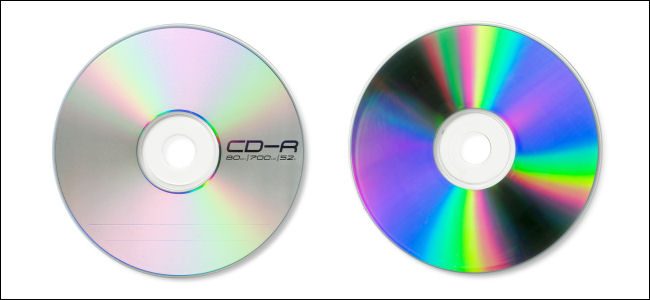 You will need some blank disk, aka blank disk, i.e. disk without data. The blank disc can be CD-R, CD-RW, DVD-R, or DVD-RW as long as the disc type is compatible with your optical drive. DVD discs are usually 4.7 GB or 8.5 GB, significantly more than CDs, which are only about 700 MB. Depending on your needs choose a suitable disc type. Here are a few different comparison points for your information and consideration.
Advertisement

CD-R, DVD-R: These 2 types only allow data to be written to disk. They cannot physically be deleted, although Windows can ignore "deleted" files on the disk if you use the Live File System.
CD-RW, DVD-RW: These types of discs allow data to be written to and erased from the disc, although they can only be erased a certain number of times (usually about 1,000 times), depending on the label.
When choosing a brand, pay attention to the compatibility of the drive. Most optical drives that support DVD discs can also read and write CDs, but not vice versa.
Choose how to burn files to CD/DVD
Began work on it. Open your computer and insert the blank CD or DVD into the optical drive. As soon as you insert the disc, a window titled "Burn a disc" will appear. This dialog box asks you how you want Windows to handle burning. Here are the options and what they mean.
Advertisement
This method is quite new, allowing you to burn files to CD/DVD as quickly as you copy files to USB. The only difference is, if you are using a write-only and non-erasable blank disk, when you delete a file, the file will disappear but the space on the free disk is not recovered. One limitation is that disks created this way are generally not compatible with operating systems older than Windows XP.
This is the more traditional method of burning files to a CD/DVD. When you copy files to a CD/DVD, they are only temporarily saved to your CD/DVD disc. Only when you execute the command Burn (burning discs) then they will be burned to disk. The good news is, discs created this way are compatible with older versions of Windows.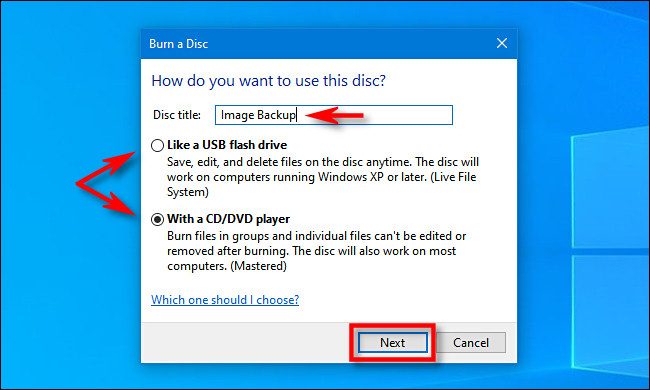 Details of 2 ways to burn files to CD/DVD
The next step depends on the option you choose. We will study more deeply for each method of burning files to CD/DVD right below.
How to burn files to CD/DVD – Like a USB flash drive
If you choose the option "Like a USB flash drive", then burning the file to a CD or DVD does not require any further steps. The File Explorer to your drive window will automatically open and to proceed all you have to do is copy the file directly to the drive via File Explorer. You can even drag and drop files into the File Explorer window without copying and pasting.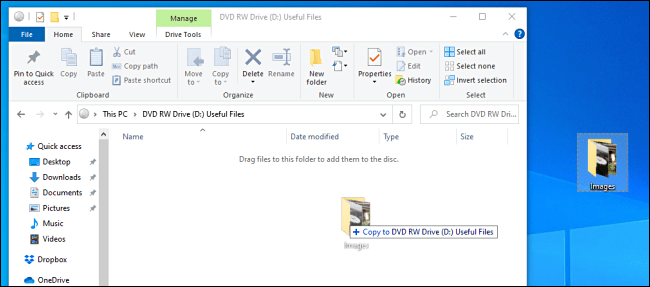 As mentioned above, you can delete files using this method, but if you're using a CD-R or DVD-R disc (a write-only CD/DVD type), you're only deleting them in theory. . The "deleted" data is still written to disk, but is no longer accessible.
As a simple example, let's say you have 700 MB of free space and you copy 10 MB of data to disk. Now you have 690 MB free. If you delete 10MB of data, you still have 690MB of free space.
On the other hand, if you are using a rewritable disk format, Windows will handle the file deletion and you can recover the disk storage space corresponding to the deleted file size.
Note: When you want to eject the disc, Windows does some finishing work before ejecting the disc.
How to burn files to CD/DVD – With a CD/DVD player
If you choose to use "with a CD/DVD player", your drive will open in a File Explorer window. Under it, you will see a heading titled "Files Ready to Be Written to the Disc."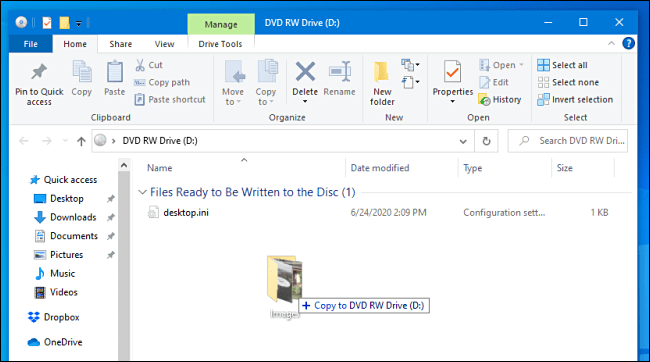 When you drag and drop (or copy and paste) files here, they will appear in this window. Files are not actually written to disk until you select the command Burn in File Explorer.
When you have finished copying everything you want to burn to the disc, select Drive Tools in the toolbar menu of the File Explorer window, then select Finish Burning.
(You can also right-click the optical drive's icon in File Explorer and select Burn To Disc.)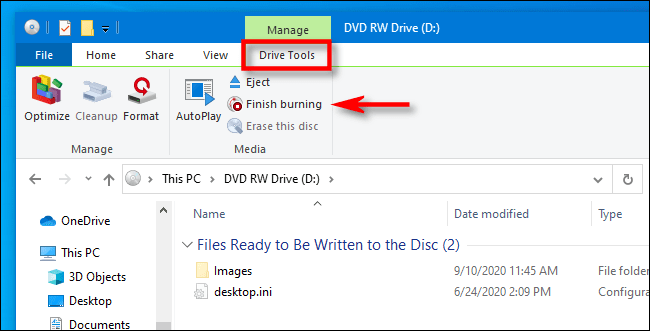 The "Burn a Disc" window will appear. Enter a title for the disc, then choose a write speed. You can absolutely choose the highest speed. Then click next.
Next, you will see a progress bar and an estimated time to complete when the files are written to disk.

Once the process is complete, Windows will automatically eject the disc from your drive and the wizard will ask if you want to burn the files to another disc. If you need to make more copies, tick the option Yes, burn these files to another disc, then repeat the above steps. If not needed, select finish.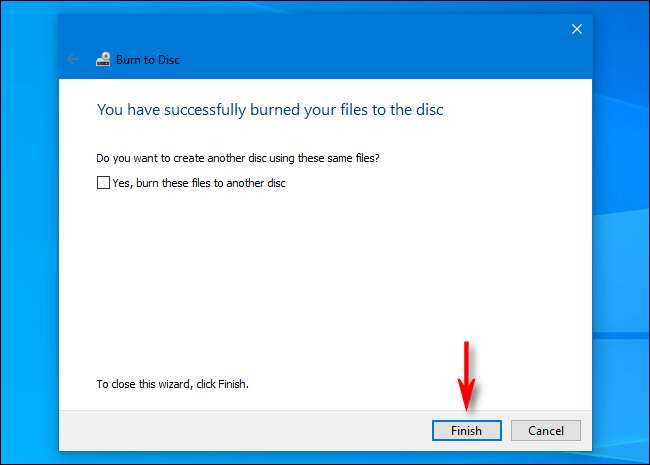 Finished! So your newly burned CD/DVD is ready to use.
At the end of the article, TechtipsNReview.com wants to share with you an important information related to storing data to CD/DVD. It has been scientifically proven that CDs and DVDs are not the safest storage media, meaning that if the disc quality is poor it is very likely that you will lose your data after a few years. Even if you don't use it at all, just leave the disc on the shelf. So this is not a good option if you want to store data for a long time. Consider using USB, portable hard drives, or cloud storage services instead. The rest, depending on the purpose and as long as you understand the risks of the CD/DVD, this article will still be useful to you.
" See more: List 5 best free DVD burning software
Above, GhienCongList introduced the two simplest ways to burn files to CD/DVD. There are some other ways to use the professional burning software GhienCongList to share in another article. Please Like & Share if you find this article useful and don't forget to leave a Comment below to discuss this topic together. Thanks for watching.
Refer to Howtogeek
Source: Taught you how to burn files to CD/DVD on Windows 10
– TechtipsnReview