Having an app to read PDF files in Android is essential. These applications include various functions such as viewing PDF files, in PDF format and editing PDF documents.
Whether for work or study, you need a quality PDF reader if you use this file type regularly, for example, but read e-books. Here is a list of the best PDF reader apps for Android you can try.
1. Adobe Acrobat Reader
Adobe Acrobat Reader allows you to quickly view, edit, sign, export and export files and comments to PDF documents right from your Android device. Files can be stored online and quickly accessed after each reading. With multiple single page and continuous reading modes, you can easily flip through the main points of the text.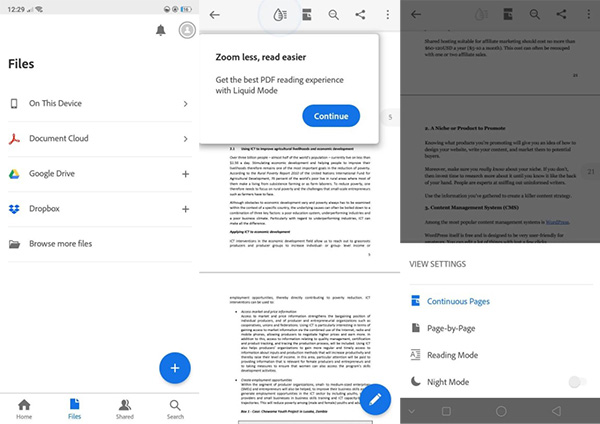 You don't have to worry about viewing documents in low light thanks to Adobe Reader dark mode, which also saves battery power. AI mode "Liquid Mode" makes navigating PDF documents easier on the phone. The powerful search function can help you find any word in the text without having to read the whole paragraph.
Adobe Acrobat PDF runs Android 5.0 and up, with support for in-app purchases to add more features.
2. Google PDF Viewer
The Google Drive app always lets you open PDF files. But if you don't want to install a whole Drive app just to open PDF files, you can use Google PDF Viewer independently. With this application, you can view PDF files, print text and search for words within documents.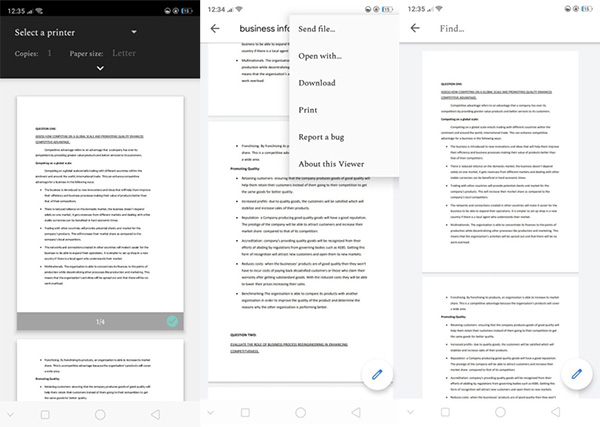 Even though you don't see the icon on the home screen, the app still runs when you open the PDF file on your Android device. One of the main strengths of this app is its speed. As long as you have a modern device, Google PDF Viewer will quickly display your PDF file of any size.
Google PDF Viewer is optimized for both portrait and landscape viewing, so no matter which direction you hold your phone, the app will handle it. However, the app has no markup tools, but other features are great for handling sensitive or confidential documents. In addition, Google PDF Viewer does not take up too much space on the device.
3. All PDF
All PDF allows you to view PDF files for free. To stand out among the forest of PDF reader applications, All PDF brings a lot of support tools for reading files on mobile devices. On this app, you can import and split files, which are normally only available on paid apps.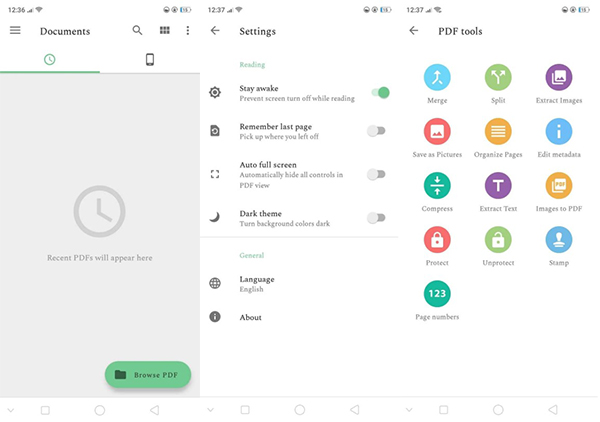 This application is very easy and fast to use with PDF files. The application has the option to share after reading or printing if the device has connected to the printer. You can organize PDF files according to your needs.
You can open a PDF file from a photo manager or other apps like Gmail and WhatsApp for reading in All PDF. After closing a file, you can reopen it later and return to the page you were reading on.
4. Xodo PDF Reader
With Xodo PDF Reader, you can view, edit and sign documents right from your Android device. This application makes reading PDF files faster and easier. You can edit your files to better suit your needs by inserting, deleting and rotating pages.
With a high zoom factor and full screen mode, you can concentrate on your work without distractions. Read more clearly in low light with night mode.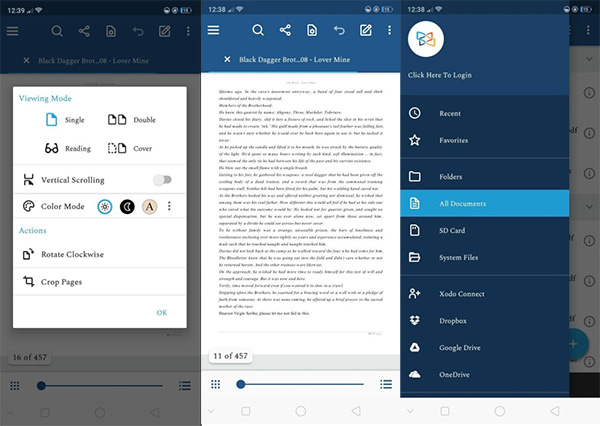 Another strong point of Xodo PDF Reader is collaborating with other services, such as your Google account. You can view and merge PDF files from your Android device and on Google Drive. With the option to connect to other cloud services like OneDrive and Dropbox, you can access files from anywhere for work and study. It also synchronizes changes with source files, so you will get the latest version everywhere.
The app is completely free on all platforms, with no paid plans. Additionally, the Xodo web app also lets you merge multiple PDFs if you need to compile your resource into one large file.
5. Foxit PDF Reader Mobile
Foxit for phones is a fast and easy-to-use reader on Android devices. With Foxit PDF Reader Mobile, you can quickly open files and control how text is flowed to fit the screen. You can change the brightness and background to make the reading experience more enjoyable.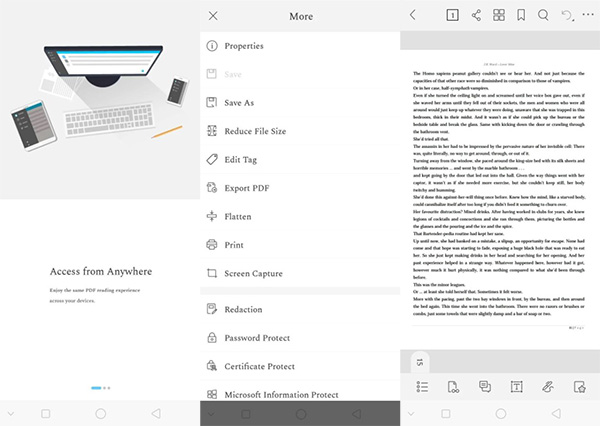 Simple tools to highlight text and add notes or drawings to your page make reading with Foxit fun and engaging. While Foxit Mobile PDF is free on Android, you only get access to certain features like file merging and password protection after signing up.
Easily collaborate with colleagues, you learn by sharing files. It's a great choice for cross-platform use, as Foxit is also one of the many PDF readers available on Windows. The integration with Dropbox, OneDrive, and Google Drive increases flexibility, and you can also use security features to protect sensitive information.
Finally, Foxit allows you to export PDF files to PowerPoint, Excel and Microsoft Word.
Source link: The best PDF reader apps on Android
– https://techtipsnreview.com/