Have you ever wondered what the browsing experience was like in the 90s of the last century? What's different from the modern internet world?
If you really want to find the answer, a free proxy service called TheOldNet will be able to bring you back to the early days of the Internet world, by bringing back every website you visit. a specific year between 1996 and 2012, instead of its current version.
TheOldNet
A proxy server is a remote application or device that acts as an intermediary between your web browser and the website you want to visit. Instead of letting your browser connect directly to the website, it sends a request on your behalf to a proxy server that connects to the requested website and sends the response back to your browser.
TheOldNet proxy server works a little differently. It allows you to specify a specific gateway between 1996 and 2012, representing the year you want to display web pages. This causes the proxy server to return archived copies of any website you visit from Archive.org, within a specified timeframe.
Once configured, the web browser will display every web page you browse as in the year specified.
Using the service, you can access the world's first popular search engine Yahoo.com – at its peak in 1996 – before Google came along and became a force. dominate today.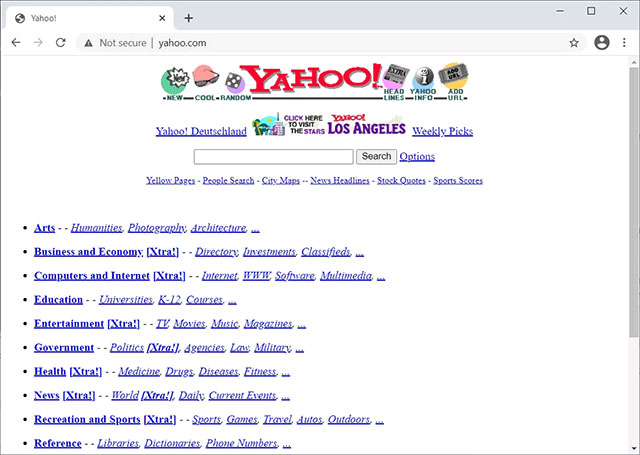 Alternatively, you can also change the proxy port to 1997 and see what the Apple.com website looked like at the time.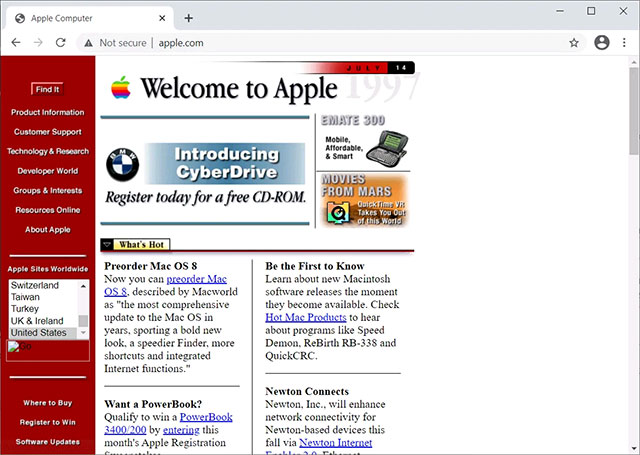 If you are a gamer, you may also want to know the look of Electronic Arts website almost 25 years ago.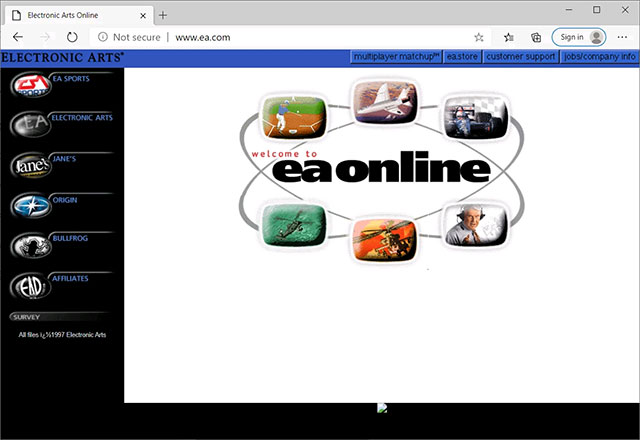 How to use TheOldNet proxy service in Windows 10
To experience TheOldNet.com, you need to configure your web browser to use a proxy server. Depending on the browser type, this can be done in your browser's settings menu or through the operating system.
For example, the Chromium kernel browsers (Chrome, Edge, Opera …) on Windows do not use local settings, but instead rely on the proxy package of the operating system.
Therefore, to use TheOldNet on Windows 10, you need to click on Start Menu, search for a proxy, then select the option 'Proxy Settings'.
When the Proxy settings screen opens, scroll down until you see the section "Manual proxy setup"And turn on settings"Use a proxy server'.
Now enter theoldnet.com in the address field, enter the port number (1996 to 2012) (which represents the year you want to browse) and specify that you do not want to use a proxy server for 'web.archive.org'as shown below.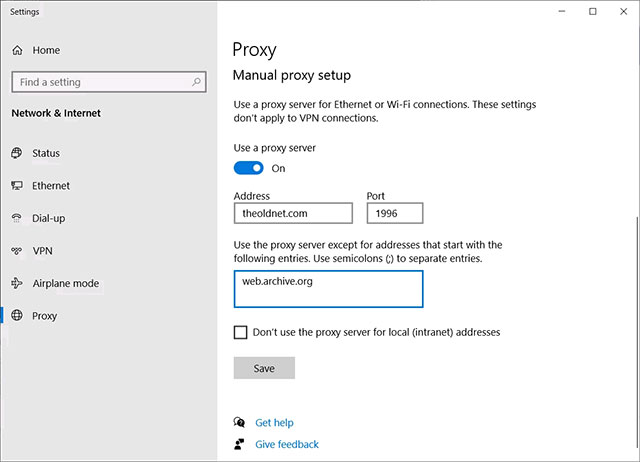 When done, click the Save button and Chrome will now use Windows 10's configured proxy settings. If you configure the settings shown above, whichever website you visit now the hour will be displayed as if it were 1996.
We recommend that you use this service in incognito mode so that cookies for existing domains are not sent with requests to a website through a proxy. While there have been no reports of malicious activity with TheOldNet, it's best to proactively eliminate any possible risks.
When browsing the web, you can see cases of web pages that didn't exist, which may be because they actually didn't exist for that particular year. You can always change the port number to another year to find out when your site is up and running.
Source link: This free tool can bring you the cool 90s browsing experience
– https://techtipsnreview.com/