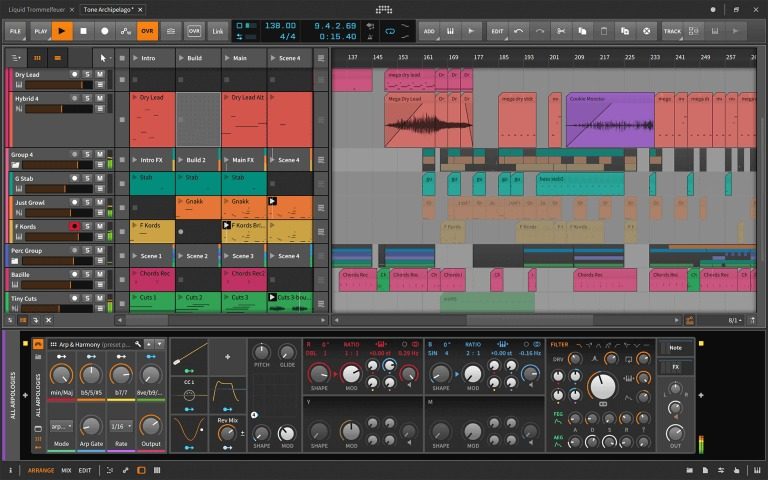 Bitwig seems to be a relatively young face when compared to the existing EDM music making software on the market. However, the features that Bitwig brings are really not inferior to Ableton Live, because this software was developed with the support of the people who developed Ableton.
Bitwig is a professional EDM music making software, running on Windows and other platforms, with a lot of flexible support features such as recording, live performance, and sound design. With over 80 instruments and effects (over 10GB total) Bitwig is here to help you create the EDM beats of a lifetime.
The user interface is distributed according to the Panel structure divided into 3 main layouts: Arrange, Mix, and Edit so you can focus on your work with the convenience of selecting tools on the panels. . Bitwig also supports split screen, creating a larger workspace for increased performance. The Detail Editor allows you to perform operations such as stretch, split, copy, pan, reverse, add, move, and pitch.
Bitwig is one of the few tools that support MPE (Multidimensional Polyphonic Expression) that adds advanced recording and manipulation features to existing MIDI controllers on the market. Some other features of Bitwig include: basic note editing tools, the ability to handle multiple projects at the same time, fade / crossfade effects for audio clips, and the ability to integrate related to Hardware.
Despite being a rookie in the world of EDM music making software, Bitwig is not the average when it comes to providing a series of necessary and advanced features that other software may not be equipped with. Currently, Bitwig is providing a trial version for you to experience before making a purchase decision.
Above, GhienCongList has compiled for you 6 best EDM music making software, try the experience and leave us feedback in the Comments section below. If you find the article useful, please Like & Share to support TechtipsNReview.com to produce more quality articles. Thanks for watching.
Refer to Windowsreport
Source: Top 6 cool EDM music making software should not be missed
– TechtipsnReview