Samsung Galaxy S5 has been launched with many new and unique features. So, is it possible to use the top apps while not being able to upgrade to the Samsung Galaxy S5? Let's explore these mysteries together
Magical Samsung Galaxy S5 into a unique and fancy Galaxy S6
Galaxy S5 – Fingerprint sensor settings
Fix, fix cannot delete photos on Samsung Galaxy S5
Turn your Galaxy S4 into a Galaxy S5
Backup EFS partition on Galaxy S6, S6 EDGE, S7, Note 5…
New features are built into the Samsung Galaxy S5 at a dream price for many people. However, to experience it, you only need to have in hand a mid-range Android phone.
We will introduce readers to 4 features available on Samsung Galaxy S5 that we can use via 3rd party software to solve the problem.
1. Heart rate sensor
The heart rate sensor is a new and most prominent feature on the Samsung Galaxy S5. This feature helps you better understand your body and be able to assess your health as quickly as possible
On the Samsung Galaxy S5, the heart rate sensor is located under the rear camera. To take your heart rate measurement, simply go to the S Health app in the menu, then place your finger in front of the sensor placed under the camera and wait for a few seconds. The system will calculate and return the results to you with a fairly fast and accurate speed.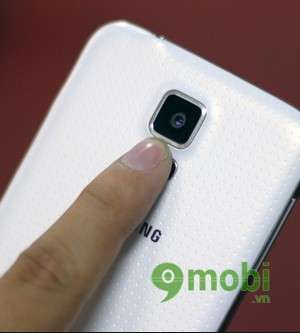 If you want your Android device to be able to measure your heart rate, you can use a free Runtastic app called Runtastic Heart Rate for Android. The app also uses the rear camera to measure heart rate, and the test shows that the results are not too different from the dedicated sensor on the S5.
Readers can download Runtastic Heart Rate for Android for free here
2. Selective Focus photography (rear focus)
Galaxy S5 has been equipped by Samsung with the ability to focus after taking a photo. This quite interesting feature saves you from having to fiddle around with focus before taking a photo.
Recently, Google's newly launched Google Camera for Android application for devices running Android 4.4 and above also possesses the same ability. So you can use this app, to create beautiful images, similar to that created by S5.
Readers can download Google Camera for Android for free here
3. Private Mode
Users tend to smartphones to be able to work mobile, store important personal information and documents. So high security is always the concern of every device user. That is also the reason why Samsung decided to equip the Private Mode feature for its latest super product. This feature allows users to hide specific content so that outsiders cannot see it. To be able to view the data, you will have to enter a password or use a fingerprint scanner, pin code.
If you are using other Android devices, you can use an app for similar capabilities called App Lock for android. This is a completely free application that allows you to protect specific folders. You will also have to use a password to open them. You can choose to lock data by time or folder, hide photos, videos… In addition, the application also has different modes for guests, children …
Readers can download App Lock for android for free here
4. Kids Mode
Not to be outdone by Windows Phone, Samsung immediately added a Kids Mode feature on the Samsung Galaxy S5 that allows parents to create a dedicated and limited environment on the device. As a result, babies can only use the apps and features the parents want, even without their direct control.
You can use the app of the same name as Kids Mode for Android produced by Zoodles on other Android devices. This app is capable of providing games and content suitable for young children, and also allows setting up their own user profiles, restricting access to any applications they feel are inappropriate. .
https://TechtipsNReview.com/bien-dien-thoai-android-thanh-galaxy-s5-53n.aspx
Readers can download Kids Mode for Android for free here
So only with free software that you can turn mid-range products on hand to have new unique features on the latest products on the market. What are you waiting for, if you don't download and install these applications, you will have an enjoyable experience besides the advantages they bring.
Source: Turn any Android phone into a Samsung Galaxy S5
– TechtipsnReview