NOTE: Welcome to the Knowledge Sharing Blog! If you encounter any errors during use, such as error in download link, slow loading blog, or unable to access a certain page on the blog … please notify me. via Contact page. Thanks!
Yes, on the blog, I have shared with you a lot of tools to support creating USB BOOT in an extremely professional way. And how to perform is too simple, even with just one click is done right away.
However, during the process, some of you got an error and asked me to show you how to fix it.
Honestly, my articles are usually quite detailed and meticulous, and to write instructions on how to Fix for each specific error is a bit difficult for me, because not every error I can fix and even There are errors you describe I have never met, and what I need to say, I have said all in the article.
Therefore, in this article I will share with you the most general way to Fix almost all errors related to your USB BOOT creation process.
Read more:
#first. Some common errors during USB BOOT creation
Error not displaying USB in the process of creating USB BOOT (this error usually appears when you use the tools to create usb boot 1 click, when you are to format the USB is GPT).
Or the error Write file failed! Access is denied – means that the replication has failed and was rejected.
Normally, if you encounter these errors, I will first ask you to check if the USB is still working or not first.
If still works normally, you can apply 1 of the following 2 ways to Fix the error. In addition to the above errors, if there is any other error related to the USB BOOT creation, you can still follow it.
Note: This way is essentially Format the USB for the correct format only, so all the data in the USB will be lost. So if you have any important data in the USB, please copy it somewhere.
#2. Fix the error of not creating USB BOOT with Partition Wizarrd
+ Step 1: First, open the Partiton Winzard software. We will have the partition management interface as shown below.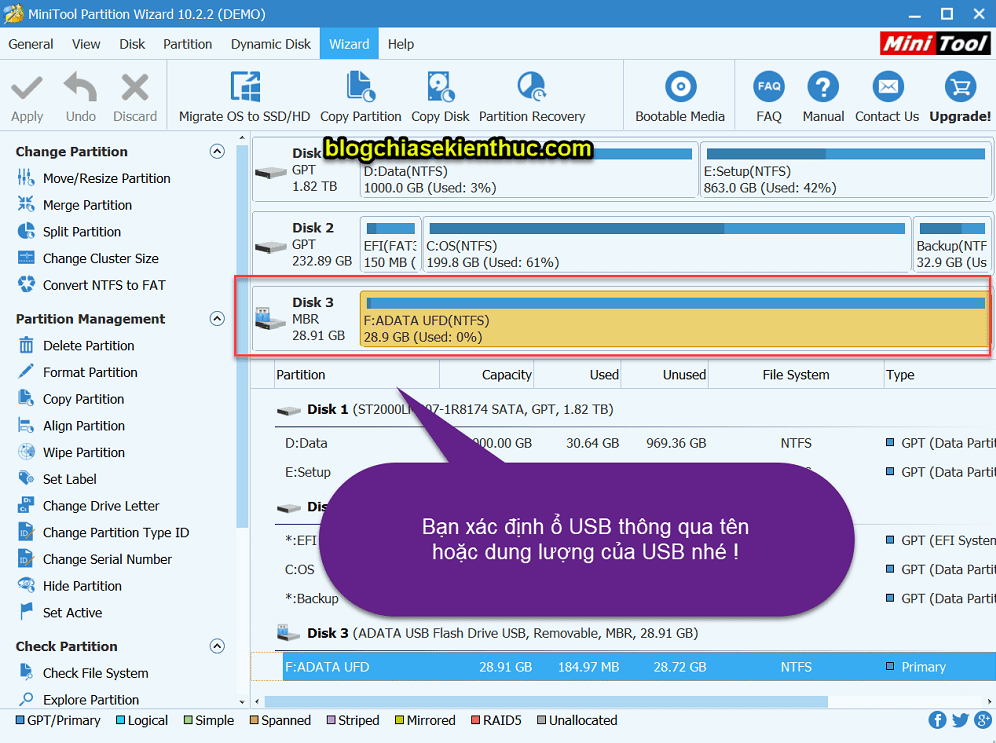 + Step 2: Then, right-click the USB partition => select Delete.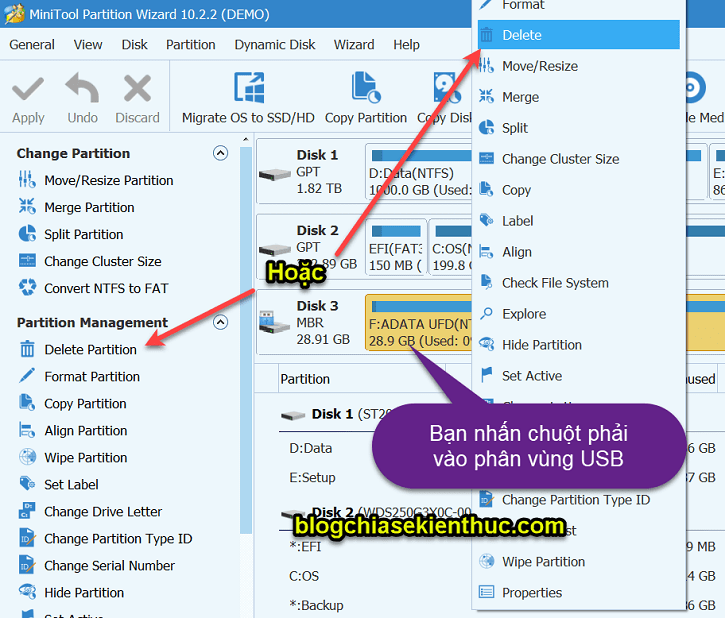 + Step 3: You press Apply to apply changes.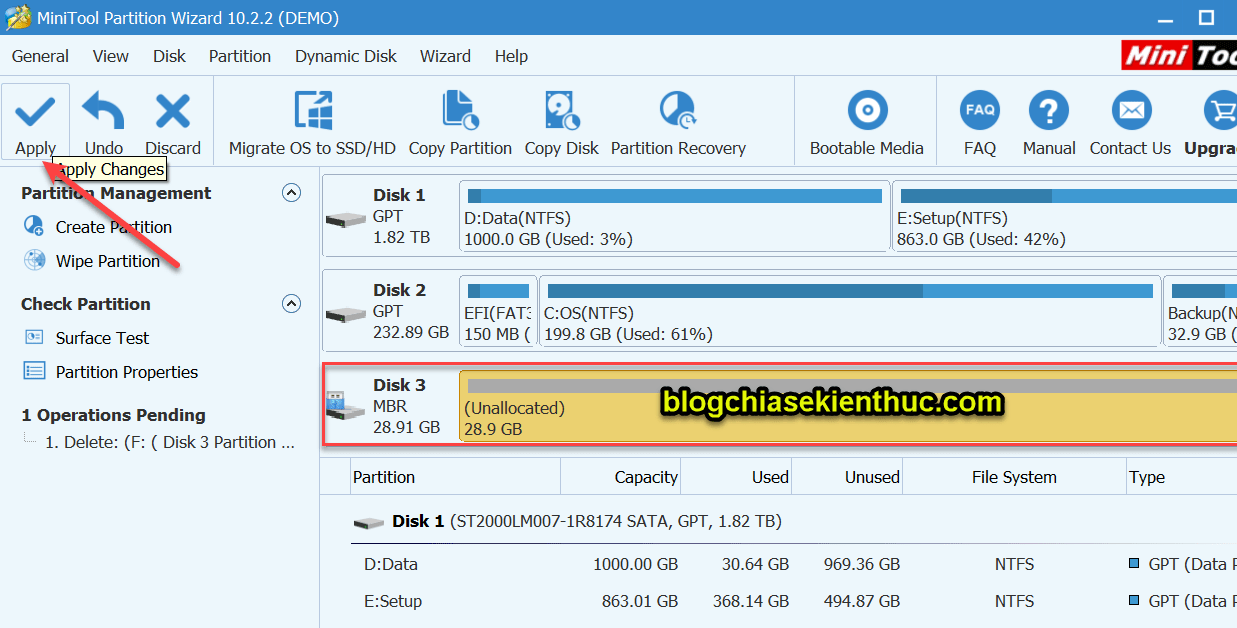 + Step 4: Now re-create the partition for your USB by right-clicking => and selecting Create.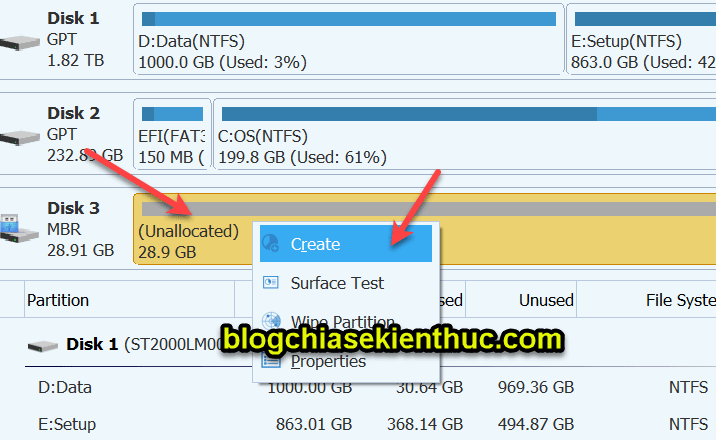 And you continue to set up as shown below:
Partition Label: Name your hard drive partition.
Create As: Place is Primary.
File System: You let be NTFS
=> Then press OK to agree to the setting.
+ Step 5: Now to complete the USB partitioning process, click the button Apply to apply changes.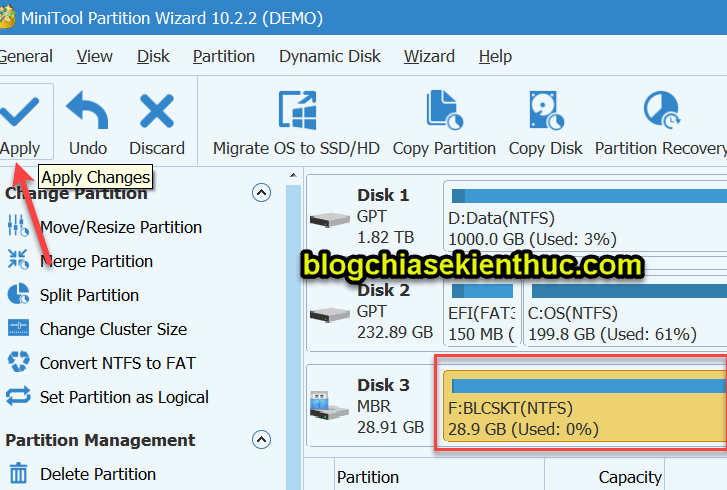 Well, by the way, many of you have asked me how to do convert USB from GPT format to MBR or vice versa. And I have answered many times already …
However, because I am convenient to open this Partition Winzard software, I also share an image for you to more easily imagine.
It is no different than converting you hard drive or SSD format. Right-click the USB Disk => select Convert ... Disk to ... Disk it's done.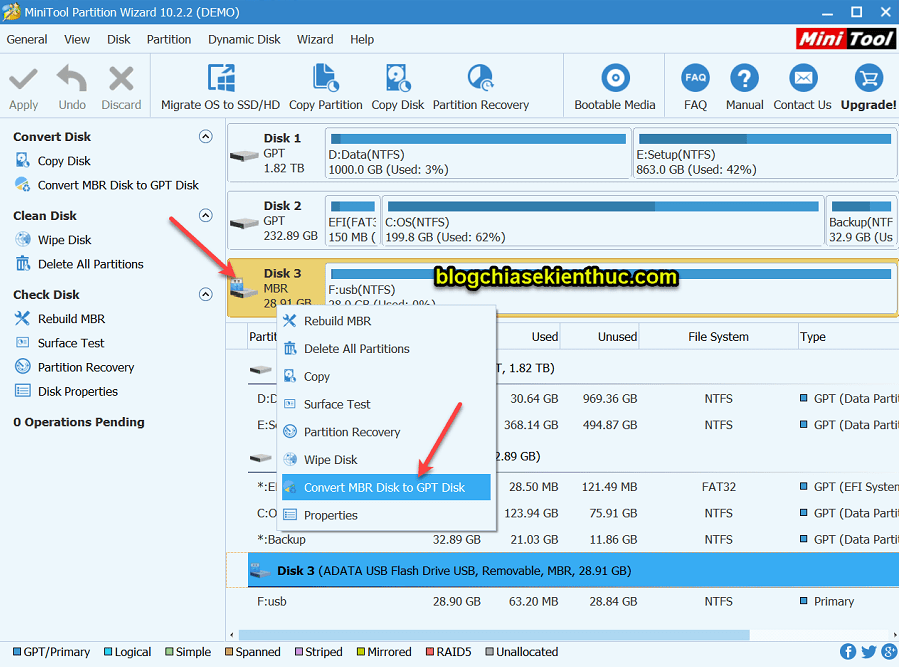 # 3. Fix the error of creating USB BOOT with the command in CMD
In essence, this is also the way to reformat the USB for the correct format, only instead of using partition management software, we will do it through the command line. To do this, you do the following:
+ Step 1: Open a CMD window with administrative privileges.
+ Step 2: Enter the following commands in turn in the window CMD => after each command, press Enter guys.
Note: You can quickly copy the command, to Paste into the CMD window you just need to right click on the CMD window.

diskpart // (1)
list disk // (2)
select disk xxx // (3)
clean // (4)
create partition primary // (5)
active // ​​(6)
format FS = NTFS label = usb quick // (7)
Explain to you who want to understand each command in detail:
This is a command that allows you to manage partitions, storage devices on your PC …
This command will list the hard drives, partitions, or external storage devices … are connected to the computer.
Select the hard drive to be manipulated, this step is extremely important, choosing the wrong one is to lose that data. You determine the exact device you want to operate through the Size column. That way my will be

select disk 2

This command is as the name implies.
Re-create partition for USB with type Primary.
Activation command for the partition.
This command will Format USB with NTFS format, and the USB name after Format is usb. You can rename it later as well.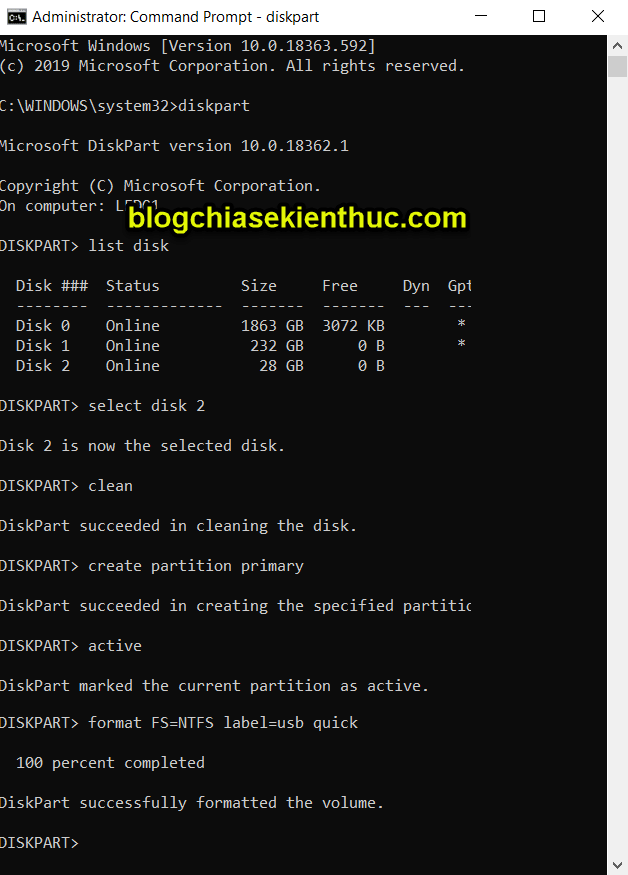 # 4. Epilogue
Yes, so I just instructed you How to fix the error cannot create USB BOOT by reformatting the USB.
In addition to the errors above, if you still encounter any other errors that apply this method successfully, do not forget to comment at the bottom of this article for you to know.
Hope this article will be useful to you, wish you success!
Kien Nguyen – techtipsnreview
Note: Was this article helpful to you? Don't forget to rate, like and share with your friends and relatives!
Source: [Tuts] How to fix the error can not create an effective USB BOOT
– TechtipsnReview