NOTE: Welcome to the Knowledge Sharing Blog! If you encounter any errors during use, such as error in download link, slow blog loading, or unable to access a certain page on the blog … please notify me. via Contact page. Thanks!
In this article I will show you how to self-extract / Install Windows 10 operating system on your computer with built-in license key supplied with the device.
Actually, when you buy a new computer, the techniques at the store or supermarket will probably check and extract the license for you. However, I will still guide here so that if you are buying in a hurry, you do not have time to wait for the technology they release, you can easily do it at home.
Actually, the process of extracting the copyright on a new computer is no different than when you install Windows. It is much simpler than using a usb or disk to install Windows. Since you don't need to use tools or devices at all, just turn on the power button and start setting up a few basic steps.
I. What should be noted?
Before extracting Win, I have a few notes for you to make the extraction process go smoothly and limit the error of extracting Win as possible.
Please plug in the charger while extracting Win and absolutely do not remove the battery from the machine during the extraction of Win, because if the power is accidentally lost or the socket is flickering, there is backup power to continue the extraction process. .
You should not connect to WiFi during setup to extract Windows, as it will probably ask for something unwanted.
II. Install Windows for the computer has built-in copyright
In this tutorial, I will perform win on ASUS computers with built-in Windows 10 operating system. You also do the same with other computers.
+ Step 1: Turn on the power of the computer, and at the first interface you will see that it is the language selection screen.
Note: If your computer is integrated with newer versions of Windows 10, you can refer to the setup process in the following tutorials:
You should choose the language English offline, if you want to convert Windows 10 to Vietnamese, you can switch later.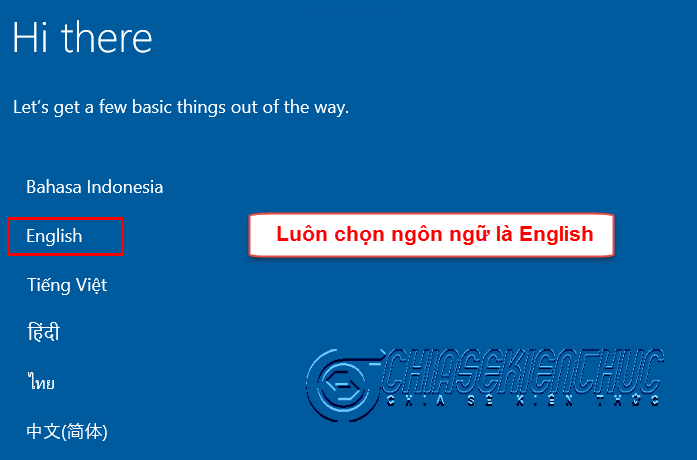 + Step 2: Here you can set up as shown below. In the keyboard input language selection "What keyboard layout would you like to use? " then you choose is US Please.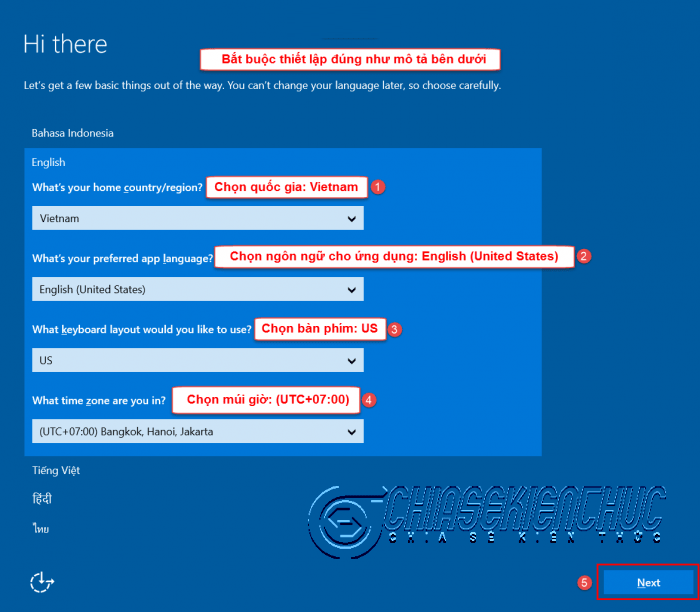 + Step 3: Next, you can press Accept to agree to the terms of the program.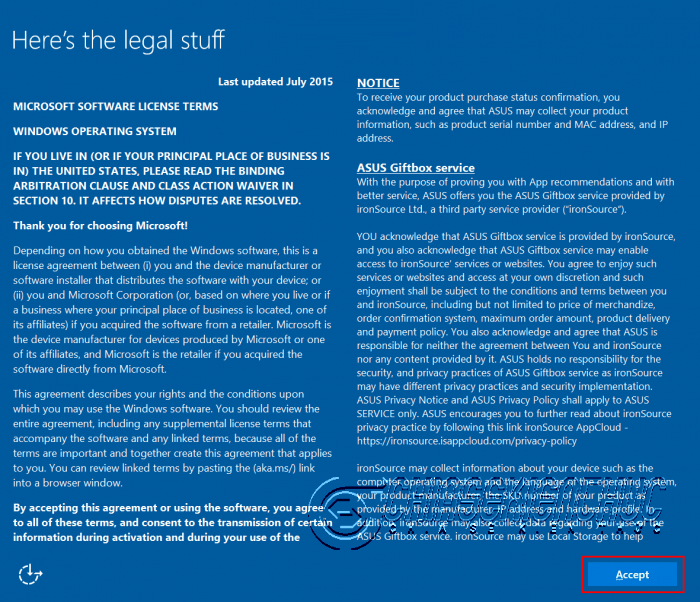 + Step 4: As I said above, during Setup, you should not connect Wi-Fi to make the win win process faster and more convenient.
Therefore, please click on Skip this step to skip this step.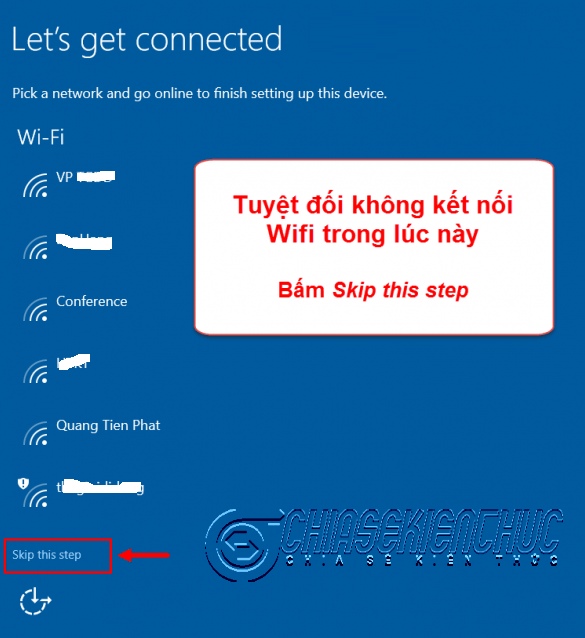 + Step 5: In this step I will choose is Use Expres settings to use Microsoft's default options. If you like to learn and want to set up your own way, you can go to the section Customize settings Please !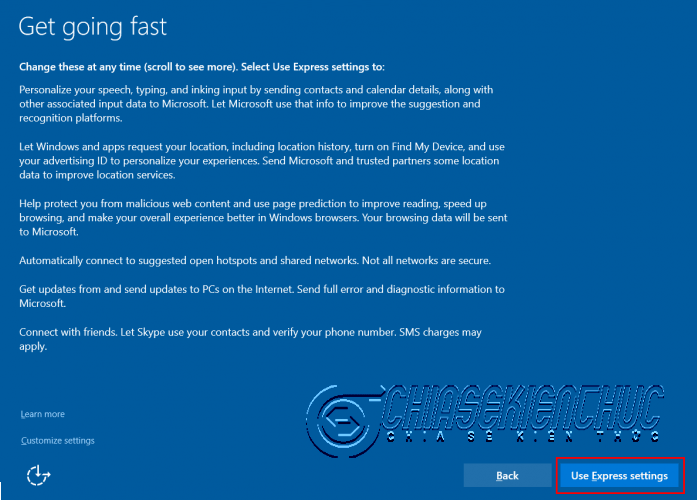 + Step 6: Now wait …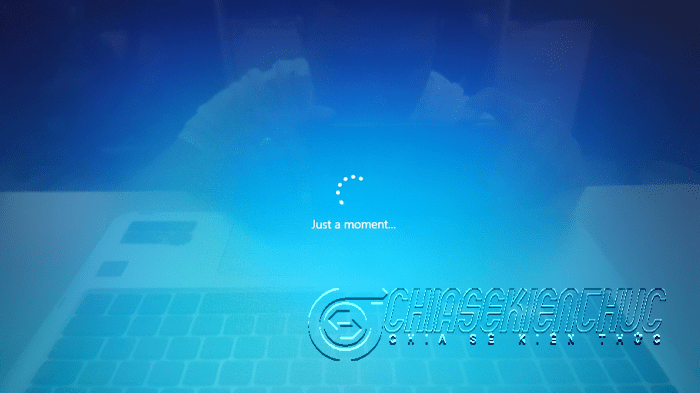 + Step 7: This step is the step to create an account name for your computer, enter your account name here. You can set a password if you want, but I don't think so.
Because after extracting win, I think you should link Windows 10 with Microsoft account and use Microsoft account to login account for Windows 10. Thus, it will be more secure and safe.
The account we are creating below is just the account Local Account never mind.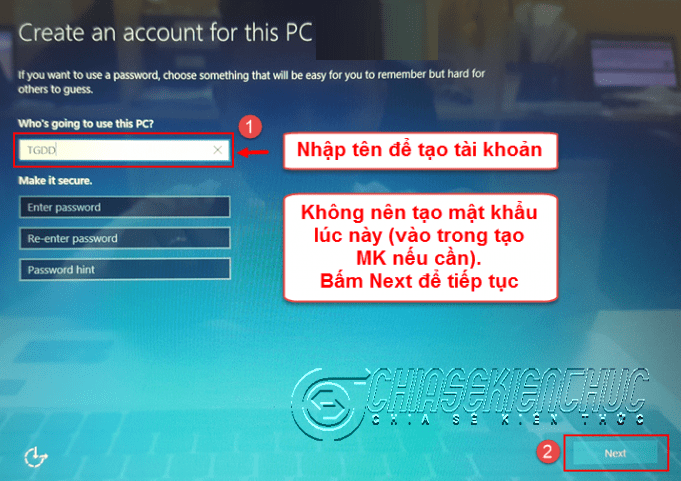 + Step 8: You can set up a few more parameters as shown below. Then press Next to continue…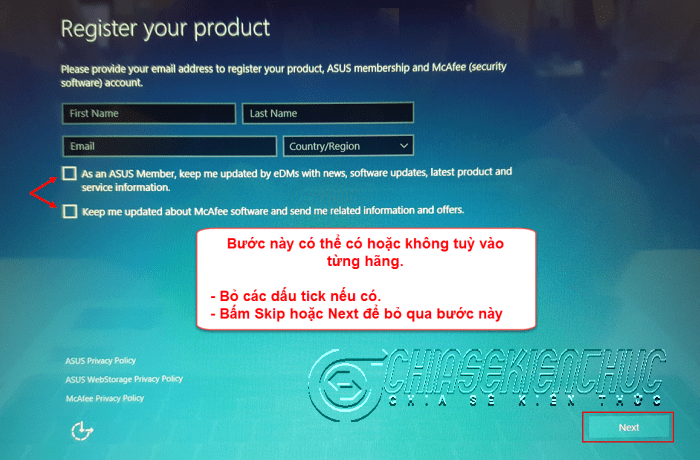 And at this point, the extraction of Win will continue. Please wait until it is finished!
After extracting Win for Laptop copyright, please bring the icons of This PC, Network … to the Desktop for more convenience in use.
In addition, please refer to the Windows 10 manuals series that admin Kien Nguyen has fully shared to be able to fully master the Windows 10 operating system.
If after a period of use, the computer is faulty or running slowly, you can see the instructions on how to recover the computer with built-in copyright to bring the computer back to a new state!
Epilogue
Yes, I just gave you very detailed instructions How to extract a new Laptop with built-in Windows 10 license Alright.
The process of extracting the license for Laptop is also very simple, isn't it, just a few clicks you can do it easily and quickly.
Hope this article will be useful to you, wish you success!
CTV: Nguyen Quang Hai – techtipsnreview
Edit by Kien Nguyen
Note: Was this article helpful to you? Don't forget to rate, like and share with your friends and relatives!
Source: [Tuts] How to unpack a new Laptop with built-in Win 10 license
– TechtipsnReview