Slack is a tool used by many trusted tools and its convenience. Microsoft Teams – which works with Office 365 – is now used by 44 million people worldwide. Alternately, Facebook also offers Workplace – a mobile and web app that aims to keep team members connected.
Recently, when employees work together online, they want to interact with each other through Video. So with that in mind, Google has launched products and services: Google Hangouts Meet and Google Hangouts Chat.
Advertisement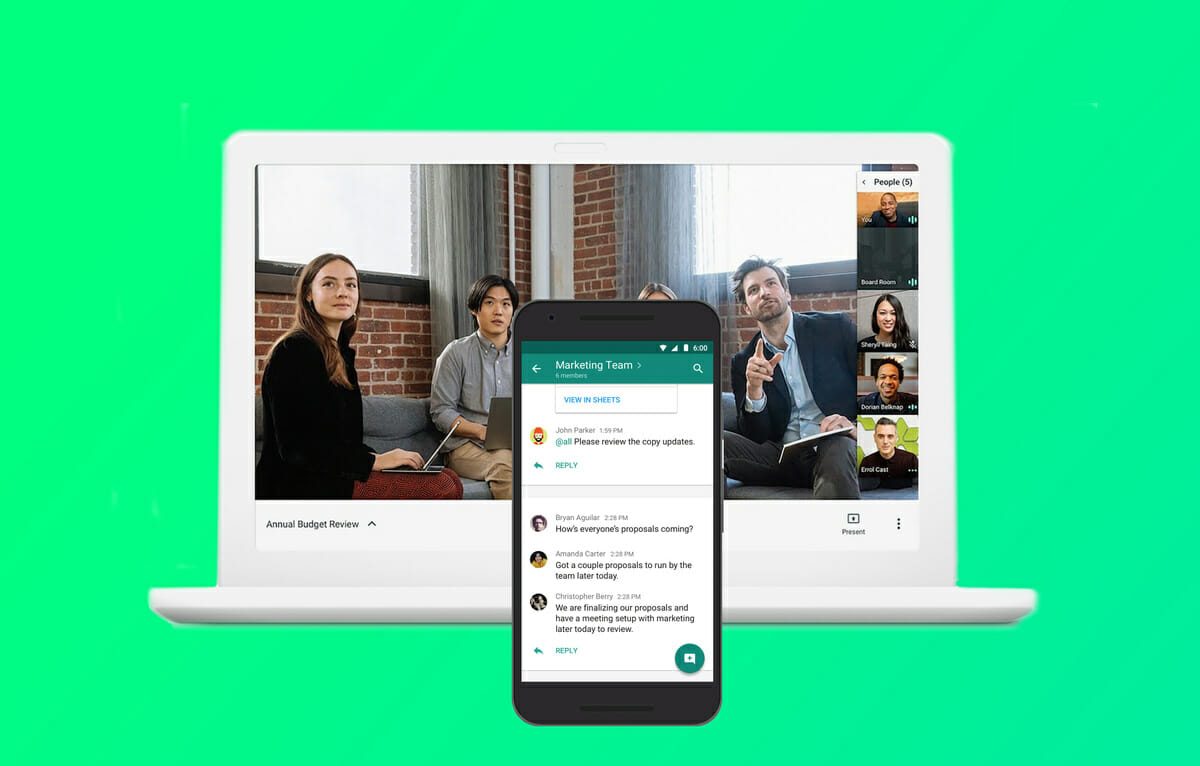 Here's what you need to know about Google Meet and Google Chat.
Advertisement

What is Google Hangouts Chat?
Google Hangouts Chat is a communication service that enables text, voice or video chat, face-to-face or in groups developed by Google. Google Chat is integrated into Gmail, YouTube, and Google Voice, plus there are Chat apps for iOS, Android, and the web. It is basically a useful and cost-effective collaboration platform for individuals as well as businesses.
Hangouts Chat makes it easy for teams to get their work done in one place. From direct messages to group chats, Chat helps teams collaborate easily and efficiently. With dedicated virtual rooms to host projects over time — plus threaded chats — Chat makes it easy to track progress and to-do next. The app currently supports 28 languages, and each room can support up to 8,000 members.
Advertisement

What is Google Hangouts Meet?
Google Meet is a Google product for safe and secure group calls and video meetings for businesses. Google has described Google Hangouts Meet as a "video meeting experience with one goal: to make joining meetings easy". Google Meet makes it easier and faster for people in the same or different company to start and join video conferences.
Google Meet has a very light, fast interface and allows you to easily manage meetings of up to 30 people. To create meetings on Google Meet you need a G Suite account (formerly known as Google Apps) but you can join a meeting with any Google account.
" Watch now: How to install and use Google Hangouts on computers and phones
How does Google Chat work?
Virtual room
Google Chat has virtual rooms, dedicated to each project in which the team is involved – and these include: threaded conversations, so your team can chat and track discussion progress. Google Chat also integrates deeply with G Suite, so you can share content from Drive and Docs, or you can view things like photos and videos directly from a chat. Filterable search is also possible so you can re-search through old discussions.
Third-party integration
Google Chat is also a platform, so that means you can integrate with third parties as bots, which will allow your teams to do more in their chats. Google Chat has partnered with companies like Asana, Box, Prosperworks, and Zendesk.
How does Google Meet work?
Video conference
To start your meeting, simply share a link. No more accounts, plugins, or complicated application downloads needed. People can click this link from Google Calendar, email invitations or sharing links. You just need a few clicks and you will join the Video conference.
Present
Hangouts Meet provides native full-screen presentations, making it easy to showcase your team projects.
G Suite Integration
Google Meet is a small utility in Google's G Suite system. When you use Google Meet, you will inherit a diverse ecosystem in G Suite such as Google Calendar, Google Drive, etc.
How to use the full Google Meet
Price list for Google Hangouts Meet and Google Hangouts Chat.
You can use Hangouts Meet and Hangouts Chat as part of a G Suite plan. For more information on pricing for each plan, please refer to the following link: https://gsuite.google.com/pricing.html. The basic plan starts at around $4.2 per user per month.
See also: How to delete photos uploaded to Google Hangouts
Source: What is Google Hangouts Meet and Google Hangouts Chat and how does it work?
– TechtipsnReview