Laptop not connecting to WiFi is one of the most basic mistakes that users make. Laptops like Dell, Asus, HP, Acer, etc., no matter how good, will still encounter this situation at least once. Because during use, make sure that your laptop will always encounter this error, possibly due to software or hardware. Don't worry too much about this, the Laptop can't connect to WiFi If you know how to tell where the problem lies, it's easy to fix it at home. GhienCongListen I will show you how to do this in the next article.
Why can't my laptop connect to WiFi?
Phone can catch WiFi but laptop can't
This is an error that users will occasionally encounter on older Windows operating systems such as Windows 7, Windows 8. Before figuring out how to fix it, you should thoroughly understand the cause of the above problem. There are many causes of laptop failure to connect to WiFi even though the phone is still receiving it, such as:
Advertisement

The user has not turned on WiFi on the laptop. It sounds rare, but many users still "brain goldfish" without paying attention.
The laptop has not installed the WiFi driver or the driver is too old, has not been updated, so it is unstable.
Due to the WiFi transmitter, the WiFi router encountered an error.
Because the machine may have installed a VPN software to fake IP before, making Windows mistakenly think it is an error.
Because your computer is accidentally infected with a virus, it cannot connect to WiFi.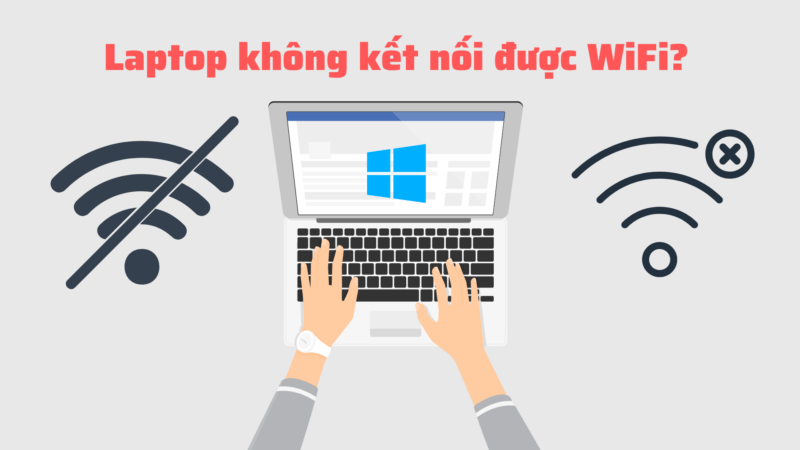 laptop can connect to WiFi but no network
Connect to WiFi but no network? Can't use the network? It may sound weird, but this is an error users will likely encounter, mainly due to:
Advertisement

Because WiFi cannot allocate IP to laptop.
Due to faulty IP or too many computers accessing at the same time.
Your internet service provider has a problem or worse, your internet bill has not been paid.
WiFi icon shows exclamation point
This is a common error with laptop users, the yellow exclamation mark indicates the error and the Limited Access warning. It is difficult to determine the main cause of this error, but some reasons can include:
Too many people accessing the same WiFi network causes the Router to overload and not be able to allocate IP access to your laptop.
There are connectivity issues, due to IP conflicts.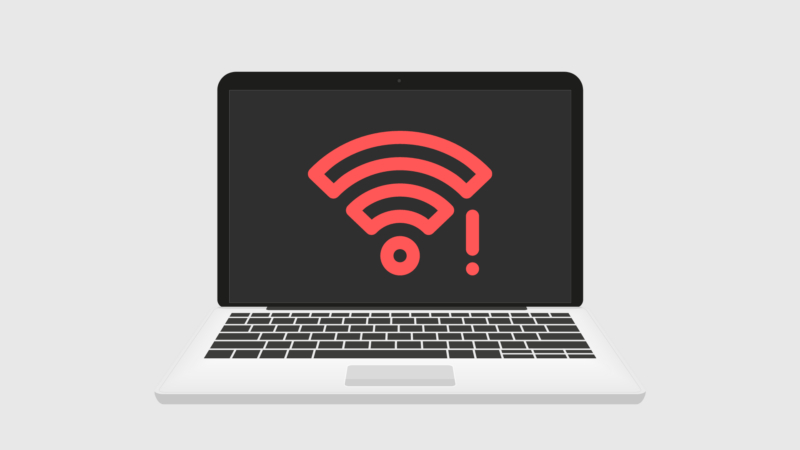 Advertisement

The laptop doesn't show any WiFi waves around
Although you have already set up a WiFi network on your laptop, it still happens that the laptop does not show any WiFi waves around, even if you are already in the coverage area. Just like the error problems above, the cause of this error is:
You are probably turning on airplane mode on your Windows 10 laptop.
Running out of battery makes the laptop not accept any WiFi connection to conserve power.
Windows WiFi connection system is unstable, leading to conflicts.
Old WiFi drivers, not updated.
Restart the WiFi router if the laptop can't connect to WiFi
This is the first, easiest solution you can do when having WiFi problems. Restarting the WiFi modem can solve a lot of minor errors.
Because when used for a long time, the WiFi modem may have some minor problems, disconnecting the power, LAN cable, or restarting the WiFi modem in a few minutes can fix the error you are having. If that doesn't work, try the following solutions.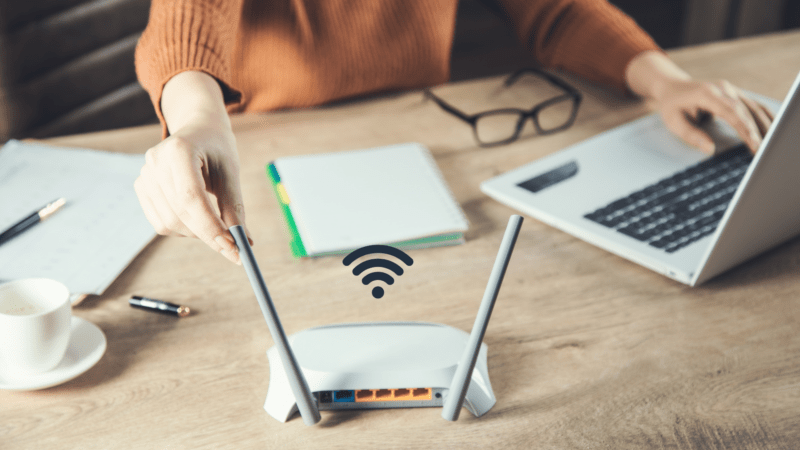 See also: How to restart the WiFi transmitter here
Restart Windows if the laptop can't connect to WiFi
Similar to the above item, restarting Windows is also an optimal solution to help you solve many errors. Not only the case of WiFi failure, many other problems can also be solved quickly in this way. The reason is that the laptop has been operating for a long time, which can lead to file errors, software conflicts while in use.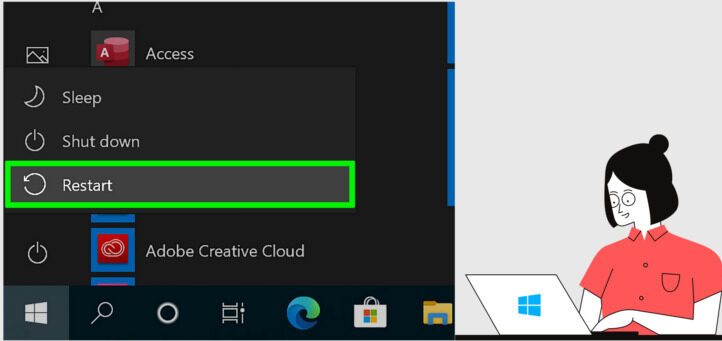 Update WiFi driver on laptop
Updating or reinstalling the WiFi driver can help your laptop access WiFi again. You can do it in the following way:
Step 1: Search and open Control Panel In the Windows search bar, select the item Hardware and Sound and open Device Manager.
Step 2: Double-click Network Adaptersscroll down to find WiFi Adapters. Then right click and select Uninstall. Screen Confirm Device Uninstall appears, press OK to proceed with uninstalling the old driver.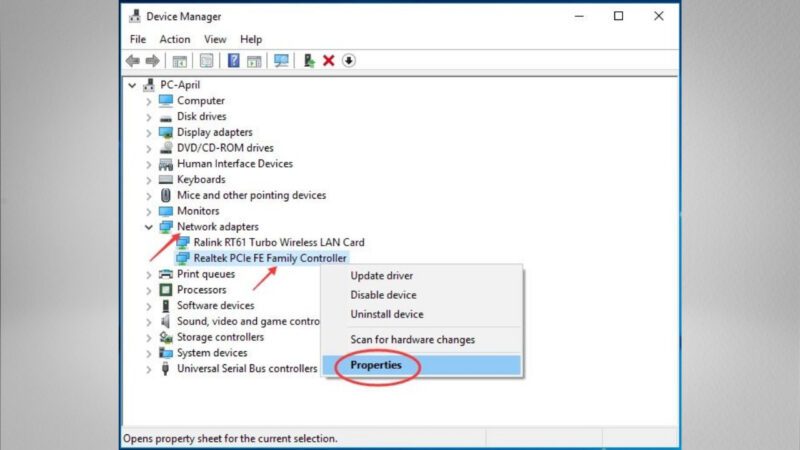 Step 3: On the Device Manager window, click Action at the top, center of the tab File and View. Then choose Scan For Hardware Changes Let the system automatically scan and reinstall the driver WiFi adapter for machine.
Step 4: After the installation is complete, restart your laptop.
Renew IP address if laptop can't connect to WiFi
One of the next most popular ways is to re-grant the machine's IP address. This way is also very simple, you can follow these steps:
Step 1: Open Command Prompt by pressing the key combination Windows + CHEAP. Then type "cmd" and select OK.
Step 2: Reset the IP address by entering the command ipconfig /release
Step 3: After resetting the IP address, enter the command ipconfig/renew to refresh the IP address.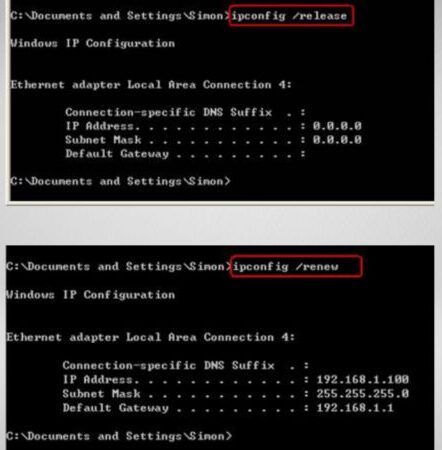 Then restart the laptop and try to connect to WiFi again.
Turn off Battery Saver mode on Windows 10
Battery Saver mode can also be one of the reasons why the laptop cannot connect to WiFi, try to fix it with this method:
Step 1: Open the Command Prompt window with the Windows + R key combination.
Step 2: Enter the command "ncpa.cpl" and select OK to launch.
Step 3: When the Network Connection window appears, right-click and select the WiFi name in use and select Properties.
Step 4: Select item Client for Microsoft Networksthen press select Configure…
Step 5: Select the Power Management tab, uncheck the item Allow the computer to turn off this device to save power. Then click OK.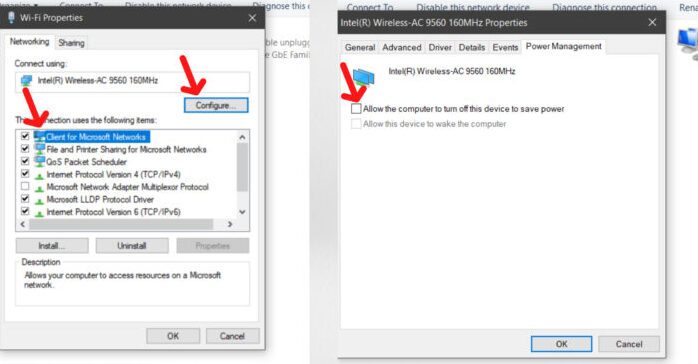 Turn off Fake IP or VPN software on your computer
Fake IP or VPN software can be the culprit that makes your device unable to connect to WiFi because it changes your IP. Another culprit could be third-party anti-virus software or firewalls. So, turn off these software, restart the device and try to connect to WiFi again.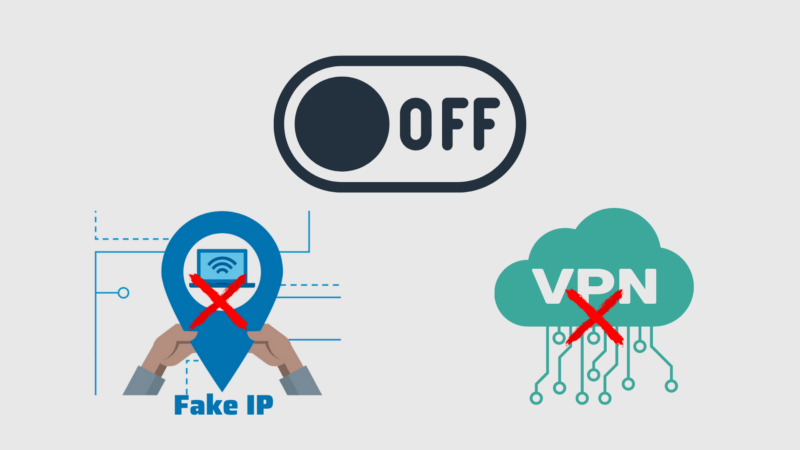 Check if Airplane Mode on Windows 10 is on?
Airplane mode can also be the cause of your laptop not being able to connect to WiFi. Turning on airplane mode causes other connections to be blocked, avoiding "disturbing".
To quickly turn off this mode, click the Manage notifications section at the bottom of the Taskbar, click the Airplane Mode box to turn off this mode. Then try to reconnect to WiFi on the laptop.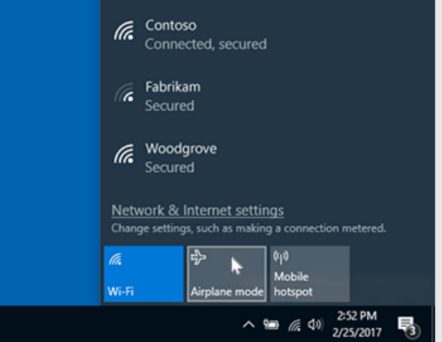 Check the date and time on your laptop
Wrong time can also cause your laptop to have WiFi problems, so make sure your laptop is running at the correct time and date where you live. You can adjust the date and time when there is an error by accessing Settingsitem Time and Language.
In the setting list of the Date & time item, select Change and start resetting the current correct date and time.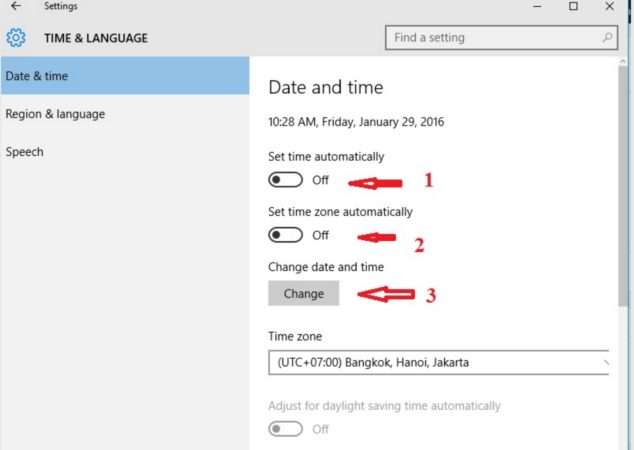 Contact your Internet provider for network problems?
Finally, try contacting the Internet provider you are using to check if the problem is still not resolved. The network operator will offer the most optimal solutions, so that you can fix the error when you cannot connect to WiFi on your laptop.
Above are the laptop errors that cannot connect to WiFi and how to fix it for each specific sign. This is an error that you will often encounter and is extremely annoying when you are working online or need urgent internet access for your own needs. Please stay calm and try each of the above solutions to be able to restore the WiFi connection.
See more:
If this article on how to fix a laptop that cannot connect to WiFi is useful to you. Please Like and Share to support TechtipsNReview.com and help create more motivation for us to create more great articles.
Source: Why can't my laptop connect to WiFi? Check out the quick fix below
– TechtipsnReview