The account settings in Woocommerce will include options related to account registration or account management when customers make purchases, in addition, it also has an important part that few people pay attention to. account's connection endpoint (end-point) to some important pages. In this short article, I will talk more about it.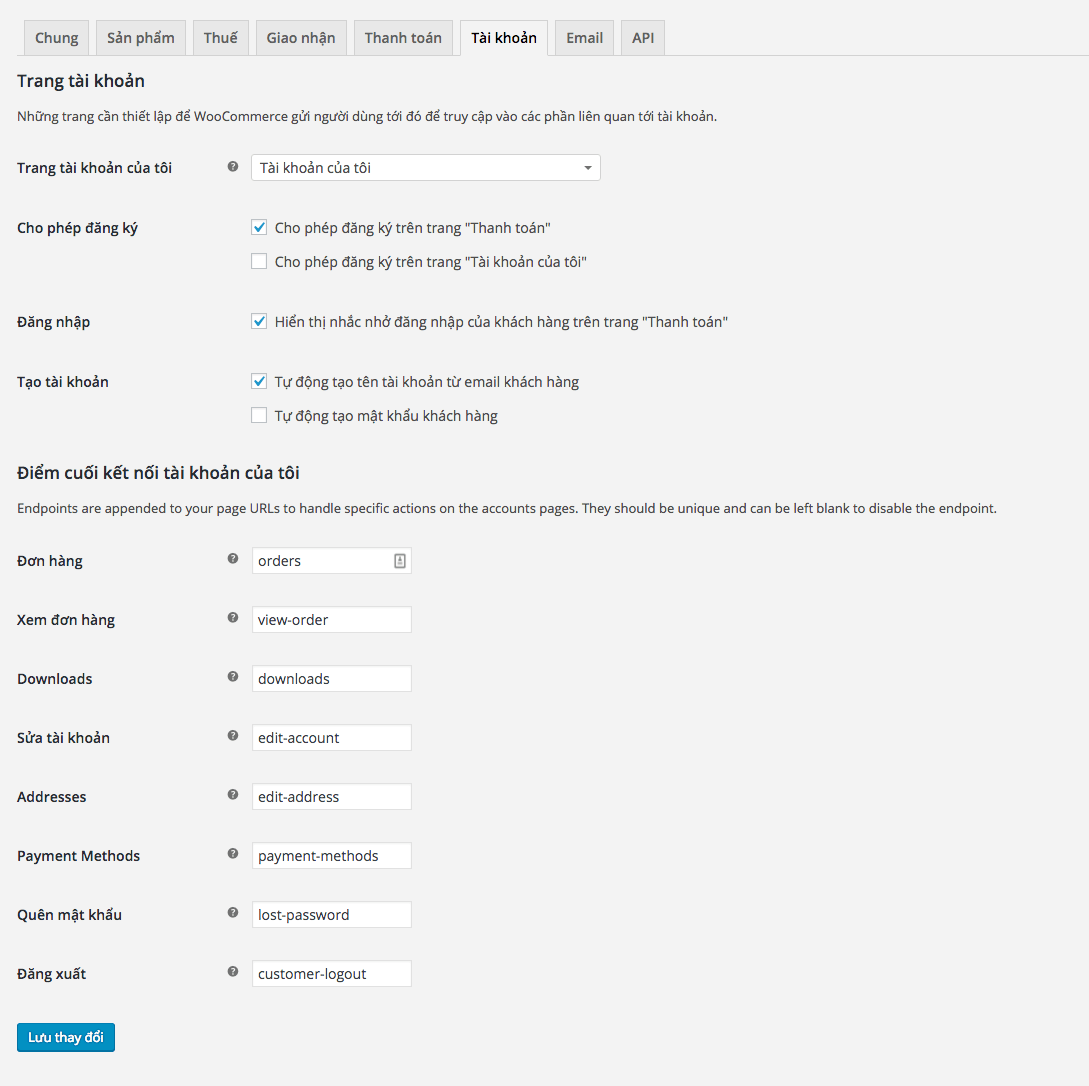 The account settings in Woocommerce will include:
Account page
Select the page as the main account management page, that page must contain the corresponding shortcode to display member account information.

This page was created automatically when installing WooCommerce. If you have deleted it by mistake, you can create a new page, put the shortcode [woocommerce_my_account] in the content of the page and select at this setting.
Connection endpoint
Connection endpoints are pathnames based on the account page path. For example, the default page to view customer orders (when they log in) is called view-order then it will have a link of domain.com/tai-khoan/view-order. You can rewrite it in Vietnamese without accents and spaces, for example: see-don-hang.
View orders: The endpoint name of the page showing all customer orders.
Edit account: The endpoint name of the account information editing page.
Edit address: The endpoint name of the address edit page.
Forgot password: The endpoint name of the forgot password page.
Log out: Logout page endpoint name
Registration options
The options here will involve allowing customers to create their own account on the website for convenience in future purchases. These options are also easy to understand, so I won't go into details here.
Enable subscriptions
If you have allowed customers to register for an account when making a purchase, but your WordPress website has not opened the registration function, they will not be able to register. To open the registration feature on WordPress, go to Settings -> Overview and tick the option "Anyone can sign up".

Source: [Woocommerce] Account Settings
– TechtipsnReview