Snapseed is a simple photo editing application with powerful photo editing tools. But Snapseed is easy to confuse newbies, who do not have much knowledge of photo editing with its tools.
In the tutorial How to use Snapseed? This, GhienCongListen will guide you step-by-step using its basic tools.
Advertisement
Before going into the detailed instructions, you need to download the Snapseed app on your phone.
Please refer to the quick download link of the Snapseed photo editing app below if you are using a phone to read this article:
Advertisement

How to change image parameters with Snapseed
You will learn how to improve the color, exposure and other parameters of your photos through Snapseed. With a few simple tweaks, you can turn an ordinary dull photo into a brighter one.
Adjust photo
You can edit parameters such as brightness, contrast, saturation, highlights, shadows, etc. Swipe your finger up and down to select the parameter to be edited. Then swipe your finger left and right to edit any parameter you selected.
Advertisement
Here are the parameters that affect the color in the image when you use the tool Tune image:
Brightness: Darkens or lightens the entire image.
Contrast: Increase or decrease the difference between dark and light areas.
Saturation: Makes colors more or less vibrant.
Environment: Adjust color saturation and contrast at the same time.
Highlights: Only darkens or lightens shadows (dark areas) in your image.
Shadows: Darken or lighten only the highlights (bright areas) in your photo.
Warmth: Add warm orange or cool blue to your images.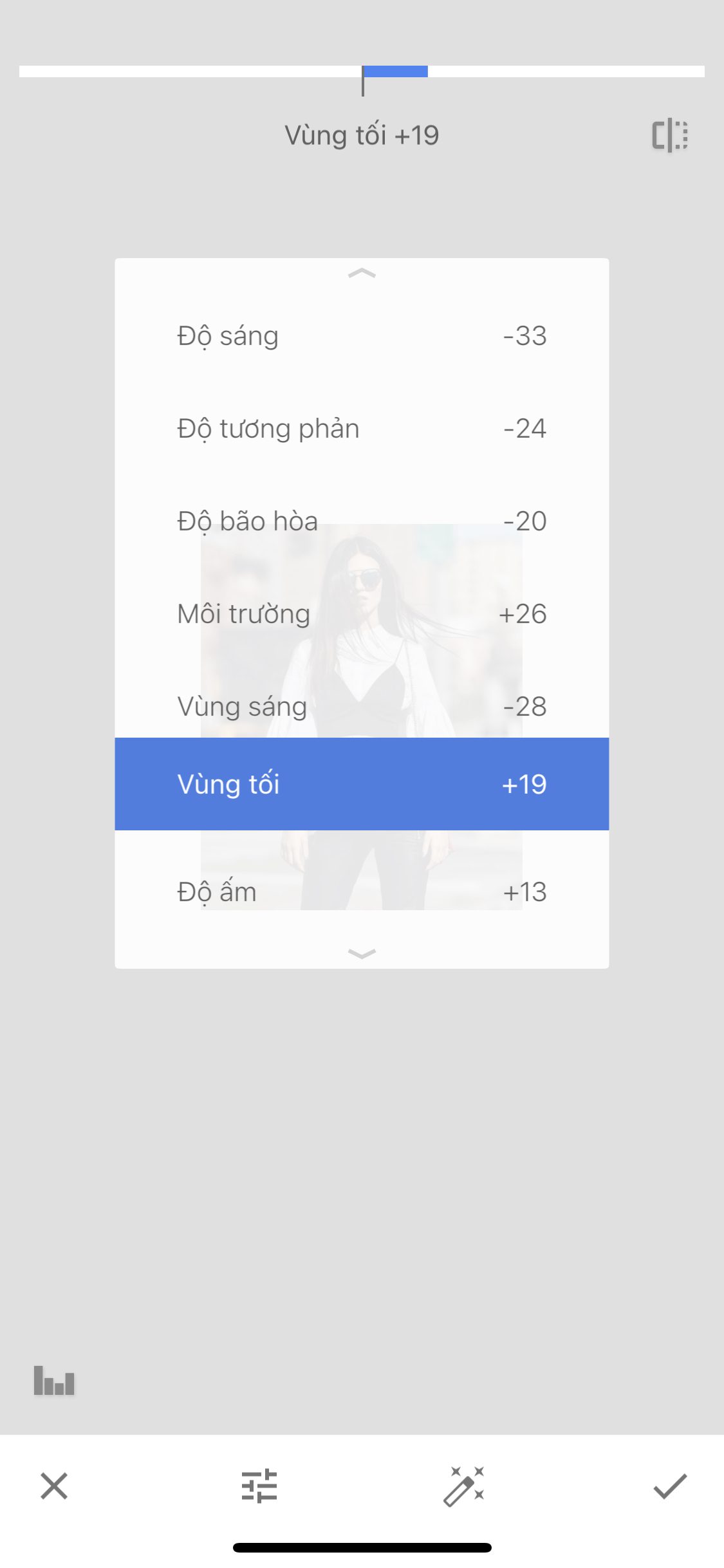 White balance
Correcting white balance is often one of the first steps in photo editing. Cameras often misread light, which creates odd colors or shades.
At the screen TOOLS > click select White balance and make sure you find the right balance between blue and yellow, as well as green and magenta.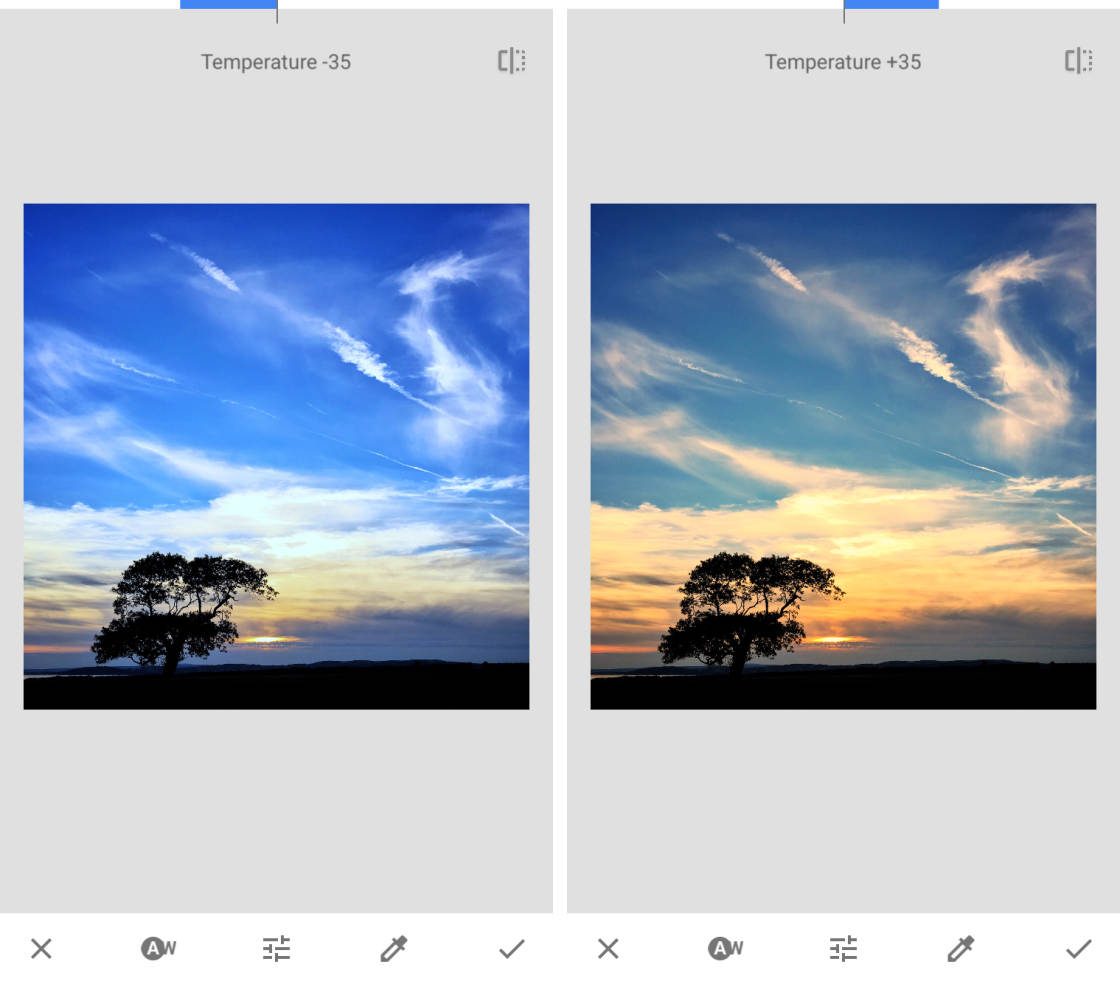 Plus, you can get creative and give your photos a color or tone that isn't there. Color theory is an integral part of photography.
There are two parameters in White Balance:
Temperature: Makes the colors in your photo cooler (more blue) or warmer (more orange).
Tone: Add a green or pink tint to your image.
Detail
The Details tool helps to add texture and detail to the image. This tool works well on photos with interesting textures like wood grain, painted surfaces, etc.
In the menu Tools Snapseed > select Detail. Swipe up or down and select the setting you want to change.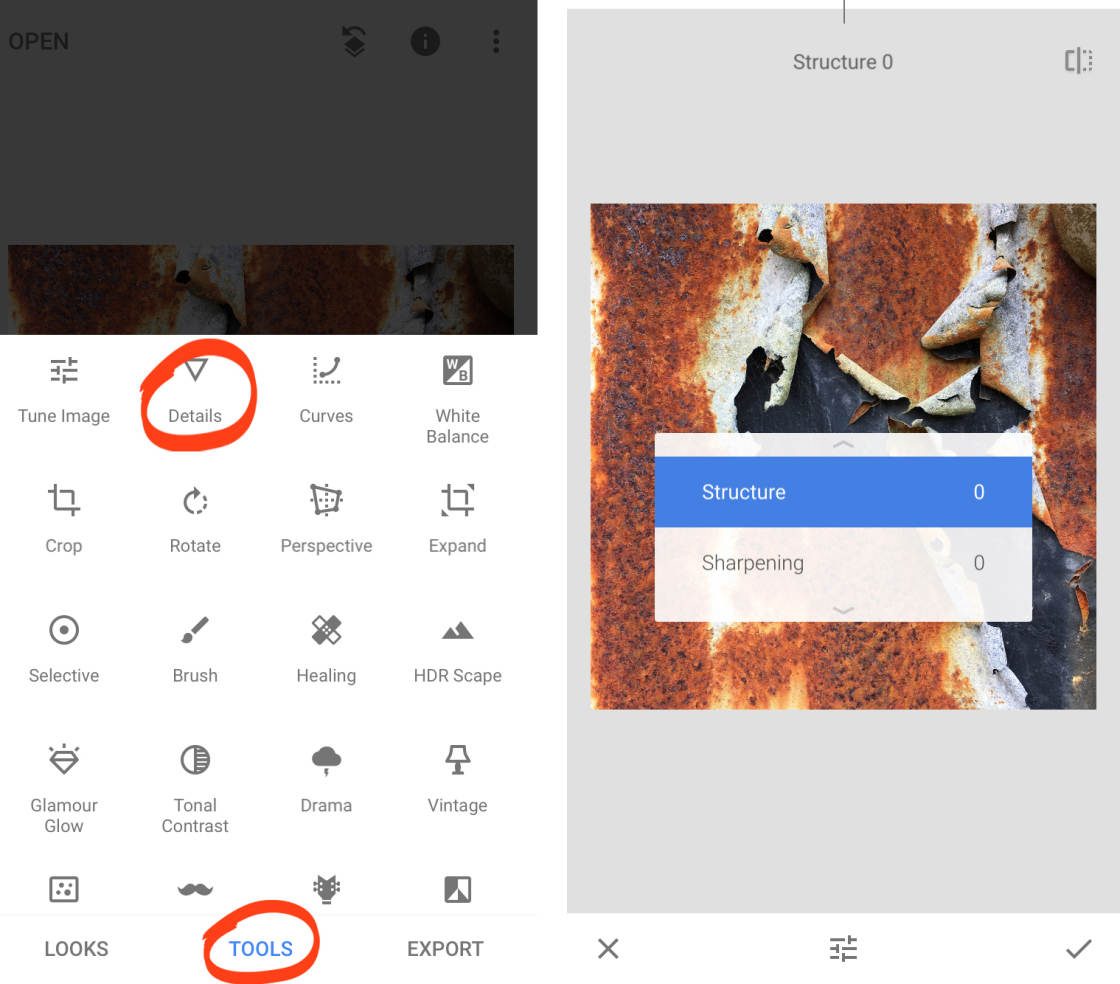 In most cases, Structure produces better results. The Sharpening tool usually degrades the quality of your image by creating grain. If you use Sharpening, use it carefully.
Learn in detail how to sharpen photos with Snapseed in this article to better understand this Snapseed tool.
How to edit photo composition with Snapseed
In this section, you'll learn how to improve the composition of your photos with the Snapseed editing app. Crop, Rotate, and Perspective tools help you turn an amateur photo into a higher-quality professional image.
Cut
Open your photo in Snapseed, then select Tools. and choose Cut (Crop).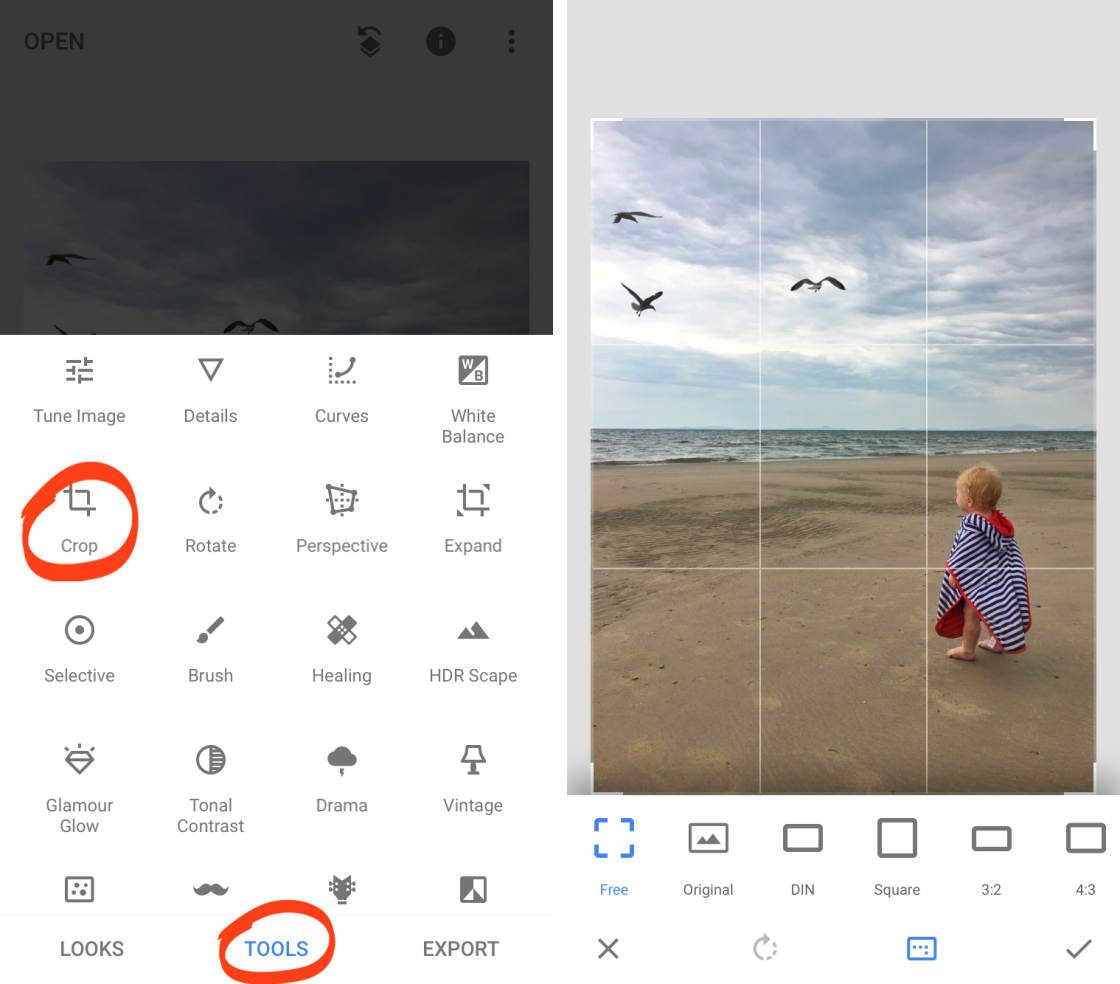 The Crop tool allows you to crop out the edges of an image. It's like using scissors to cut off the edges of a printed photo.
Cropping removes distracting elements or empty space from the edges of the frame. It can also improve composition and emphasize essential aspects of a photo.
Turn
Nothing shows a lack of professionalism more than an uneven horizon.
But don't worry if you don't hold your phone in perfect position when taking pictures. The Rotate tool in Snapseed makes it easy to straighten your images.
When using the Rotate tool, Snapseed will automatically analyze your image and attempt to automatically rotate and straighten it.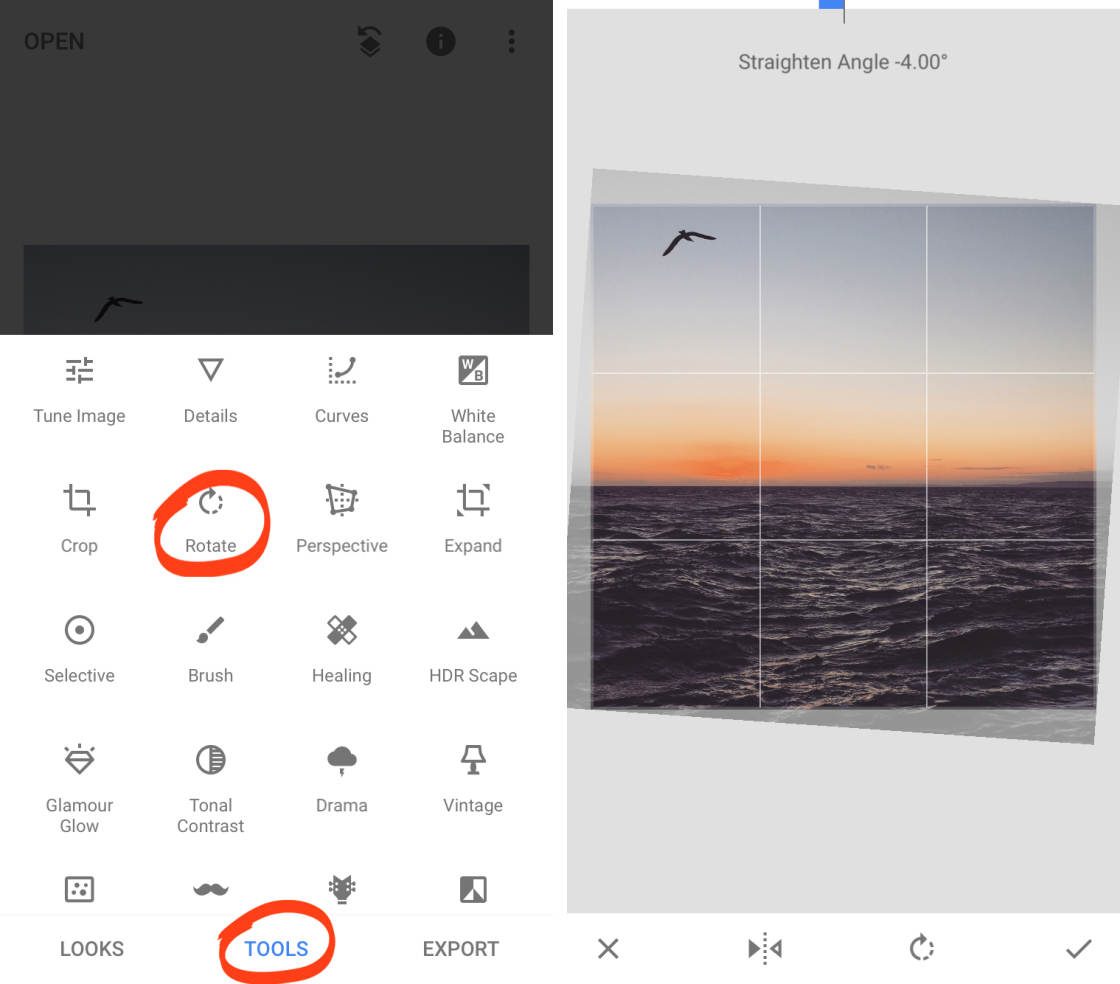 The Rotate Tool is the perfect tool to straighten the horizon in your landscape photos. But you can use it to correct any photo where the important elements are out of balance.
Perspective
The Perspective Tool provides more ways to straighten elements and fix perspective problems.
One of the most common perspective problems occurs when you tilt your phone upwards when shooting. For example, if you are photographing a tall building, the vertical lines will not be straight. Instead, they converge towards the top of the image.
To fix this, open Tools and touch Perspective. Swipe your finger in the direction of the tilt you want to balance.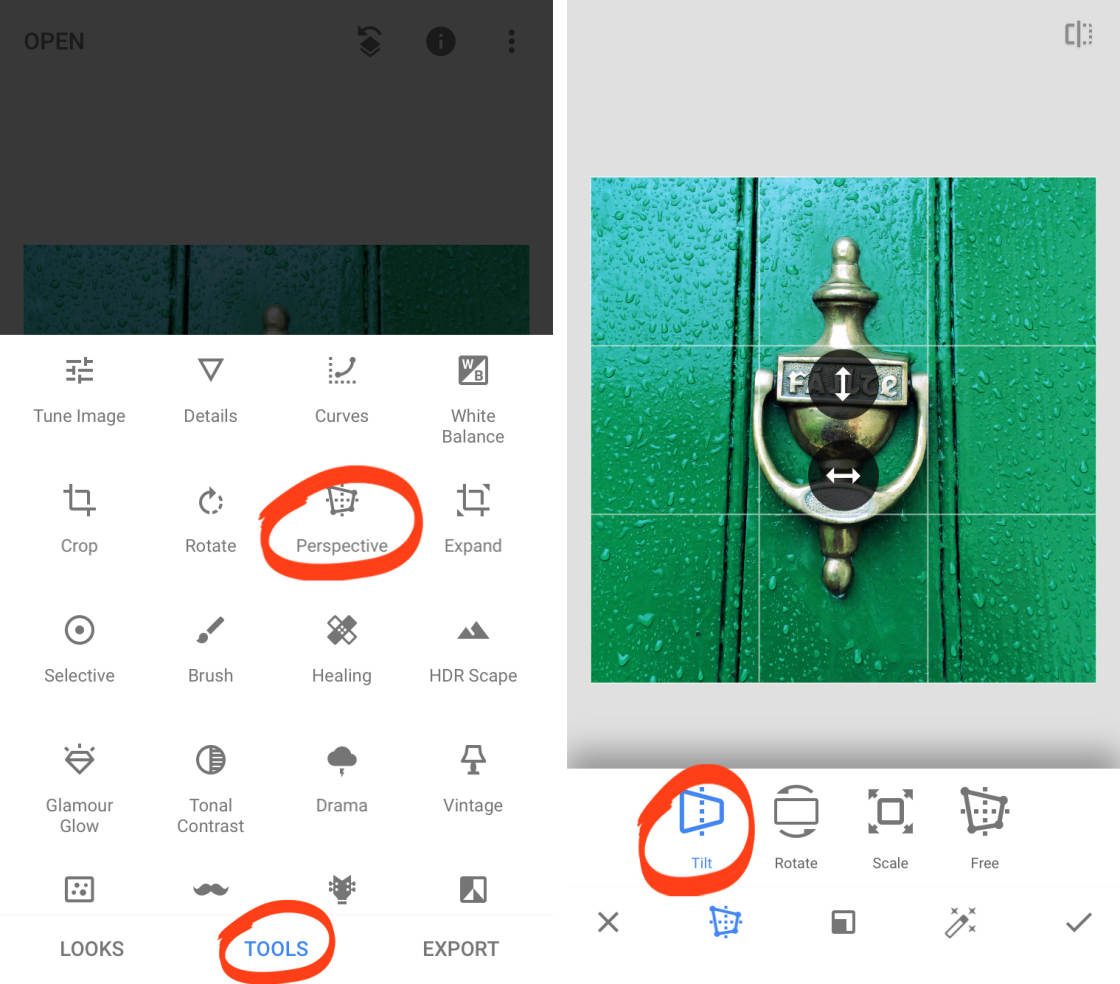 How to remove objects in photos with Snapseed
Have you ever taken a great photo and then discovered an ugly piece of junk ruined it?
Tools Healing in Snapseed app will help you to remove unwanted objects/objects from the photo.
Snapseed's algorithm takes information from the object's surroundings and intelligently cleans the image.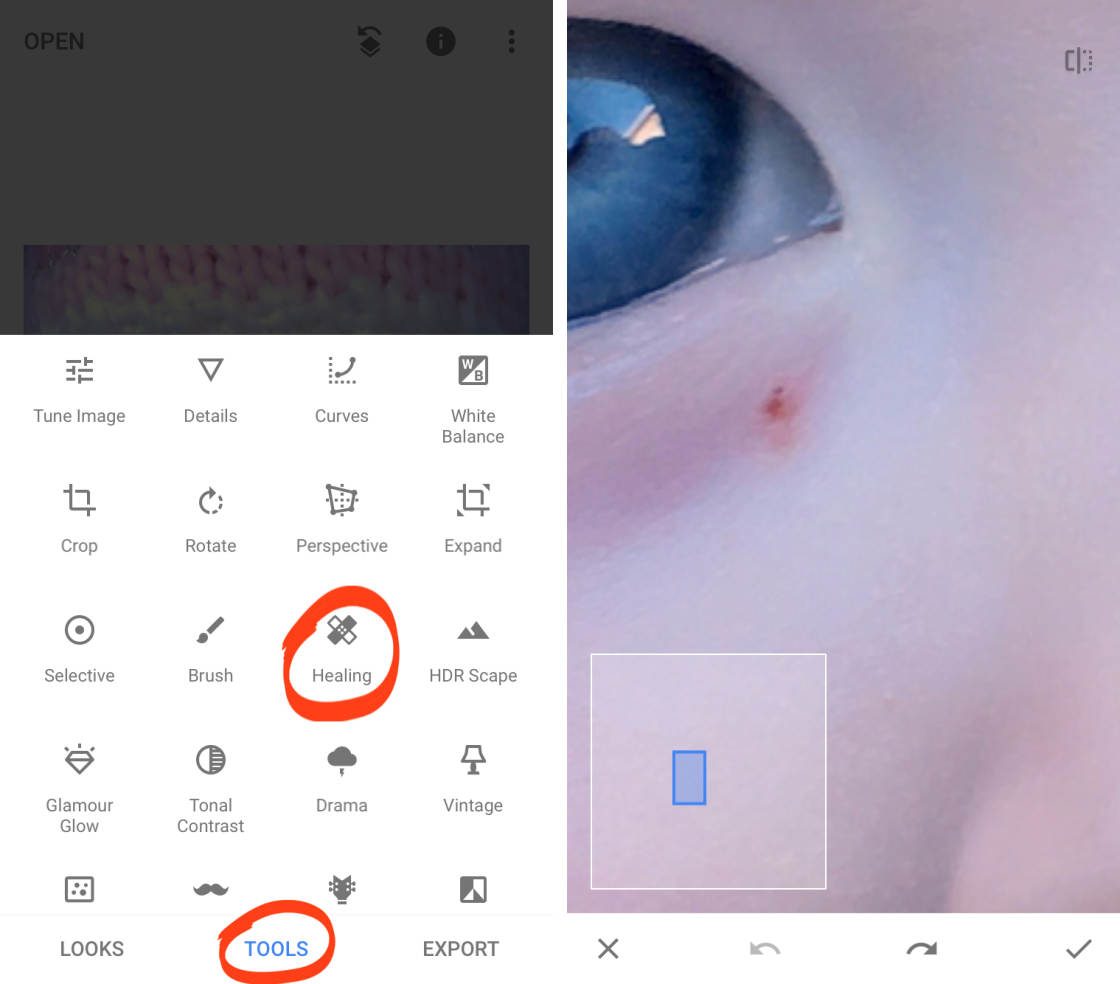 You can refer to the series of articles on how to remove acne with Snapseed or how to delete people on Snapseed and how to remove text on photos with Snapseed that we have shared with readers before.
These articles will be of great help to you in mastering this Healing tool of Snapseed.
How to colorize photos with Snapseed
Photo color is what will describe what your photo shows? Joy or sadness is determined by the color tone.
The Vignette tool allows you to quickly change the color of an image. With just one tap, you can change the mood of an image or add a touch of art.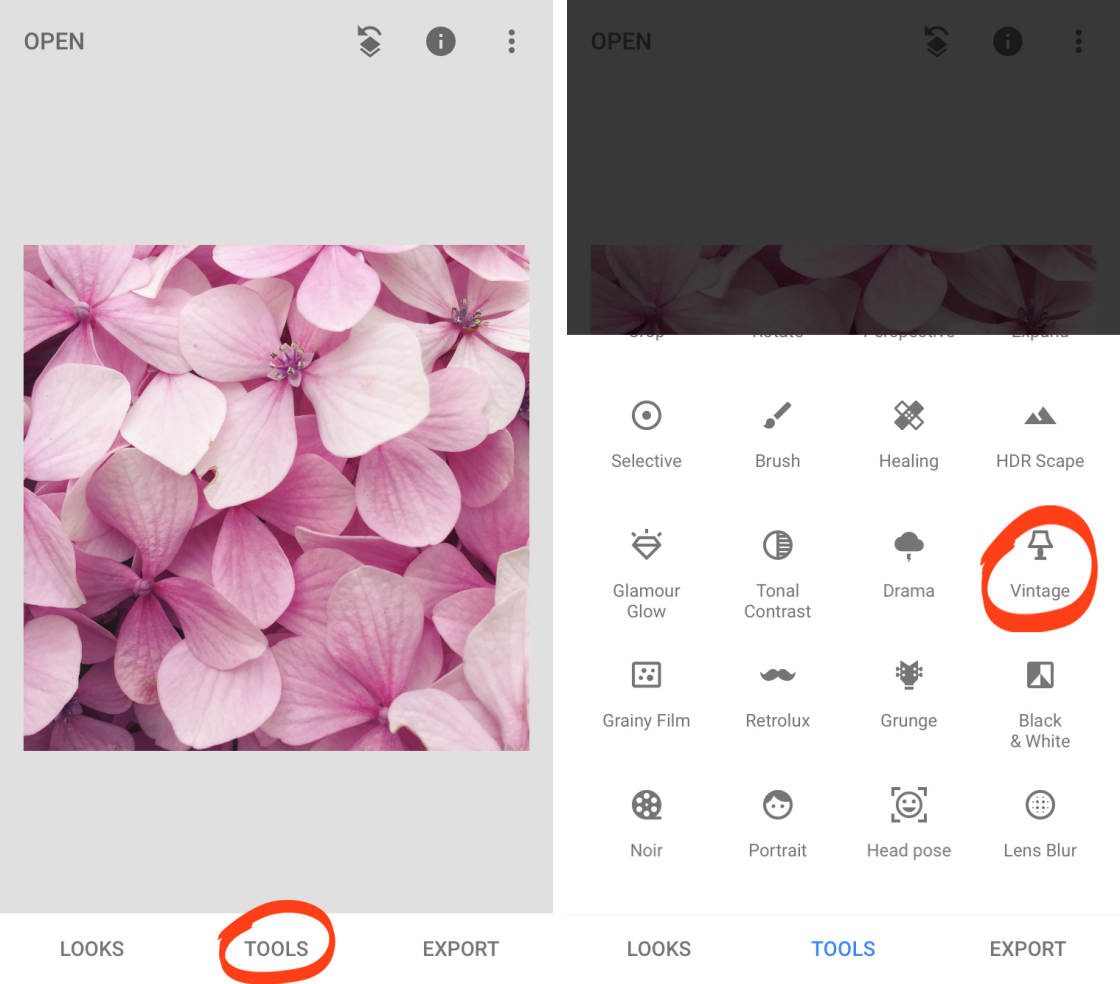 Alternatively, you can go to Tools and find options like: HDR Scape, Glamor Glow, Drama, Grainy Film, Grunge, Retrolux, Noir, Portrait, Lens Blur and other special effects.
These automatic tweaks may be all you ask for, or can be a good starting point from which you can further refine.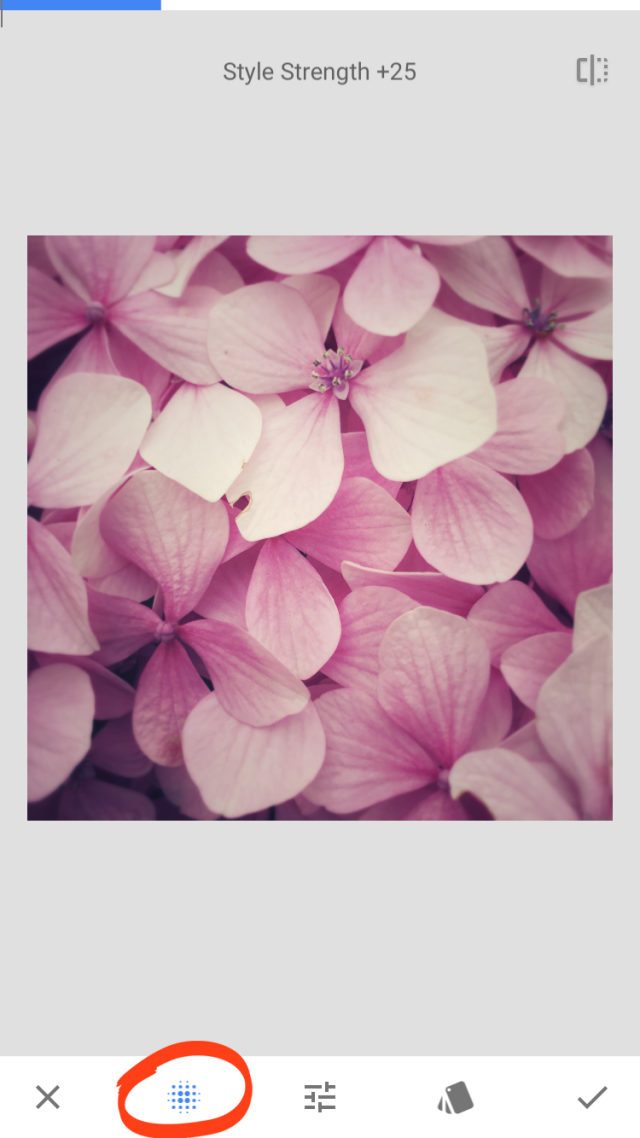 You can refer to some photo editing recipes with Snapseed in this article with good application of Snapseed's color filter tools.
How to save photos after editing on Snapseed
When you're done editing your photo, you'll need to save it, or it'll disappear and you'll have to edit it all over again.
Please click Export at the bottom of the screen. Snapseed has three save options: Save, Save Copy, and Export.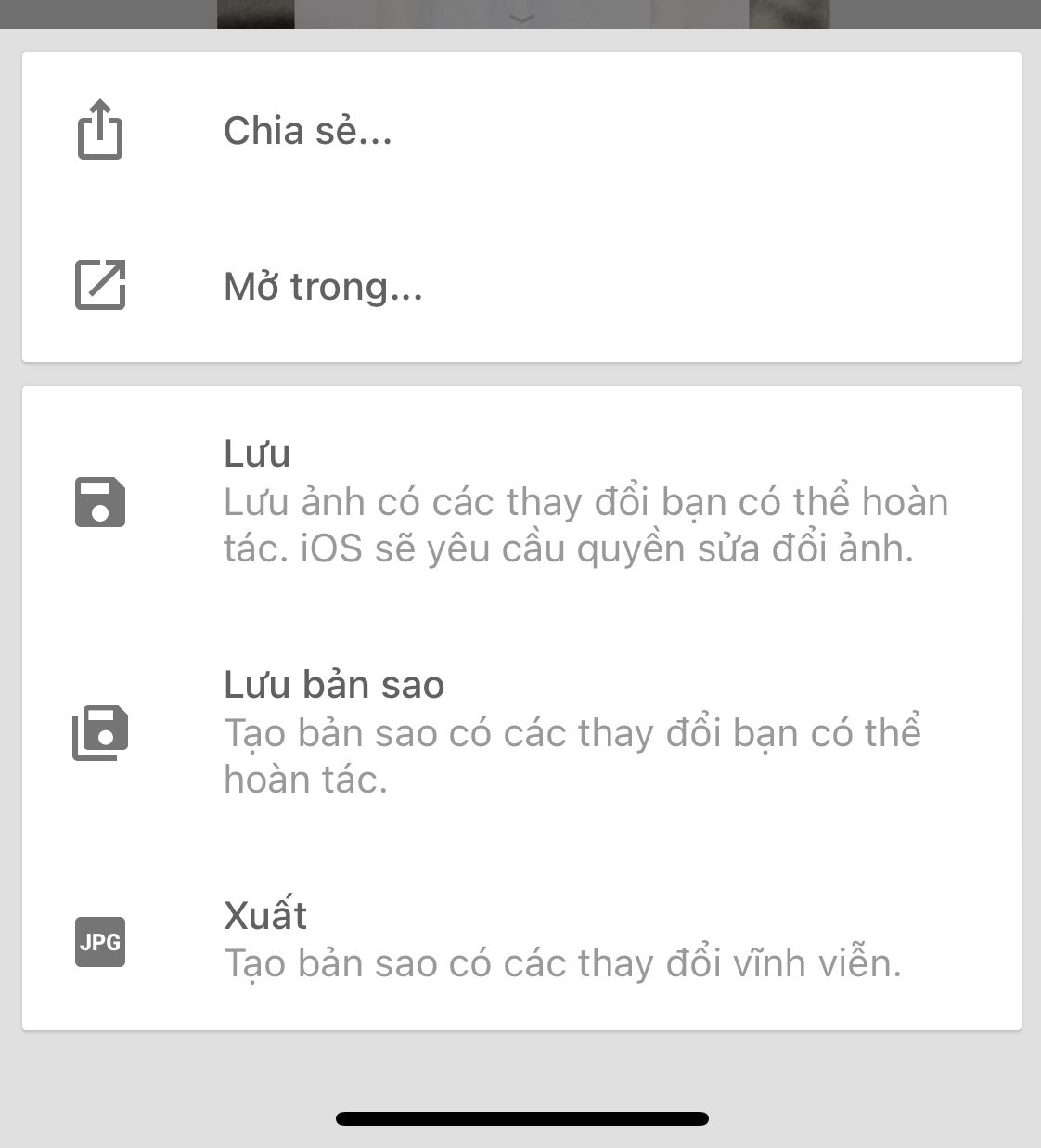 Save will overwrite your original photo with the edited version of the photo. You will no longer see your previous original photo.
Saving a copy will save your edited photo as a separate new photo. You'll have both the original and edited versions of the images in your Photos library.
Export will save your edit as a separate photo with the changes permanent. Your edits cannot be undone or changed once saved.
The best option is Save a Copy. Your original unedited image will remain in the Photos app. And the edited version is saved with the edits not broken. These edits may be revised in the future.
Here's everything you can learn to improve your photo editing skills with Snapseed. Get in the habit of editing your photos regularly with this Snapseed tool with the instructions above.
If you see the tutorial How to use Snapseed? This is good and useful, please Like & Share to support GhienCongListen continue to develop more in the future.
Source: The most complete and detailed guide on how to use Snapseed
– TechtipsnReview